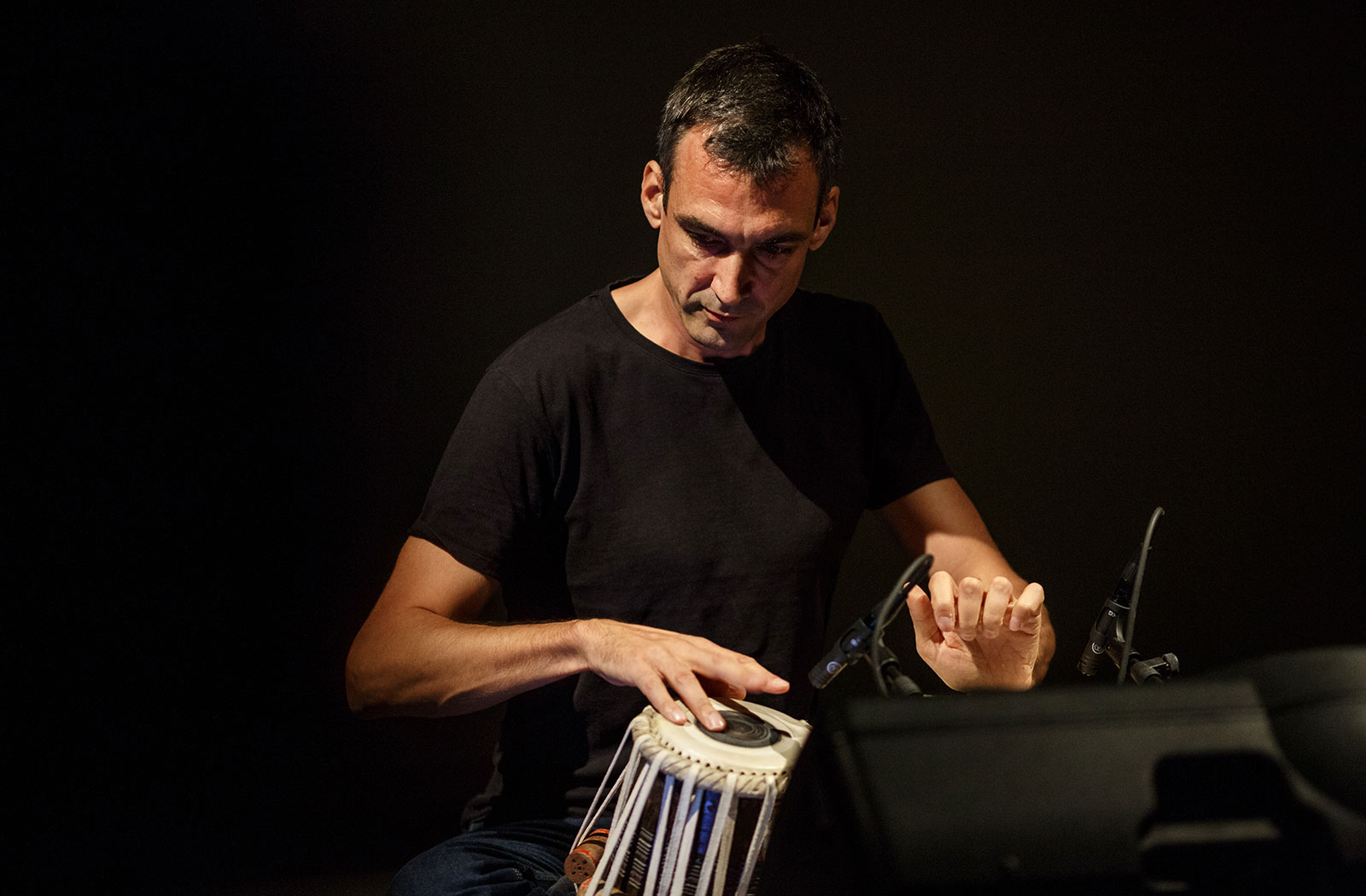 In Latin, "persona" was the name given to an actor's mask. In my composition, on the one hand, the live electronics function as a mask, which is put on both the singer's voice and the sound of the tabla, on the other hand, the electronics serve as a mediator and link between the two. What is important here is the fact that the Tabla is particularly predisposed to "speaking" – due to the richness of sound contrasts – as well as "singing" due to the long reverberation of the open strokes. In this way, voice and drum are mutually projected onto one another like masks, and their identities are multiplied, obscured and dissolved.
Bio
Stefan Keller was born in Zürich in 1974. From 1995 to 2002 he studied Oboe at the Musikhochschule Zürich, from 2002 to 2007 composition at the Berlin Academy of Music Hanns Eisler in Berlin, as well as music theory and electronic music. In 2019 he received a PhD in comparative musicology from the FU Berlin. From 2006 to 2016 he had a teaching assignment for music theory, analysis and orchestration at the Academy of Music Hanns Eisler. 2008/2009 he attended the Cursus 1 at the Ircam in Paris and stayed at the Cité des Arts as an awardee of the Berlin Senate. Currently he stays as an awardee of the German Academy Villa Massimo in Rome.
Stefan Keller won several awards, including the 'Kompositionspreis der Landeshauptstadt Stuttgart' 2004, first prizes at the Hanns-Eisler-Preis 2005 and 2006, composition grants from the Senate of Berlin 2014 und 2017, and a Pro Helvetia Residency in India in 2018. His works have been performed by ensembles like Ensemble Modern, Ensemble Intercontemporain, Ictus Ensemble, KNM Berlin, Zafraan Ensemble, Ensemble Mosaik, Ensemble ascolta and Neue Vocalsolisten Stuttgart.
Credits
Stefan Keller: composizione e percussioni
Andreas Fischer: voce
In collaborazione con
Villa Massimo – Accademia Tedesca a Roma.