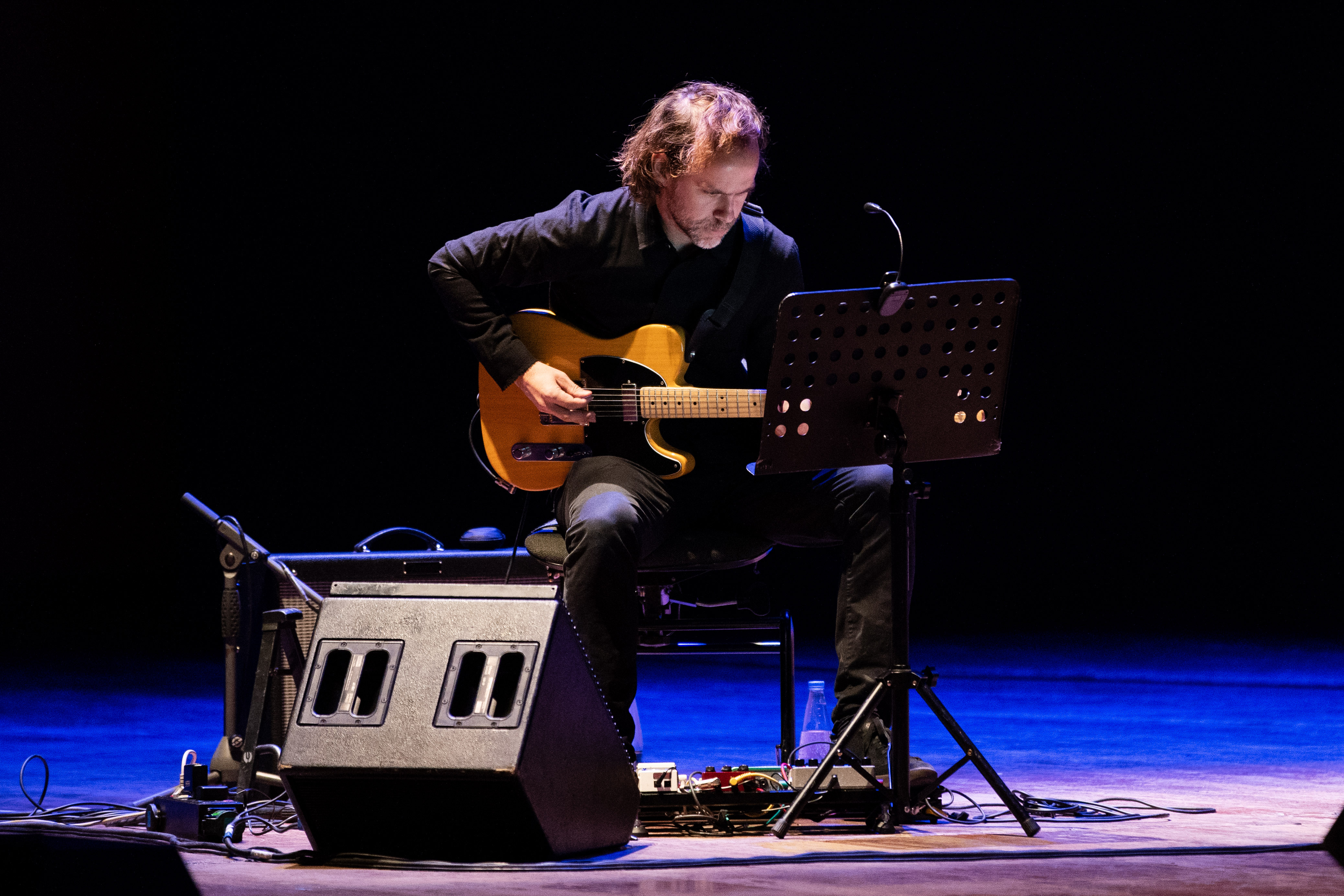 After the first musical encounter with the Labèque sisters, REf20's  showcasing of internationally renowned composer and founder of the National Bryce Dessner continues. The second part of this ideal diptych is performed- in addition to the PMCE conducted by Tonino Battista- by the percussion ensemble Blow Up (Flavio Tanzi, Alessandro Di Giulio, Pietro Pompei and Aurelio Scudetti). The programme for the evening includes Murder Ballads, Quintet for High Strings, Garcia Counterpoint and Music for Woods and Strings, a crossover gem between different musical styles composed for "Chord Sticks", an original instrument built by Aaron Sanchez of New York that produces sound using pencils, violin bows and slides.
Bio
Bryce Dessner è uno dei compositori più ricercati della sua generazione, con un catalogo di opere in rapida espansione commissionato da importanti ensemble. Conosciuto come chitarrista dei The National, è una forza vitale nel regno della nuova musica. Ha lavorato con alcuni dei musicisti e artisti visivi più creativi e rispettati del mondo, tra cui Philip Glass, Steve Reich, Johnny Greenwood, Justin Peck, Hiroshi Sugimoto e Matthew Ritchie. Nell'autunno del 2015 è stato selezionato, insieme a Ryuichi Sakamoto e Alva Noto, per la colonna sonora del film del regista premio Oscar Alejandro Iñárritu, The Revenant, che ha ricevuto una nomination ai Golden Globes nel 2016 e una nomination ai Grammy Awards 2017. "MusicNOW", il festival di musica contemporanea con sede a Cincinnati da lui fondato nel 2006, ha visto la partecipazione di Tinariwen, Justin Vernon, Joanna Newsom, David Lang, Grizzly Bear, Perfume Genius e la Cincinnati Symphony Orchestra. Nel 2015 "MusicNOW" ha festeggiato il suo 10° anniversario. Per l'occasione è stato pubblicato un album intitolato MusicNOW: 10 Years, composto dalle migliori esibizioni dal vivo del festival. Tra i progetti recenti più importanti ricordiamo Quilting, un brano di 17 minuti co-commissionato con la BBC Symphony Orchestra, presentato a maggio 2015 dalla Los Angeles Philharmonic diretta da Gustavo Dudamel, e The Most Incredible Thing, un balletto creato da Dessner, Justin Peck e Marcel Dzama, presentato per la prima volta nel febbraio 2016 dal New York City Ballet. Dessner ora risiede a Parigi ed è  sempre più attivo nella composizione per importanti ensemble e solisti europei. nella primavera del 2019 i The National hanno pubblicato l'album I am Easy to Find, in collaborazione con il regista cinematografico Mike Mills. La musica di Bryce Dessner è pubblicata in esclusiva da Chester Music Ltd, parte del Music Sales Group.
Blow Up  è un gruppo di percussioni costituitosi nel 2012 che ha base a Roma e che interpreta un repertorio moderno e contemporaneo. E' composto da Flavio Tanzi, Alessandro Di Giulio, Pietro Pompei e Aurelio Scudetti e sa essere modulare a seconda dei progetti da realizzare. Si pone di essere una voce della musica di questo periodo: dall'interpretazione delle opere dei compositori di questa generazione spesso con un contatto e uno scambio diretto, al teatro musicale, il minimalismo, l'elettronica e le nuove sonorità. L'idea è quella di ridefinire il concetto moderno di ensemble e renderlo permeabile alle influenze sonore del proprio tempo, interpretando il ruolo artistico/ culturale della musica contemporanea come punto di incontro tra la musica "colta" e un'identità più Pop. Collaborando con compositori, ensemble, musicisti di diversa provenienza, Blow Up tenta di rendere permeabile l'ensemble alle influenze sonore del proprio tempo, vivendo in empatia con qualsiasi sensibilità artistica. Il repertorio che propone è frutto delle diverse collaborazioni dirette con compositori di rilievo come Francesco Filidei, Vittorio Montalti, Francesco Antonioni, Laurent Durupt, Elliot Cooper Cole, Michele Tadini, Eric Nathan, Pierre Jodlowsky – e di classici del Novecento con un interesse e una predilezione per il minimalismo di Steve Reich e del post minimalismo di David Lang, Julia Wolfe, John Luther Adams, Bryce Dessner. Le collaborazioni di Blow Up Percussion vanno dalla PMCE e l' Ensemble Prometeo come sezione percussioni di ensemble cameristici, alla musica elettronica del duo londinese "Plaid", al violoncellista Mario Brunello. Nel 2017 esce il primo disco per EMA Record con pezzi inediti di Ravera, Filidei, Taglietti, Sanna e Marchettini ed è in arrivo un lavoro monografico su Elliot Cole giovane compositore statunitense. Inoltre per il 2020 il quartetto lavorerà con Vittorio Montalti per la realizzazione, col sostegno di SIAEClassici di Oggi, di un'opera per gruppo di percussioni ed elettronica. Quest'anno Blow Up ha realizzato la prima rassegna dei "Cerimoniali Ritmici" a Palazzo Caetani a Roma, tre concerti dove l'ensemble si è messo in gioco anche sotto l'aspetto della direzione artistica proponendo diverse novità commissionate ad hoc ad Antonioni, Borzelli, Quindici, Caneva e Lorusso.
In corealizzazione con
Musica Per Roma