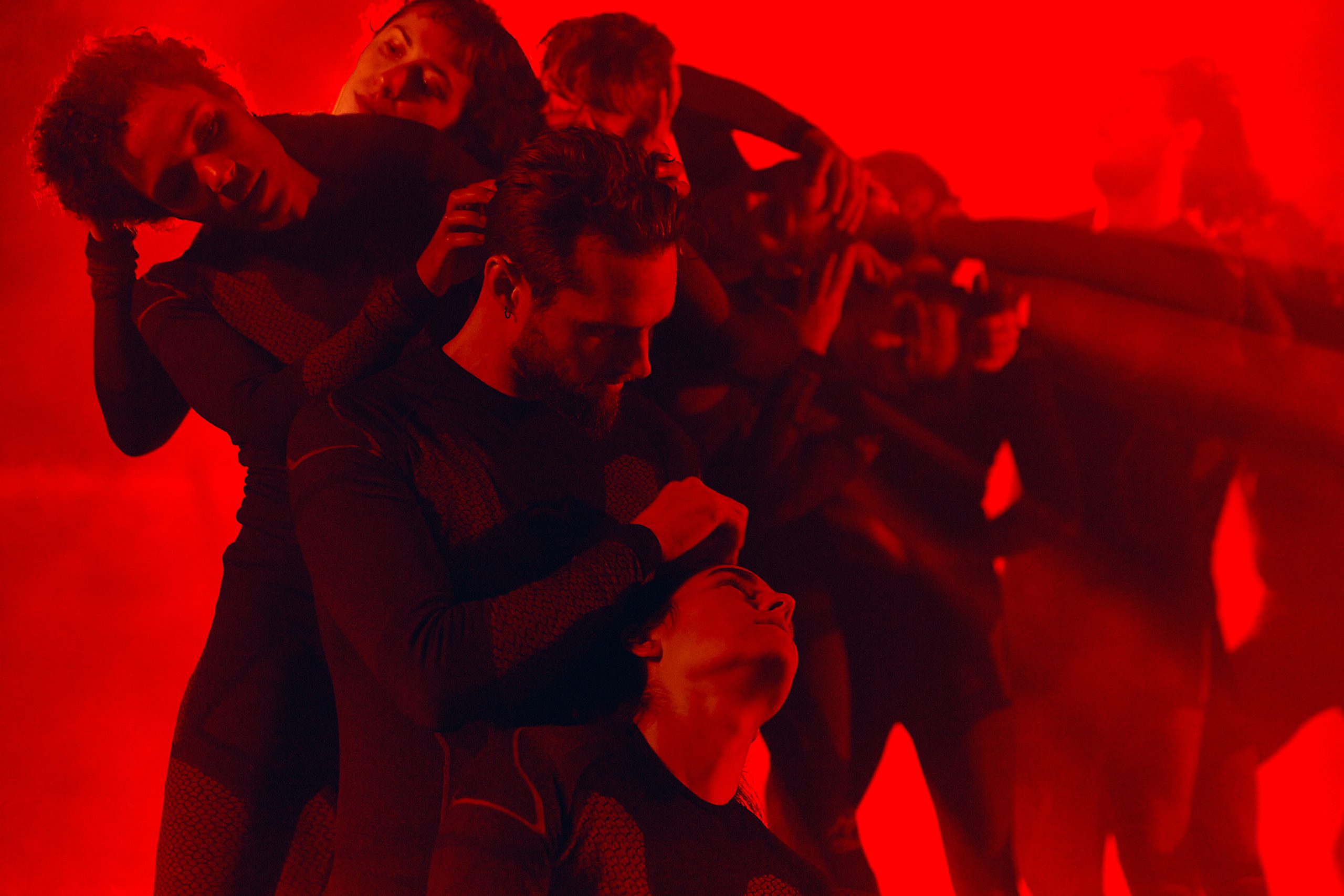 With On Earth I'm Done, Jefta Van Dinther, an associate artist of the Swedish Cullberg Ballet (one of the most important Northern European dance groups), presents an ancient/futuristic diptych dedicated to the relationship between humans and nature and which reflects on the revision of our co-existence with different forms of terrestrial life. The dark, biting and often provocative ambience that defines the choreographer's work, juxtaposes two different choreographic landscapes.
Mountains  evokes the geological rising of mountains, and aims to analyze the conflicting feeling of love and hatred that we harbour toward a world in constant evolution. "The performance raises questions about what it means to exist on and to take care of this planet, delving deep into the relationship between natural intelligence and cultural formations," says van Dinther.
Instead, Island, utilizing a wider formation of dancers, urges us to look back in time and to remember a world that no longer exists. Here, a group of humans have to rebuild their existence from scratch and learn how to live again. "We are heading to a place where humanity can no longer be taken for granted. The life that exists in this space thinks, acts and speaks through the vector of human emotion- but its feelings are fabricated; social interaction is violated; sexual reproduction is an interface; caring for the planet is automated ", continues the choreographer, as she transforms melancholy and dread into a means of survival-and dance into a powerful weapon.
Bio
Jefta van Dinther (SE/DE) is a choreographer and dancer working between Stockholm and Berlin. His work is characterised by a rigorous physical approach and always implies a staged research of movement itself. The moving body is the core of his practice but belongs to and interacts with a body of light, sound and materials. Central in his work is the question of what it means to be human, examined through its relation to society, community and environment but also to other forms of life such as the animal and other non-human entities. Jefta's performances reach out into metaphysical or otherworldly realms and deal with notions of illusion, the visible and the invisible, synaesthesia, darkness, labour, sex, the uncanny, affect, voice and image. In 2019 he premiered the performance The Quiet and remounted Plateau Effect for Staatsballet Berlin. Currently on tour are also Dark Field Analysis (2017), Protagonist (2016), THIS IS CONCRETE (2012) as well as GRIND (2011). His other works include As It Empties Out (2014), Plateau Effect (2013), The Blanket Dance (2011), Kneeding (2010), The Way Things Go (2009) and IT'S IN THE AIR (2008). Jefta van Dinther has also created the choreography for and dances in the the music-video Monument (2015) by Robyn & Ro?yksopp and has also organised and curated the festival LIAISON (2015) in Stockholm. Van Dinther is Associated Artist with Cullberg between 2019-2022. In 2012 van Dinther was awarded with the Birgit Cullberg Grant from the Swedish Arts Grants Committee. Van Dinther received the Swedish Theatercritic's Danceprize 2013 for Plateau Effect, which was also selected for the Swedish Biennial of Performing Arts 2015. GRIND was awarded the Sa?de prize in Finland for best lighting design and received three prizes during Favoriten Festival in Dortmund, 2012. Van Dinther graduated from the Amsterdam School of the Arts (MTD) in 2003 and was thereafter engaged as a dancer and worked with several choreographers such as Mette Ingvartsen, Frederic Gies, Kristine Slettevold, Keren Levi, Ivana Muller, Leine&Roebana and Xavier le Roy. Van Dinther teaches choreography at various international centers and educational programs. He was appointed Senior Lecturer and Artistic Director at the MA program in Choreography at DOCH (University of Dance and Circus in Stockholm) between 2012–2014.
Credits
Choreography: Jefta van Dinther created and performed with the dancer Suelem de Oliveira da Silva
Sound design David Kiers   including specially composed music based on Window Sash Weights by Sun Kil Moon
Set design Numen/For Use
Lighting design Jonatan Winbo
Costumes Jefta van Dinther with Suelem de Oliveira da Silva
Coproduced by PACT Zollverein Essen, Freiburg Theater and Vitlycke – Centre for Performing Arts