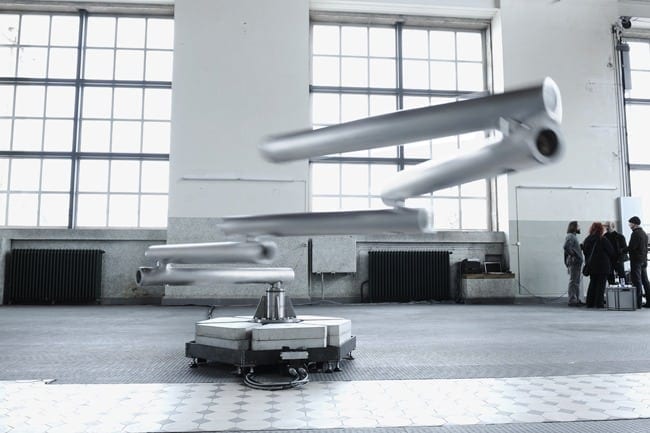 Kinetic and audio installation 2009
Cycloïd-e is a tubular metal segments pendulum that reproduces sounds through a rotating movement reacting speakers. The perfect equilibrium is determined by the segment's energetic exchanges; the trajectories are surprisingly natural and harmonic and create a real cinematic choreography. Through the mesmerising and fascinating dance, Cycloïd-e traces a series of sonorous orbits, creating that polyphonic, kinetic Cosmic Ballet postulated in 1619 by the physicist Johannes Kepler in his work The Music Of The Spheres.
The talented duo André and Michel Décosterd operate together under the name Cod.Act; the first as a musician-composer and the second as an architect and visual artist. Together, they develop a performance and an interactive installation form of art. The core of their research is an investigation into sound and movement and their possible and infinite interactions. They have received many international awards: Prix Ars Electronica – Distinction Award 2010 (link), Grand Prize 14th Japan Media Arts Festival 2010, Prix CYNEART 2010, Premio Transitio_MX 04 – Honorary Mention Award 2011.