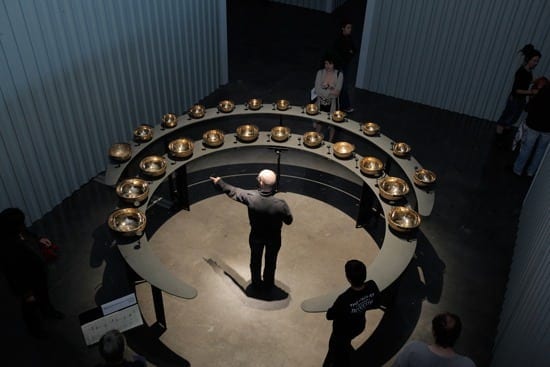 Interactive audio installation 2011
production Le Fresnoy – Studio National des Arts Contemporains
in partership with the research group of MINT (Université Lille 1, CNRS, LIFL UMR 8022 & IRCICA, INRIA Lille Nord-Europe)
Le Damassama is an amphitheatre of Tibetan bells, a sound installation which transforms the spectator into an orchestra conductor. By interacting with a series of sensors, the spectator's gestures make the bells sound and creates a personalised soundtrack. By becoming a musician and creator of a sonorous universe, the spectator is captivated into listening carefully to sound produced in such an unusual fashion. When interacting with the installation, the vibrations penetrate the body, creating a more spiritual vision of our creative role.
After her conservatory studies in piano, she graduated in Cinema Studies at the Sorbonne (Paris). She then became interested in new technologies and continued her studies at Le Fresnoy – Studio National des Arts Contemporains where she graduated with the work Le Damassama, a highly technological installation -in some way connected to music- created especially for one of her cinema works. Her works have been exhibited internationally: Hong Kong, Paris, London, Bern, Japan and Canada.