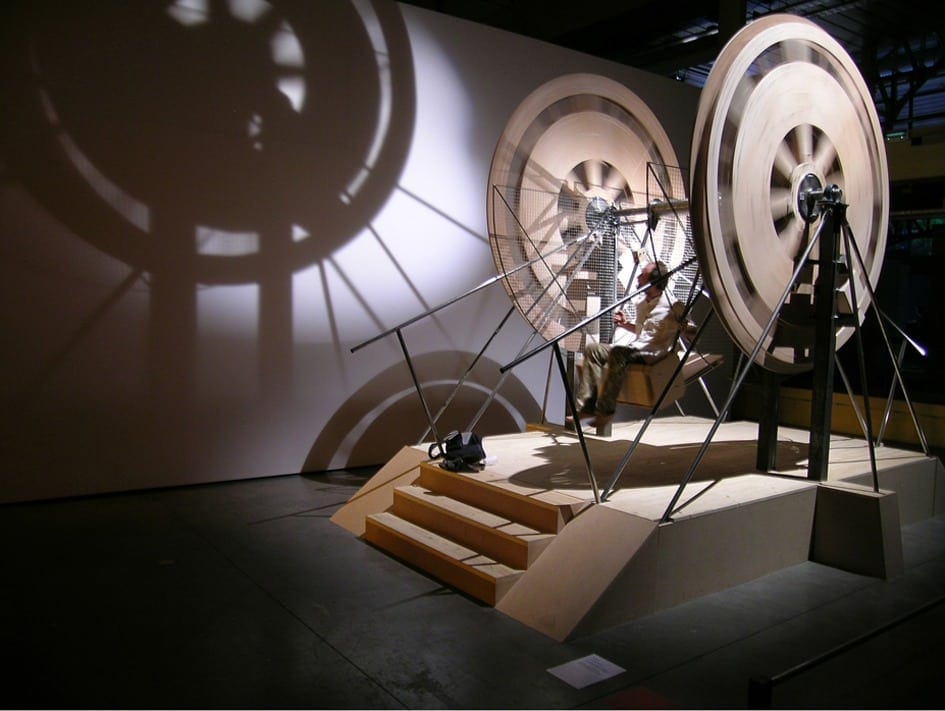 Interactive audio installation
production Le Fresnoy – Studio National des Arts Contemporains
The spectator is invited to improvise a musical score starting from a pre-composed harmonic base; musical phrases which can be assembled and combined in a purely casual fashion. The music is reproduced by a swing suspended from two large mechanical wheels. The motion of the large wheels sets a series of guitar strings vibration which produce harmonies. It is the swinging movement of the spectator that "plays" this strange hybrid instrument, part child's toy and part complex and technological machine. The pitch depends on the weight of the spectator while the volume varies according to the oscillation's velocity. Veaceslav Druta's sound installation brings together play and interactivity through digital art while continuing to dialogue with traditional objects from our past.
In 1998 he completed his studies at the University of Arts in Chisinau (Moldova); from 2002 to 2005 was a resident artist at Le Fresnoy, Studio National des Arts Contemporains and then, from 2004 to 2006 was part of the research at the École Nationale Supérieure des Beaux-Arts, Paris, France. His most important exhibitions include Whispered Dances, Jozsa Gallery, Brussels 2009 and the exhibition Galérie de l'Eclusen° 10, La Collancelle, France. In 2012 he participated in the joint exhibition Sleepless Night in a Dark Room at the Palais de Tokyo, Paris.