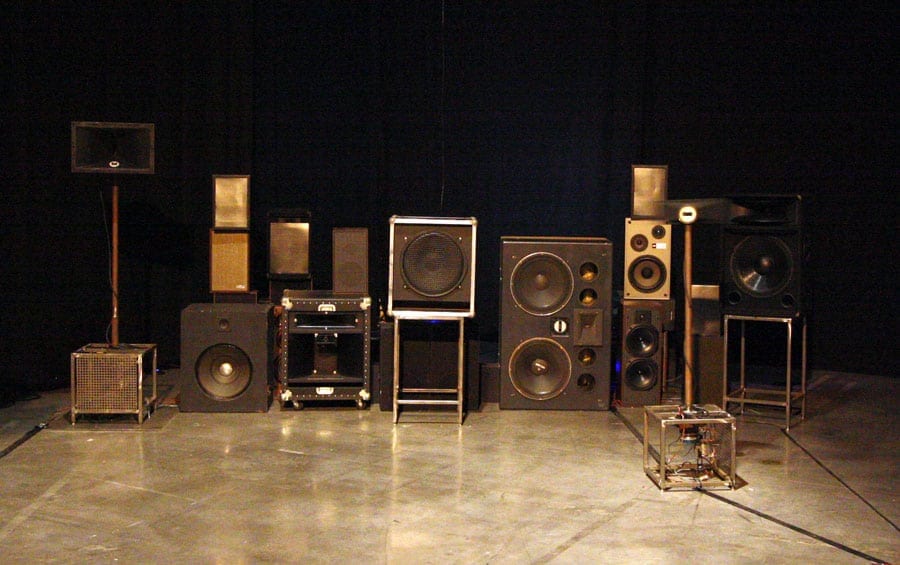 Interactive audio installation 2012
music Gaëtan Gromer flutes Ayako Okubo clarinets Adam Starkie violin Marie Osswald viola Antoine Spindler cello Anne-Catherine Dupraz double bass Elodie Peudepièce
music programming Benoît Jester, Gaëtan Gromer
rotocs programming Antoine Rousseau
tracks programming David Lemaréchal
structure Jean-Marc Delannoy
production Le Fresnoy – Studio National des Arts Contemporains
in partnership with Métalu à Chahuter and Les Ensembles 2.2.
The work gives dynamic listening experience based on movement. The installation consists of a wall of fixed loudspeakers and each of those reproduce a background noise at different volumes and pitches, a series of mobile speakers which act as "soloists", reacting to spectators' movement. Moving through the exhibition space, the spectator causes a reaction in the mobile speakers and thus, a change in the spatial distribution of the soundscape. The music is recorded by a chamber music ensemble directed by Gaëtan Gromer, inspired by a Giacinto Scelsi's composition. To approach this work means to listen, but also to evoke a differentiated response; the movement does not interrupt the visual continuity or the sound but merely modifies the equilibrium between the two.
Zahra Poonawala trained in the working group Hors Formats at the School of Decorative Arts in Strasbourg and then moved in 2012 to Le Fresnoy – Studio National des Arts Contemporains. There she focuses her artistic research on new technologies and creates her first interactive installation Tutti. She has always tried to harmonize the plastic arts with music through video, sound installation and performances as seen in her works Bouquet Final, L'Orchestre Décomposé, and Public Address System, which have featured in many important European artistic events.