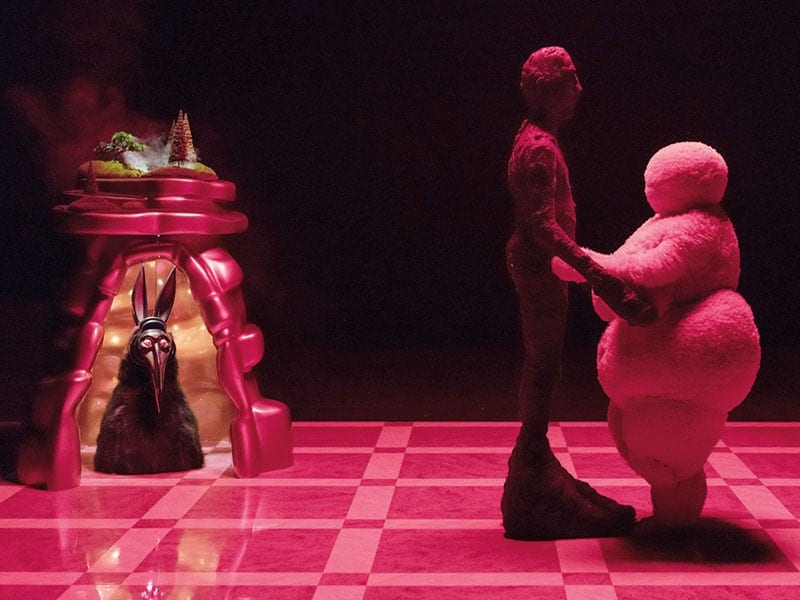 Yvan Clédat and Coco Petitpierre are two artists able to go beyond all frontiers of languages to materialise veritable daydreams inhabited by the icons of modern and contemporary art.
In Ermitologie, the theatre becomes a machine of sight in which proteiform sculptures come to life, animated from within, to explore different states of the body in the artistic imagination and consciousness. Gustave Flaubert's Saint Anthony, Alberto Giacometti, Palaeolithic art, Max Ernst and the Italian Renaissance; men, plants, animals and robotic creatures all present to recount different corporealities.
For Clédat & Petitpierre, 'hermitology' is a mechanics of the emotional, something through which to harness life and play with together, or observe it in its birth and transformation. A disorderly and fun journey, dedicated to the whole family, to reinvent the history of art.
Duration 55' Concept, Staging, Sculptures Clédat & Petitpierre With Erwan Ha Kyoon Larcher, Sylvain Riéjou, Coco Petitpierre Set Stéphane Vecchione Lights Yan Godat, assistente di Sébastien Marc Production Lebeau et associés Support Fondation d'entreprise Hermès come parte del suo programma New Settings Co-production Nanterre-Amandiers Centre dramatique National far° festival des arts vivants Nyon / Suisse Le Centquatre-Paris as part of creative residencies Support DRAC Ile-de-France pour l'aide au projet Photo © Martin Argyroglo