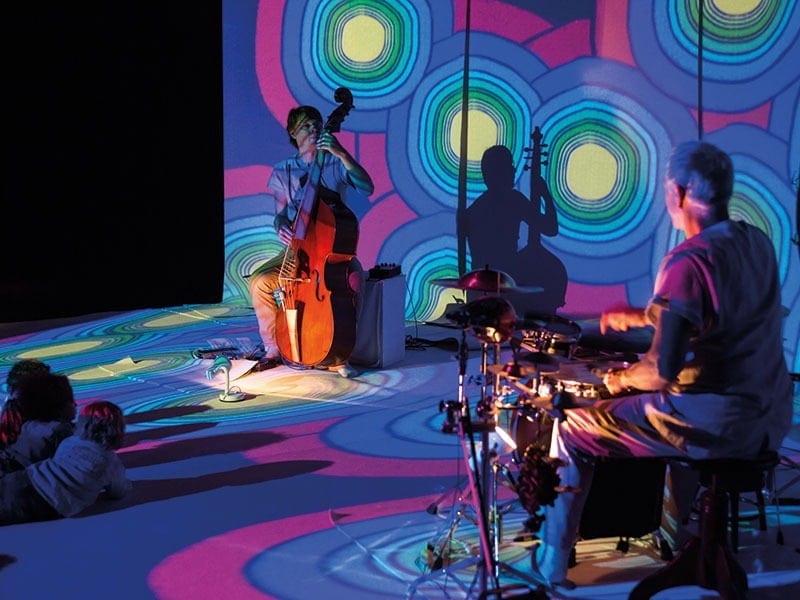 Founded in 2000 in the Concertgebouw, Amsterdam, Oorkaan is committed to creating high-quality staged concerts for young spectators. The aim is to give every child the chance to experiment the power of live music. Oorkaan developed its internationally acknowledged Oorkaan Method, under the lead of artistic director Caecilia Thunnissen.
Glimpse combines colours, images and music into a fascinating sensory experience, for kids from 2 to 4 years old (and their parents).
What do colours sound like? Who can understand the moon? What is the sun saying? What sounds lower – a double bass or a drum? How do you play a flash? How do you sing a tree? How many colours does a dream have? Glimpse takes us into a world made of dreams, in which musicians, music, images, technology and audiences embark on a special friendship.

On stage Vocals, Images Lotte van Dijck Double bass, Violone, Composition Tony Overwater Percussion, Composition Rob Kloet Behind the scenes Director Bram de Goeij Costumes Atty Kingma Technical director Remko Smids Development software Machiel Veltkamp/Maplab Photo © Ronald Knapp