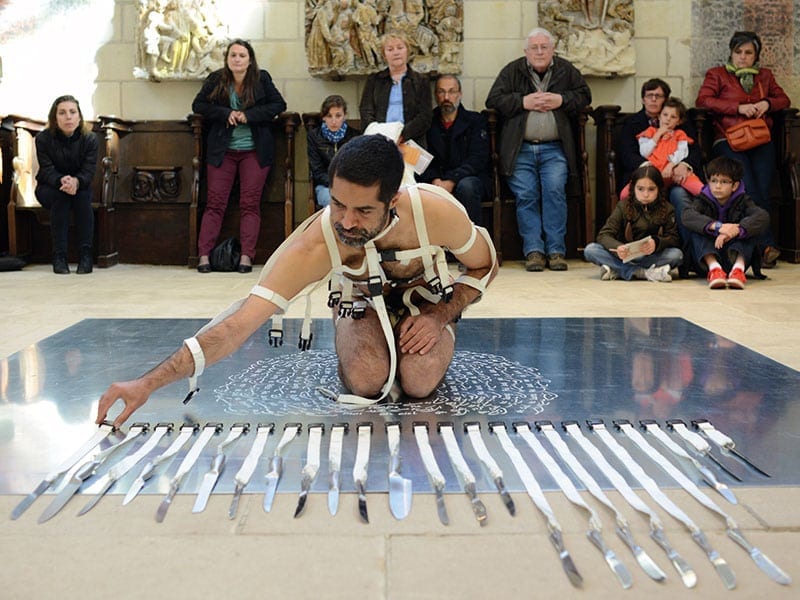 Born in 1974 in Shiraz (Iran), Ali Moini boasts an eclectic and versatile past that has to lead him from the study of traditional Iranian songs and music to performances and dance alongside artists such as Meg Stuart, Lisa Nelson and Deborah Hay. My Paradoxical Knives is a performance that draws on Persian cultural tradition while linking together the poems of the 13th-century Sufi poet Rumi and the movements at the base of the Dervishes' whirling dance.
The artist has transformed the traditional Sufi dress, a representation of security and equality, into a source of danger – now composed of straps connecting knives to the performer's body as an instrument of defence and, at the same time, of threat. Turning and chanting the poetry of Rumi, Moini's movement raises these weapons until they are pointing at the audience.
This ritual dance thus changes its meaning, becoming a means to question the strength of traditions and poetry, the safety measures posited in the relationship between artist and audience or the perception of threat before a different culture. How much is it truly possible to approach an identity that so distant from our own?
Duration 30′
Concept, Performance Ali Moini Critical follow-up Loïc Touzé Diffusion Selon l'heure Company Support Forum Dança