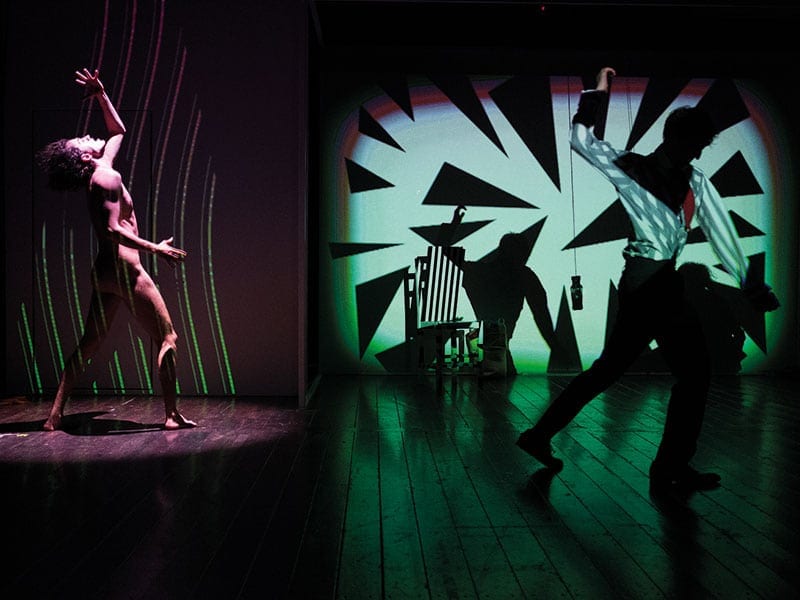 Tango Glaciale had its début at the Teatro Nuovo in Naples on 27th January 1982. Directed by Mario Martone are Andrea Renzi, Tomas Arana and Licia Miglietta on stage, all four being members of the Falso Movimento company. That evening, not only was a fundamental piece added to the panorama of the new Italian scene, but a new season was inaugurated, comprised of bodies, stories and visions of extraordinary emotional intensity.
Following the neo-avant-guards of the 1970s, the 1980s commenced afresh with a 'New Spectacularity', between theatre and dance, rock music, pop aesthetics and cult references.
After almost forty years, Tango Glaciale comes back to life with a new cast in a set-up devised not only as an opportunity to capture the importance and beauty of the show and its era but also as a connection of different languages and a range of common feelings. Or – as Martone himself affirms – to: «Subject the work to the test of a generation that hadn't even been conceived in 1982».
Duration 60' Project, Direction Mario Martone 2018 set-up Raffaele di Florio, Anna Redi With Jozef Gjura, Giulia Odetto, Filippo Porro Set Mario Martone Pictures, Design Lino Fiorito Graphics, Cartoons Daniele Bigliardo Cinematographic section, Direction assistant Angelo Curti, Pasquale Mari Soundtrack Daghi Rondanini Costumes RAVELLE Napoli Video-projections Alessandro Papa Costumes making Nunzia Russo, Violetta di Costanzo Shoes making Ernesto Esposito Stage manager Generoso Ciociola Stagehand Walter Frediani Lights Alessandro Caso Seamstress Anna Marino Technics Retroscena Props lab Alovisi Props, Service MAC SERVICE, Attilio Ruggero EMMEDUE Press office Katia Prota, Stefania Catellani Organisation Alessandra Attena Production office Rino Di Martino, Noemi Ranaulo, Rossella Caldarelli DistributionPatrizia Natale, Eugenia Bacci, Amei Teupel (internazionale) General organisation Roberta Russo Production Fondazione Teatro di Napoli - Teatro Bellini, Fondazione Nazionale della Danza - Aterballetto 2018 set-up within the project RIC.CI Reconstruction Italian Contemporary Choreography Anni Ottanta/Novanta (Ideazione e direzione artistica Marinella Guatterini) Co-production Fondazione Ravenna Manifestazioni Support Torinodanza festival | Teatro Stabile di Torino - Teatro Nazionale In collaboration with Amat - Associazione Marchigiana Attività Teatrali, Fondazione Fabbrica Europa per le arti contemporanee, Fondazione Teatro Comunale di Ferrara, TPP - Teatro Pubblico Pugliese, Fondazione Toscana Spettacolo onlus, Fondazione Milano - Civica Scuola di Teatro 'Paolo Grassi'