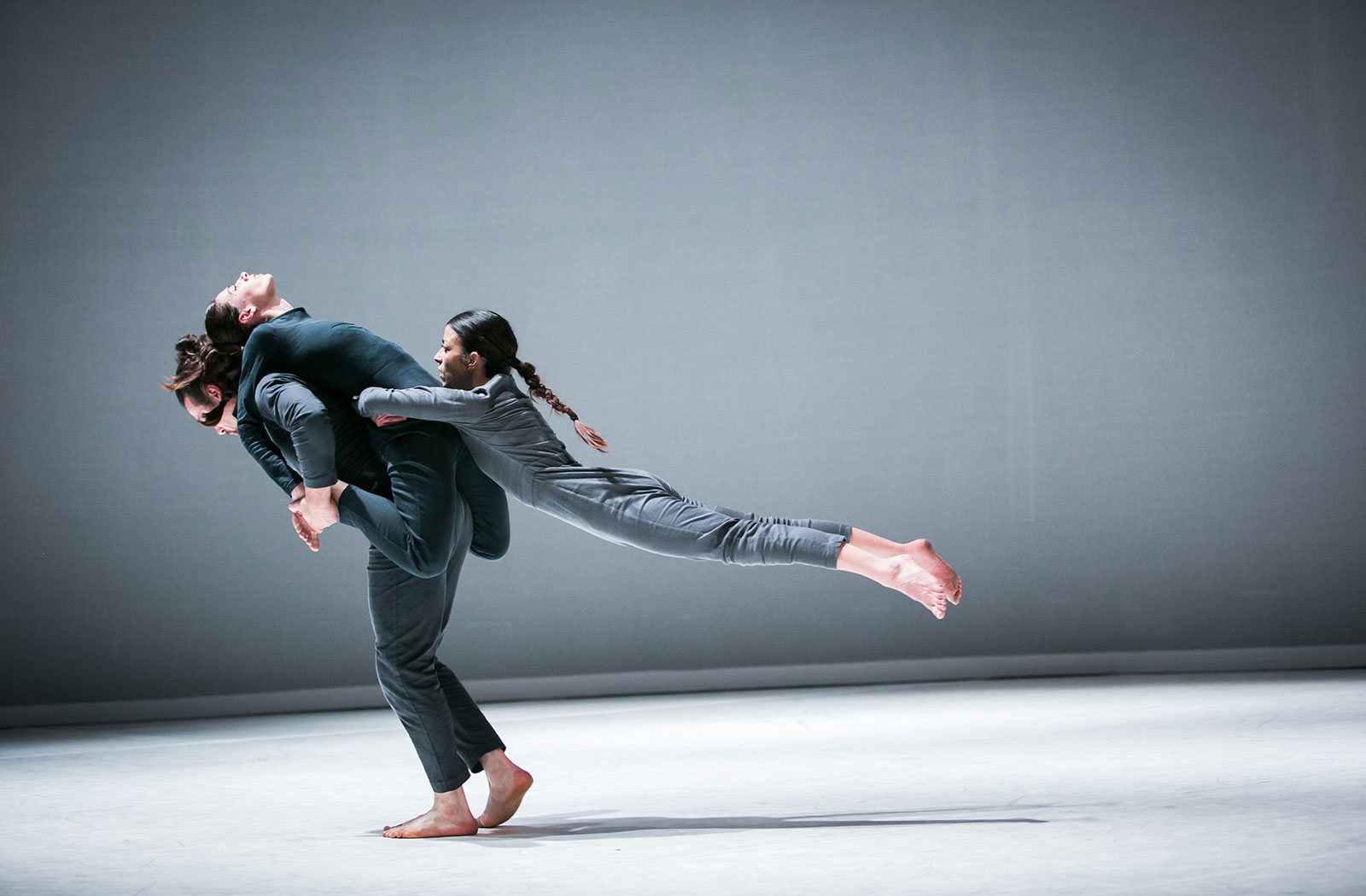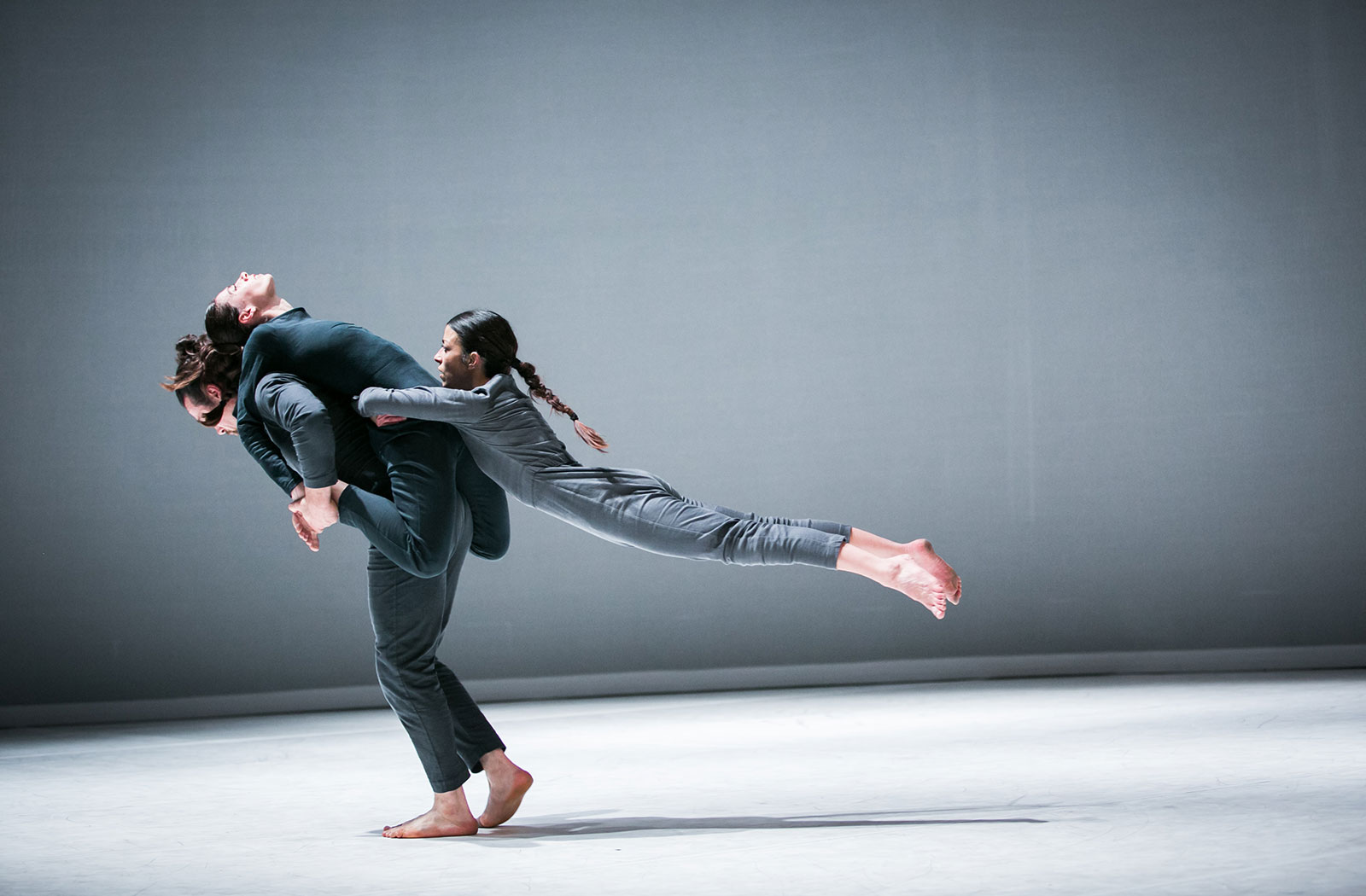 Co-creating under the name of their artistic project GN | MC, Guy Nader from Lebanon and  Maria Campos from Spain conduct an artistic research aimed at redefining the boundaries of dance by searching for new areas of investigation and artistic action. Inhabited by seven dancers and animated by Miguel Marín's live music, Set of Sets (awarded best choreography and performance at the XXI Premis de la Crítica de les Arts Escèniques 2018 and Ciutat de Barcelona 2019), invites the spectator to reflect on the idea of "time" and to get lost in a boundless landscape, an infinite labyrinth built by bodies in action. Cooperation, precision, rigor are the keywords of a piece crossed by the frenetic joy of repetition, by the elegance of rhythm and in which the movement of the body, in continuous interplay with gravity, becomes a metaphor for the cyclical nature of our existence.
GN | MC Guy Nader | Maria Campos is an independent ensemble based in Barcelona, Spain. The Lebanese and Spanish artists have collaborate together since 2006 and their works have been showcased in various festivals and venues around the world. GN|MC have been invited as guest choreographers to create for different European companies: EnKnapGroup in Slovenia, Eva Duda Dance Company/Movein Mission in Hungary, Tanzmainz company in Germany and XieXin Dance Theatre in Shanghai, China. GN|MC have been awarded the German theatre prize DER FAUST 2017 for their work FALL SEVEN TIMES created with Tanzmainz, Staatstheater Mainz in Germany. Recently GN|MC received the Prize City of Barcelona 2020.
Guy Nader graduated from the Institut National des Beaux Arts of the Lebanese University in Beirut (BA in Drama). He received the danceWEB Europe scholarship in 2012 and was awarded the first prize in Masdanza International Festival in 2010 for his solo Where The Things Hide. He is an associate artist in La Caldera, Barcelona.
Maria Campos studied at SEAD in Austria and in The Netherlands where she graduated from the Amsterdam School of the Arts (MTD) in 2003. She has worked with Meekers, Protein Dance, Sol Picó, Angels Margarit/Cia. Mudances,  among others.
GN|MC Guy Nader | Maria Campos are resident artists at the Mercat de les Flors, Barcelona.
Their creation TIME TAKES THE TIME TIME TAKES – a quintet with live music that premiered in April 2015 at the Mercat de les Flors in Barcelona- embarked on a global tour still going strong. GN|MC's SET OF SETS revisits the insistence in bringing the physical work to its limits, this time with seven performers on stage and with live music. This new project is based on the partnering process that GN|MC continue to develop throughout their latest works PERPETUUM (2014), TIME TAKES THE TIME TIME TAKES (2015), LOOP DE LOOP, MESH, FALL SEVEN TIMES  (2016), IMPETUS and ROUTES (2018) and HARMONIC SERIES and PARADIS FANTASTIQUE (2020). GN|MC Guy Nader | Maria Campos have been developing their own artistic language through movement, and constantly redefine themselves while searching for a common ground in their individual approach to dance. Both look for a highly demanding physicality aiming to push the body to its limits. Seeking strength and delicacy in movement, they allow a whole spectrum of the imaginary to rise, discovering and providing an endless corporal landscape. Together they have approached a common interest in partnering work where they experiment with new ways of approaching the relation between two or more bodies, developing strategies and moves in order to imbue the body on stage with a distinct image and perception.
Ideation/concept: GN|MC (Guy Nader and Maria Campos)
Direction: Guy Nader
Creation/performance: Maria Campos, Guy Nader, Noé Ferey (Lisard Tranis), Patricia Hastewell (Clementine Telesfort), Alfonso Aguilar (Csaba Varga), Tina Halford (Roser Tutusaus), Héctor Plaza (Tom Weksler)
Music: Miguel Marín
Lighting design: Yaron Abulafia
Technical direction: Albert Glas
Costume design: Anna Ribera
Artistic consultant: Alexis Eupierre
Rehearsal assistance: Tanja Skok
Production: Raqscene, Elclimamola
Co-production: Mercat de les Flors, Festival Sismògraf, Julidans Festival
Support: Graner, La Caldera, Les Brigittines-Centre d'Art contemporain du Mouvement de la Ville de Bruxelles
Collaboration: Departament de Cultura – Generalitat de Catalunya, Ministerio de Cultura y Deporte/INAEM, AC/E (PICE)