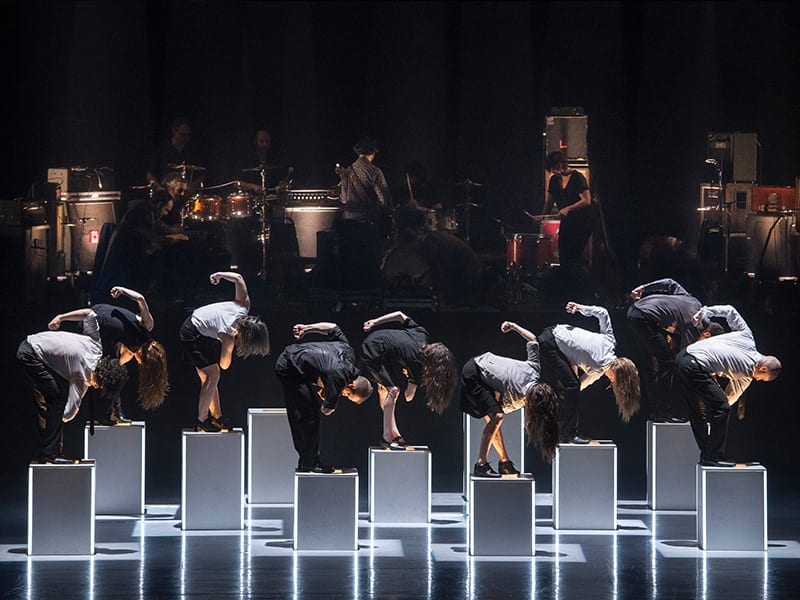 Imagine a complete fusion of rock music and choreography. First performed on stage in 2005, monumental represents the peak of the artistic career of The Holy Body Tattoo, the company founded in 1993 by Dana Gingras and Noam Gagnon and that earned a place in the history of dance with its reckless rock experiments aiming to reveal the secrets of the human mind.
An ambitious production constructed around the notes of F?A??, and the first album by compatriots Godspeed You! Black Emperor, which is today considered among the most representative groups of the international post-rock scene. Ten years later, The Holy Body Tattoo will be once again performing monumental in a world-wide tour, including music (some of which never-before-heard) from the cult band's live performances.
Nine dancers dressed for the office, each isolated on their own pedestal, dialogue with the cutting sound of five guitars, two drum kits and a violin, describing the chaos of the modern world. This exploration of contemporary alienation is supported by the texts by American artist Jenny Holzer, who in the series Living (1981) analyses the daily tram-tram of human life.

Direction 
Dana Gingras
Choreography 
Noam Gagnon, Dana Gingras
Music 
Godspeed You! Black Emperor
Performers 
Caroline Gravel, Louise-Michel Jackson, Kim de Jong, Jason Martin, Louis-Elyan Martin, Sovann Prom Tep, Esther Rousseau-Morin, Neil Sochasky, Jamie Wright
Choreographic remount, Rehearsal director
 Sarah Williams
Lightning design 
Marc Parent
Text 
Jenny Holzer
Film direction 
William Morrison
Costumes 
Marilène Bastien
 Costume assistant 
Chantal Bachand
Technical director
 Dave Bourdages
Stage manager 
Claudia Couture
Sound 
Yann Dupuis
Producer 
Sarah Rogers
Production 
Animals of Distinction
 Live collaboration initiated by
David Sefton
 Special thanks to 
Jim Smith/Eponymous who produced monumental in 2005 and to the National Arts Centre in Ottawa who co produced and premiered the original version on February 24, 2005
 Thank you to the many people who contributed to this project from its initial inception in 2005 to its current incarnation in 2016
Menno Plukker, Cathy Levy, Yannick Grandmont, Justin Evans, Camille Gingras, Steven R Gilmore, Erik Whittaker, The Simons Foundation, Luminergie, Tiago Chasqueira, Guillaume Cavalière
and the Animals of Distinction Board of Directors 
Suzanne Hawkes, Patty Jones, Dianne Kennedy, Patricia Kim, Mike Magee, Marie Brassard, Daniel Canty, Karine Denault, Line Nault, Sonya Stefan, Roger Tellier-Craig 
animalsofdistinction.org
Rehearsals for
monumental
with Godspeed You! Black Emperor were supported through a residency at
Place des Arts (Montreal)
The company also gratefully acknowledges the support of the
Canada Council for the Arts, Conseil des Arts et des Lettres du Québec
Coproduction 
National Arts Centre, (Ottawa) PuSh International Performing Arts Festival (Vancouver) Adelaide Festival of Arts, Place des Arts Montréal, Luminato Festival (Toronto) Edinburgh International Festival, BAM for the Next Wave Festival
Photo ©
Yannick Grandmont