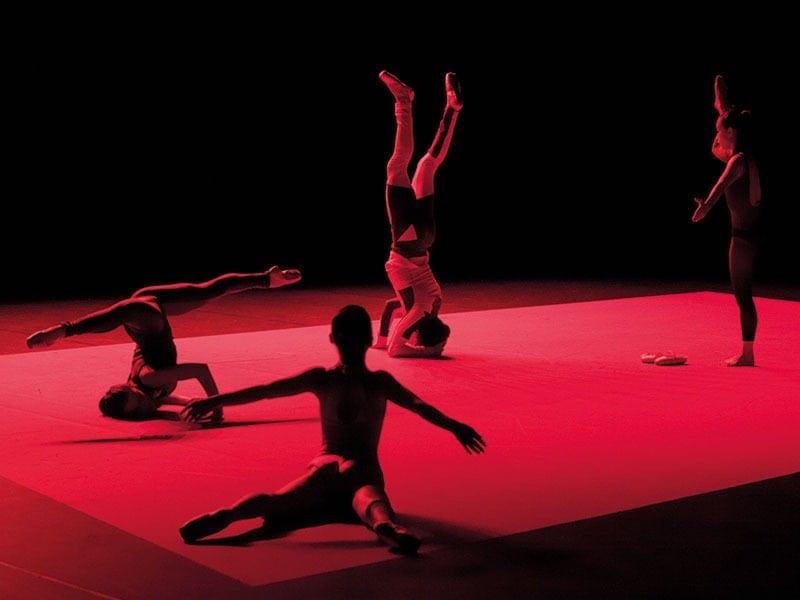 In the summer of 2015, Cecilia Bengolea and François Chaignaud were amongst the first choreographers invited by Tanztheater Wuppertal Pina Bausch to create a piece for the company following the famous choreographer's death. They grappled with a performance that combines the orchestral Madrigal repertoire to the dancehall style on the streets of Kingston.
Their latest show, DFS, is the continuation of this bizarre study combining traditional techniques and styles with contemporary practices, in which dance becomes a generational expressive form of resistance to new oppressive ideologies. In DFS, five dancers and artists from the Jamaican dancehall scene meet on stage to contrast singing and various dance techniques.
Several vocabularies merge to create a new abstract and humorous choreographic writing, able to form figures and shapes, reconciliations, combinations and new imaginaries. DFS is a bewitched collective ritual, ready to sink its roots into a profound anthropological landscape that explores the conventional forms of choreographic and musical expression with wisdom and lightness.

Duration 50' Conception Cecilia Bengolea, François Chaignaud Choreographic collaboration Damion BG Dancerz, Joan Mendy Performers Cecilia Bengolea, Damion BG Dancerz, François Chaignaud, Valeria Lanzara, Craig Black Eagle, Erika Miyauchi Vocal coaches Cécile Banquey, Baptiste Chopin, Alix Debaecker, Eugénie de Mey, Marie Picaut, Celia Stroom Technical manager, Lighting design, Dramaturgy collaboration Jean-Marc Ségalen Video Giddy Elite Team Sound mix Clément Bernerd Costumes - conception Cecilia Bengolea, François Chaignaud Costumes - manufacturing Méryl Coster, Florence Demingeon et France Lorenzi Administration, Production Chloé Schmidt, Jeanne Lefèvre, Clémentine Rougier Tour planning Sarah De Ganck / Art Happens Production Vlovajob Pru Co-produtcion Bonlieu Scène nationale Annecy et La Bâtie-Festival de Genève within the programme INTERREG France- Suisse 2014-2020, Club Création Entreprises - Annecy, l'Echangeur - Centre de Développement Chorégraphique Hauts-de-France, Biennale de la Danse de Lyon 2016, Festival d'Automne à Paris/Les Spectacles vivants - Centre Pompidou, Opéra de Lille, deSingel - Antwerp, Salder's Wells London, CCN2-Centre chorégraphique national de Grenoble within the Accueil Studio, Centre de Développement Chorégraphique Toulouse/Midi-Pyrénées, Centre national de danse contemporaine Angers within the Accueil Studio, PACT Zollverein - Essen, Gessnerallee - Zurich, La Pop - Paris Other supports Institut français Paris (2014-2015), FIACRE Fonds d'Innovation Artistique et Culturelle en Rhône-Alpes (2015), Ménagerie de verre Paris - Studiolab, CN D Centre National de la Danse de Pantin - accueil en résidence Special thanks to the Jamaican dancers who accompanied the creation DFS Dancing Rebel, Giddy Elite Team, Nicky Trice Rifical Team, O'shean et Suns French Squad, Rudey Legacy, ainsi qu'à Mélodie France, Geoffroy Jourdain (les Cris de Paris), Elodie Tessier Photo © Hervé Véronèse