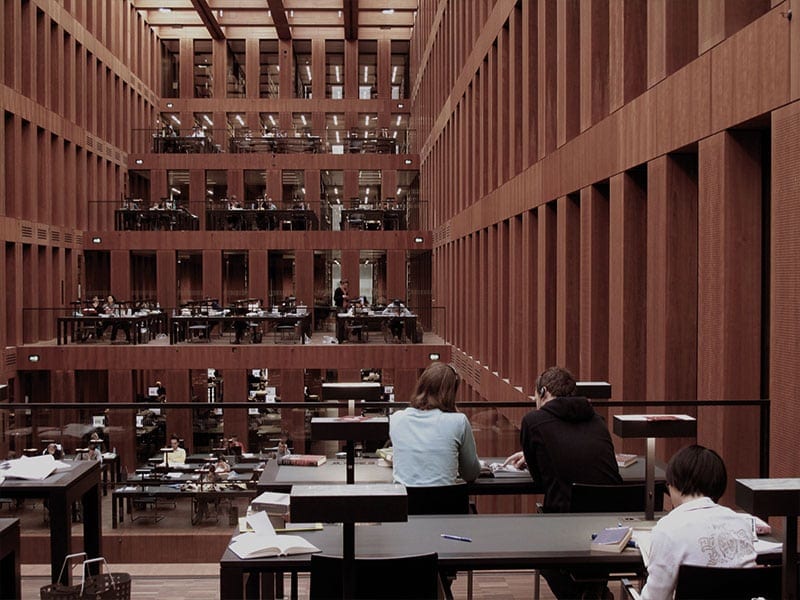 Having already partaken in the Festival with his company Forced Entertainment, Englishman Tim Etchells returns with a preview that serves as the ideal bridge between Short Theatre and Romaeuropa. Created in collaboration with Ant Hampton, The Quiet Volume is a whispered and hidden performance that, involving two people at a time, seems to self-generate in the unique tension of a library.
Indeed, it is this space, with its combination of silence and concentration, which nourishes the particular project of the two artists, in which two members of the public/participants sit side-by-side and, starting from the ideas offered by written and whispered words, construct an improbable path of knowledge and relationship.
The Quiet Volume is camouflaged in the flexible and orderly environment of each library, and, using its regulations, explores the subjective experience of reading, allowing our emotions to appear in a shared space to meet – silently and anonymously – those of another unknown reader.
***
The books available for the Italian performance are:
The Notebook, The Proof, The Third Lie: Three Novels by Agota Kristof
Blindness by Josè Saramago
When We Were Orphans by Kazuo Ishiguru
City Scapes by Gabriele Basilico
After your registration, you will receive an email to pick the book you'd like to consult and in which language, Italian or English.


Library
from 20.9 to 29.9 (closed on Sunday, 24th) Biblioteca Enzo Tortora Via Nicola Zabaglia, 27/b Also from 10 to 15.9 within
Short Theatre
Duration
60'
Concept
 Ant Hampton, Tim Etchells
Voices for the English version 
Ant Hampton, Seth Etchells, Jenny Naden
Artistic production
 Katja Timmerberg
Bi-neural recording
TiTo Toblerone
Commission, Production 
Ciudades Paralelas: un festival di 'teatro portatile' curato da Stefan Kaegi e Lola Arias 
Debut, Italian version's co-production
 Uovo performing arts festival, Milano
Direction
Ant Hampton 
Supervision 
Martina Pozzo / Uovo
Production director
Paolo Rumi 
First voice
 Emanuele Fortunati
Child voice
 Pietro Ferro 
Third voice
 Franca Porzio 
Translation 
Maddalena Fiocchi 
Audio recording, Editing 
Andrea Pestarino @ Music Production
Photo ©
Ant Hampton