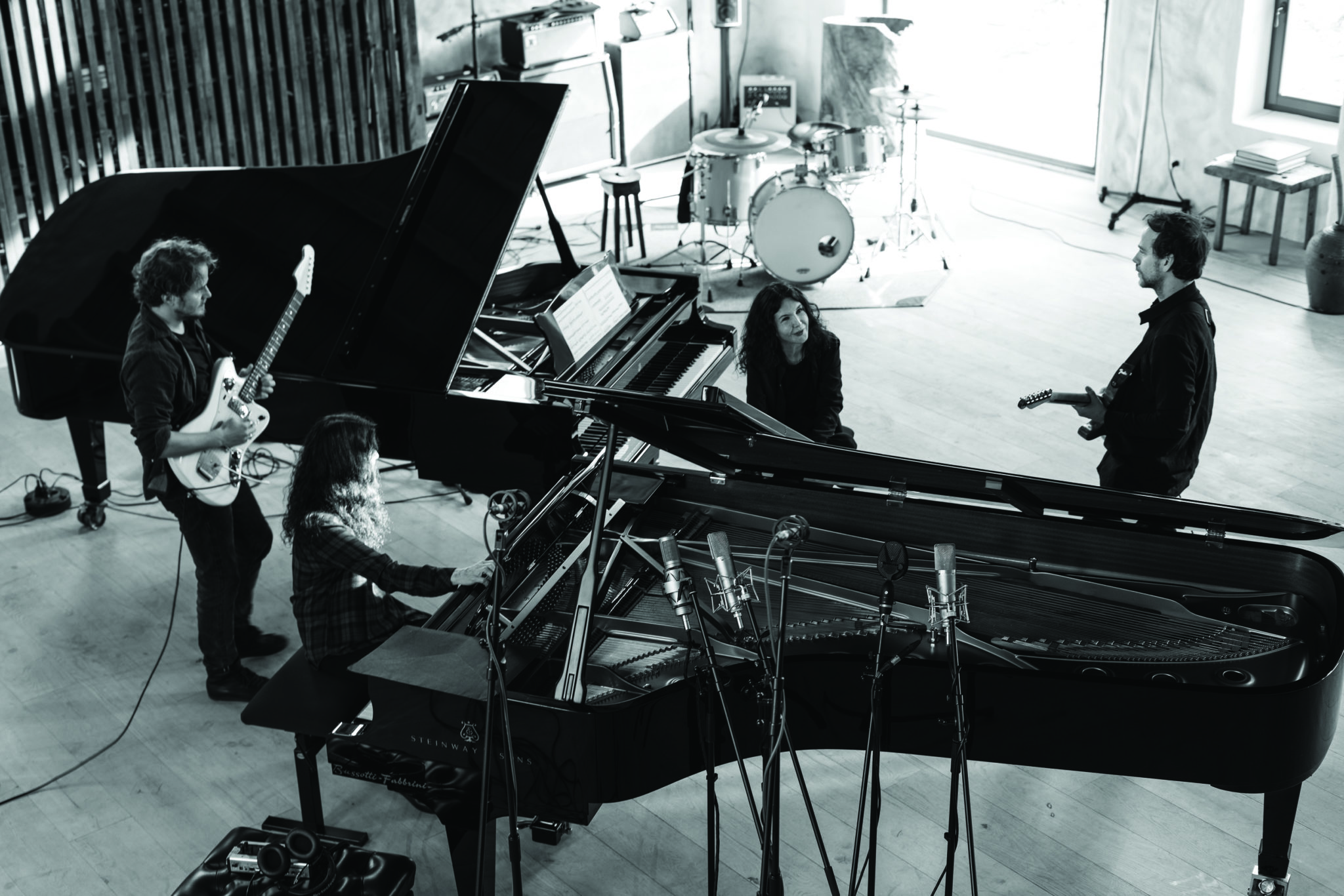 Born as a tribute to the masters of minimalism, Minimalist Dream House by Katia and Marielle Labèque develops as a bridge between classical contemporary and  rock music, thanks also to the presence of composer and guitarist of The National Bryce Dessner, who, alongside David Chalmin and the famous sisters, has a central part in the live performance. The result is an original creation for two pianos, two guitars and electronica. The programme includes musics from Steve Reich, Philip Glass, Timo Andres, Thom Yorke (involved for the first time in a classical composition), and the Bryce Dessner's and David Chalmin's compositions.
Bio
Katia e Marielle Labèque – Katia and Marielle Labèque are sibling pianists renowned for their ensemble of synchronicity and energy. Their musical ambitions started at an early age and they rose to international fame with their contemporary rendition of Gershwin's Rhapsody in Blue (one of the first gold records in classical music) and have since developed a stunning career with performances worldwide. They are guests with the most prestigious orchestras and They have had the privilege of working with many composers including Thomas Adès, Louis Andriessen, Luciano Berio, Pierre Boulez, Bryce Dessner, Philip Glass, Osvaldo Golijov, György Ligeti and Olivier Messiaen. At Walt Disney Concert Hall in Los Angeles they presented the world premiere of Philip Glass's new Concerto with the Los Angeles Philharmonic Orchestra under the direction of Gustavo Dudamel. Last spring also saw the world premiere of Bryce Dessner's concerto at Royal Festival Hall with the London Philharmonic Orchestra and John Storgards. For their own label, KML recordings, they have released a CD Box «Sisters». Previous releases include a Gershwin/Bernstein album, and their project Minimalist Dream House (50 years of Minimalist music).The DVD The Labèque Way, a letter to Katia and Marielle by Alessandro Baricco produced by El Deseo (Pedro and Augustin Almodóvar) and filmed by Félix Cábez is released by EuroArts. Their biography Une vie à quatre mains by Renaud Machart is published by Buchet-Chastel. Labèque's label KML Recordings joined the historical label Deutsche Grammophon, their first collaboration being Stravinsky's Rite of Spring and Debussy's Epigraphes Antiques, followed by Love Stories with music by Leonard Bernstein and David Chalmin. They just released two new CD: Amoria a journey to their Basque roots covering five centuries of music interpreting repertoire which gathers works by Basque composers dating from the Renaissance to the present day. The album Amoria ("love" in Euskara) dives at the heart of Basque culture with composers who managed to blend popular folklore with academic music. The other CD, Moondog is a tribute to Louis Thomas Hardin, one of the true geniuses of his time. They just released a new album dedicated entirely to American composer Bryce Dessner, including his Concerto for two pianos with Orchestre de Paris conducted by Matthias Pintscher. The album also includes the work El Chan for two pianos, and Haven for two guitars and two pianos. The album is dedicated to the film director Alejandro Gonzalez Iñarritú, who created the album cover artwork. At the invitation of the Philharmonie Hall in Paris in april 2019, attention was focused on their new projects: Amoria, Invocations and the creation of a piece written for them by Thom Yorke Don't fear the Light part of the new program in quartet of Minimalist Dream House with David Chalmin and Bryce Dessner and Thom Yorke as special guest.
Bryce Dessner – Bryce Dessner is one of the most sought-after composers of his generation, with a rapidly expanding catalogue of works commissioned by leading ensembles across the world. Known to many as a guitarist with The National, he is also active as a curator – a vital force in the flourishing realm of new creative music. He collaborates across art forms with some of the world's most creative and respected artists, including Philip Glass, Steve Reich, Alejandro Iñarritú, Katia and Marielle Labèque, Paul Simon, Sufjan Stevens, Caroline Shaw, Johnny Greenwood, Bon Iver, Justin Peck, Ragnar Kjartansson, Jennifer Koh, Kelley O'Connor and Nico Muhly. Dessner's work Murder Ballads, featured on eighth blackbird's album Filament — an album he also produced and performs on — won the 2016 Grammy Award for Best Chamber Music/Small Ensemble Performance. He also co-wrote the score, along with Ryuichi Sakamoto and Alva Noto – and was Grammy and Golden Globe nominated – for Alejandro González Iñárritu's Oscar Award-winning film, The Revenant. In 2015, MusicNOW, the Cincinnati-based contemporary music festival he founded celebrated its tenth anniversary. It has featured Tinariwen, Justin Vernon, Joanna Newsom, David Lang, Grizzly Bear and the Cincinnati Symphony Orchestra, among many others. Dessner resides in Paris and has been increasingly active composing for major European ensembles and soloists. In April 2019 Deutsche Grammophon (Universal Music) released the album El Chan featuring an all-Dessner programme of Concerto for Two Pianos, written for and performed by Katia and Marielle Labèque with Orchestre de Paris under Matthias Pintscher, El Chan for Katia and Marielle Labèque, and Haven, featuring Dessner on electric guitar. Future projects include a major orchestral commission, a stage work with Enda Walsh and a concerto for Pekka Kuusisto, a second collaboration with Sydney Dance Company, a commission for YMusic facilitated by a Baryshnikov scholarship, plus a commission from Fondation Louis Vuitton for Gautier Capuçon and seven-cello ensemble. In spring 2019 The National released their latest studio recording, I am Easy to Find, collaborating with film director Mike Mills. The music of Bryce Dessner is exclusively published by Chester Music Ltd, part of the Music Sales Group.
David Chalmin – Showcasing versatile and highly productive talents David Chalmin has quite an impressive repertoire as a producer and recording engineer. Stretching from classical music to avant-garde, Chalmin has worked with Shannon Wright, The National, Katia & Marielle Labèque, Bryce Dessner, Barbara Hannigan, Matt Elliott, The Third Eye Foundation, Zu, Angélique Ionatos, Gaspar Claus, Richard Reed Parry or Efterklang. Alongside his studio efforts, he's an accomplished composer and musician. In 2019, he writes 2 pieces, one for organ (Variations Festival Nantes), and another one for 100 pianos (Paris Philharmonie). Since September 2018, he's associated composer at the Lieu Unique in Nantes. In 2017, he was commissioned by the Fondation Singer-Polignac and the Festival de Pâques de Deauville to write a piece for Baroque Ensemble and electronics. The same year, he wrote the original music for Madonna's short film Her Story filmed by Luigi & Iango. In 2016, he wrote the score for the ballet Star-Cross'd Lovers created at the Cité de la Musique in Paris. This piece was composed for pianists Katia & Marielle Labèque, electric guitar and percussions. Based on the story of Romeo and Juliet, it was recorded for Deutsche Grammophon in 2016. Together with Massimo Pupillo (ZU/Uruk) and drummer Raphaël Séguinier (UBUNOIR), he founded the band Triple Sun, a name revealing an unconditional love for the band Coil. With pianist Katia Labèque, they created a project based around Moondog's music which was presented at Les Nuits de Fourvières in Lyon in 2016. The same year they joined the Dessner brothers (The National) and Justin Vernon (Bon Iver) for the project Invisible Bridge at the Paris Philharmonie. The Moondog album was released by Deutsche Grammophon in 2018. While mixing the ambient project Orchard (Aidan Baker/Gaspar Claus/Frank Laurino/Maxime Tisserand) for the Mind Travels Series, label Ici d'ailleurs offered to release Chalmin's first solo album. Jumping at the opportunity, David revealed himself to be a great electronic music composer as well as a radical producer. If the genres Intelligent Dance Music (IDM) and Berlin School seem to be the most obvious way to present his compositions, they're not sufficient to describe the variety of this album La Terre Invisible as it also contains industrial or classical inspirations. One thing is certain though, David Chalmin can proudly place his first solo album next to the likes of Jon Hopkins, Pantha du Prince or Andy Stott, for his contemporary approach of dancefloor music.
Credits
Piano: Katia Labèque
Piano: Marielle Labèque
Voix, guitare, électronique: David Chalmin
Guitare: Bryce Dessner