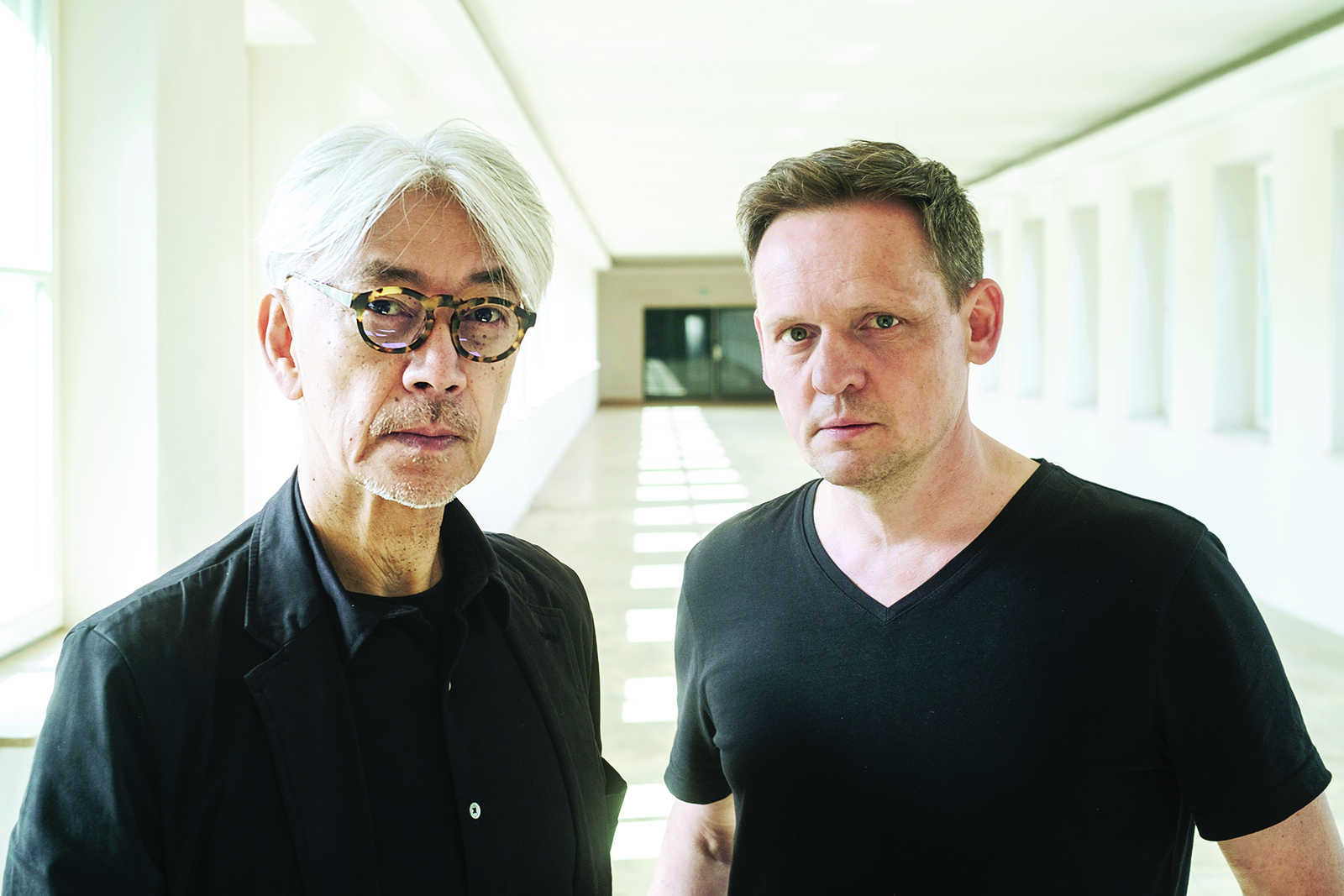 If there exist interstellar collaborations that are able to generate works of art and uncharted languages, one of them is certainly that between Ryuichi Sakamoto and Alva Noto. This duo of unstoppable experimenters returns to perform at Romaeuropa with a new performance in which piano and electronic music compete, once again, to involve the audience in an unforgettable sensory experience.
Alva Noto – Carsten Nicolai is a German artist and musician based in Berlin. For his musical outputs he uses the pseudonym Alva Noto. Born 1965 in Karl-Marx-Stadt he is part of an artist generation who works intensively in the transitional area between music, art and science. With a strong adherence to reductionism he leads his sound experiments into the field of electronic music creating his own code of signs, acoustics and visual symbols. NOTON is a label founded in 1994 by Carsten Nicolai as a small imprint becoming active in 1996 with the release of noto "spin" record. In the same year the collaboration with RasterMusic begun and by 1999 the two labels merged into Raster-Noton. By 2017 NOTON starts working independently releasing all back catalogue of Alva Noto and currently planning future releases. Diverse musical projects include remarkable collaborations with Ryuichi Sakamoto, Ryoji Ikeda (cyclo), Blixa Bargeld or Mika Vainio. Nicolai toured extensively as Alva Noto through Europe, Asia, South America and the US. Among others, he performed at the Solomon R. Guggenheim Museum in New York, the San Francisco Museum of Modern Art, Centre Pompidou in Paris and Tate Modern in London. Nicolai scored the music for Alejandro González Iñárritu's 'The Revenant'. The score was nominated for a Golden Globe, BAFTA, Grammy and Critics Choice Award. Most recently he has created the sound design for Iñárritu's groundbreaking VR project "Carne y Arena".
Ryuichi Sakamoto – As composer, performer, producer, and environmentalist, few artists have as diverse a résumé as
that of Ryuichi Sakamoto. His work includes pioneering electronic music as a member of Yellow Magic Orchestra, classical pieces, minimal/ambient music, many art collaborations, and over 30
film scores. He has been awarded an Academy Award, and many more. Recent works include a collaborative score with Alva Noto for Alejandro González Iñárritu's Academy Award-winning film The Revenant, and the release of his 14th solo album, async. Sakamoto resides in NY since 1990.

You may be interested