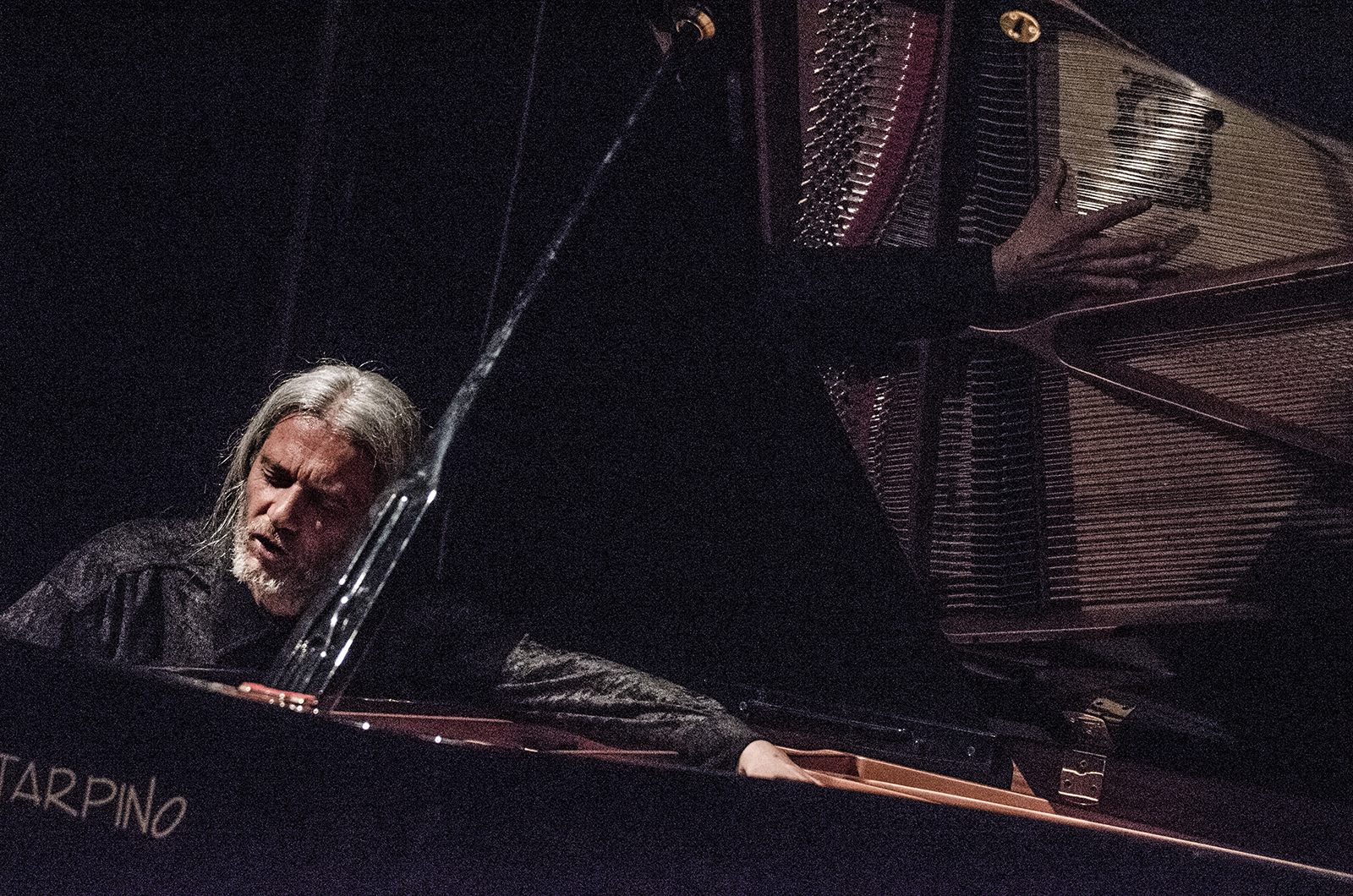 Fabrizio Ottaviucci continues his journey on the Treatise of Cornelius Cardew: A 193- page graphic score created between 1963 and 1968 that stimulates the interpreter to conceive of new musical ideas and forms. He, as with all aleatoric music, is entrusted with the full responsibility for the effectiveness and meaning of the work. Ottaviucci has divided the 193 pages of the mammoth composition in six parts and after presenting the first (pages 1-19) last year-an execution defined by the press as "among the most memorable" of the festival-returns to REf19 with the second section (pages 20-40).
Fabrizio Ottaviucci achieved a graduation with honors in Piano at the Conservatorio [Music School] of Pesaro, under the guidance of Paola Mariotti; besides, he studied Composition and Electronic Music . He performed in hundreds of concerts held in the main Italian and German cities, toured in Spain, Austria, Switzerland, United Kingdom, Poland, Mexico, United States, Canada, India, South Korea, Iran;  of particular relevance is his activity within the contemporary music scene: he performed together with prestigious artists as Rohan De Saram, Stefano Scodanibbio, Mike Svoboda, Daniele Roccato, Markus Stockhausen  and many others performer of the new music. He was repetedly invited to prestigious music festivals like Romaeuropa Festival, Biennale Musica Venezia, Festival Pontino, Traiettorie Parma, Milano Musica, Accademia di Santa Cecilia, Fondazione Scelsi, Nuova Consonanza Roma, Rassegna Nuova Musica Macerata, Mantica Cesena,  Ravenna Festival, Angelica Bologna, Amici della Musica Modena, Piacenza Nuove Musiche, Teatro Olinda Milano, Associazione Scompiglio Lucca, Dissonanzen Napoli, Musica d'hoy Madrid, Ruhrtriennale Koln, Imago Dei Vienna, Festival Cervantino Mexico and many others. He studied the piano works of Giacinto Scelsi with the composer himself; premiered works of Giacinto Scelsi, Stefano Scodanibbio, Ivan Vandor. He cooperated with Terry Riley taking part to performances conducted by the composer himself and recording an unpublished version, edited by Stradivarius, of the Two Keyboard Studies  and Tread on the Trail(first transcription for piano of this work). 2011 to 2014  he has cooperated with the actress and stage director Chiara Guidi of the Societas Raffaello Sanzio Cesena. Since 2017 he collaborates with the poet artist
Jim Dine. As part of the improvisation he has performed and reconding with Trilok Gurtu, Gary Peacock, Tony Esposito, Robin Schulkowsky, Simon Stockhausen, Aril Andersen, Conny Bauer , Mark Nauseef. He founded the group ALMA (Art Laboratory Music Aleatoria) whit  Gianni Trovalusci e Antonio Caggiano. He recorded works of Scelsi, Cage, Ustvolskaja, Riley, Gubaidulina for the labels Stradivarius and Wergo  and their work for the ECM  ( first Italian artist of series), CMP, Splash R,  Egea.  He was invited several times to radio programs focused on his artistic course and broadcasted by Rai Radio Tre (Italian national broadcasting company). Many of his piano recitals have been recorded and broadcasted by Radio and TV companies, both national and international.
You may be interested