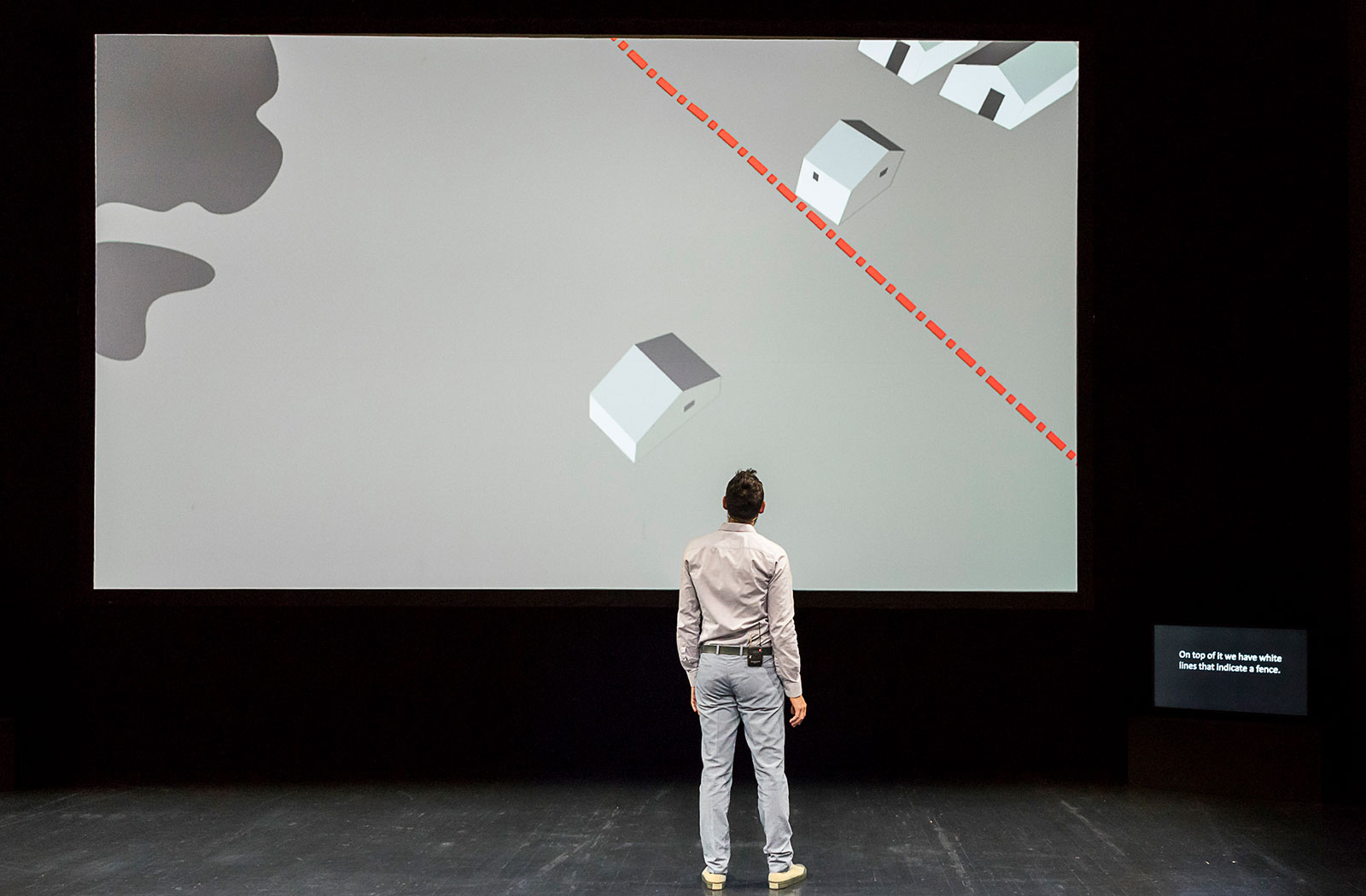 Between 2008 and 2013, fourteen institutions from ten European countries collaborated in the development of an experimental project, funded by the EU, on the defense of borders through autonomous robotic units. The project was called "Talos" (Transportable Autonomous Patrol for Land bOrder Surveillance) referring to the bronze giant given by Zeus to his lover Europe in order to defend the borders of Crete as the story appears in Apollonio Rodio's Argonautiche. Choreographer and director Arkadi Zaides brought together a team of playwrights and video artists to analyze the cultural implications of this project and the possibilities of movement on the boundary lines. His hyper-technological scenic concept invites the viewer to discover real and fictitious documents, builds a continuity between past, present and future and narrates the evolution of tools of control in a world that has replaced gods with algorithms.
Arkadi Zaides – A performer with the Batsheva Ensemble and the Batsheva Dance Company, both under the artistic direction of Ohad Naharin between 1999 and 2004, Arkadi Zaides is nowadays an independent choreographer. Born in 1979 in Belarus in the former USSR, he immigrated to Israel in 1990 and currently lives in France. Zaides' work examines the ways in which political and social contexts effect the physical body and constitute choreography. His performances and video installations have been presented in various festivals and venues in Europe, Asia and the Americas. Zaides is a recipient of numerous prizes, among which, the Emile Zola Prize for Performing Arts to honour the human rights engagement he demonstrated in his work Archive (2013), as well as the Kurt Jooss Award for his work Solo Colores (2010). He holds a masters degree in choreography from the Theater School, Amsterdam (NL) and continuously develops platforms to promote contemporary discourse of performance making.
The Institut des Croisements is a French non-profit association, founded and directed by Simge Gücük & Arkadi Zaides with Benjamin Perchet as its president. The association is supported by the French Ministry of Culture / DRAC Auvergne Rhône-Alpes. The Institute's mission is to promote Zaides' work, as well as to represent contemporary artists and produce cultural events.
Team: Claire Buisson, Jonas Rutgeerts, Youness Anzane, Nienke Scholts, Effi & Amir, Gabriel Braga, Arkadi Zaides, Amit Epstein, Thalie Lurault, Etienne Exbrayat, Simge Gücük
Performed by: Arkadi Zaides / Lara Barsacq
Co-produced by: Les Subsistances (FR), La Maison de la Danse (FR), K3 – Zentrum für Choreographie, Tanzplan Hamburg as part of Together Apart project, funded by the German Federal Cultural Foundation (DE), TanzQuartier Wien (AT), NEXT Arts Festival, Lille-Kortrijk-Tournai (BE-FR), CSS, Villa Manin (IT) , CDC Toulouse (FR), Wiesbaden Biennale (DE), Teaterhuset Avant Garden (NO), CCNN – Centre Chorégraphique National de Nantes (FR)
Residency support: Kunstenfestivaldesarts (BE), O Espaço do Tempo (PT), STUK (BE), Tanz im August/HAU Hebbel am Ufer (DE)
With the participation of DICRéAM
With the support of Transfabrik Fund – the Franco-German Fund for performing arts Institut des Croisements – Arkadi Zaides is supported by French Ministry of Culture and Communication – DRAC Auvergne Rhône-Alpes
International distribution:  Koen Vanhove & Anna Skonecka / Key Performance
In corealizzazione con:
Teatro Biblioteca Quarticciolo
Spellbound Produzioni
You may be interested