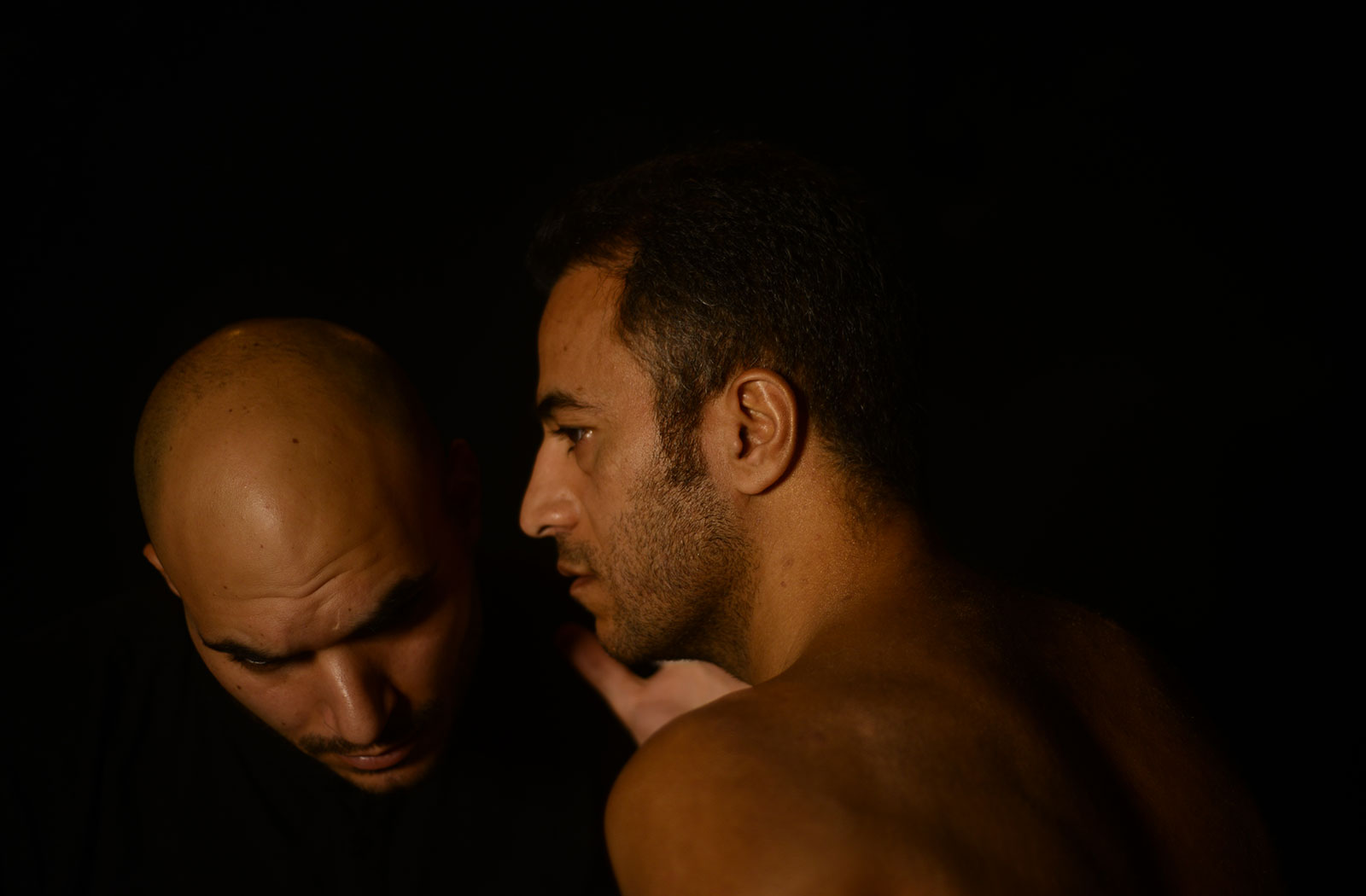 With The Museum, Palestinian director Bashar Murkus, founder of the Khashabi Theater, explores the most intimate and human dimension of violence. A man committed an attack in a contemporary art museum, killing 49 children and a teacher. However, his suicide plan was unsuccessful. Sentenced to death, he waited 7 years for the day of his execution. Today, just before his last day of life, he invites the police detective who followed his case to share his last lunch. In the space where the lethal injection will be administered, the two men meet and clash over their opposing ways of seeing life. This meeting allows them both to play risky and manipulative games- games that can only be played that last night and in which they search for the meaning of the death they desire.
Bashar Murkus- Born 1992 in Kufer Yasif in the north of occupied Palestine, he is a theatre director and writer based in Haifa. He began his theatrical career after receiving his BA from the University of Haifa Theatre department in 2011. A founding member of Khashabi Ensemble, since 2015 he is the artistic director of The Khashabi Theatre, an Independent Palestinian theatre based in Haifa. His works have been staged in theatres in Brussels, Genk, Gent, Antwerp, Bern, Dublin, Marseilles, Paris, Tunis, Berlin, Hanover and New York. He also teaches acting and directing at various academic and arts institutions in Haifa and Europe. Since 2011, Murkus has directed nearly 20 theatre productions, expressing his deep artistic, political, social and humanistic visions and providing an intense theatrical glimpse into contemporary Palestinian culture. These productions are the outcome of profound and extensive collaborative research projects, engaging actors, scholars, designers and musicians who explore complex social, political and philosophical themes. Murkus' performative language is highly sensual, based not only on written drama, but on sound, staggering visual images, provocative intertextual allusions to canonical drama and corporal gestures and movements. This is post-dramatic theatre at its best. Murkus creates immersive, empathic fictional worlds, built and broken into fragments, by engaging the viewers' universal human vulnerability. In 2014, Murkus staged "The Parallel Time" at Al-Midan Theatre in Haifa, dramatizing the highly controversial issue of Palestinian political prisoners imprisoned in Israeli jails. This production caused a turmoil amongst the Israeli right wing, culminating in a dramatic budget cut-down of Al-Midan Theatre. This signifies a pivotal point in the history of contemporary Palestinian theater and its impact on current cultural politics. The Haifa Municipality joined the decision of the Ministry of Culture and cut off funding to the theatre entirely, resulting in the theater's complete paralysis. "The Parallel Time" has encouraged Palestinian artists to cultural independence, taking responsibility for their production to ensure their cultures' freedom and independence, overcoming censorship and suppression by Israeli policies that attempt to influence or prevent their work from being staged. Murkus' and Khashabi theatre are unblemished representatives of independent Palestinian theatre.
Khasabi Theatre– Khashabi Theatre is an independent cultural organization founded in Haifa in 2015 by the Khashabi Ensemble, a collective of Palestinian theatre-makers. Khashabi aims to provide a space for artists to freely experiment, create, research and perform alternative forms of theatre and art, and space where societal, political and artistic taboos can be challenged, creating an invigorating creative environment based around cooperation and mutual support.
Written and Directed by: Bashar Murkus
With: Henry Andrawes, Ramzi Maqdisi
Co-researcher: Majd Kayyal
Dramaturgy: Khulood Basel
Scenography: Majdala Khoury
Music production: Nihad Awidat
Lighting Design and Technical Director: Muaz Aljubeh
Translation: Lore Baeten
Assistant Director: Samera Kadry
PR: Mustafa A. Qablawi
Produced by: Khashabi Theatre
Producer: Khulood Basel
International Touring: as is presenting arts
Co-Production with: Schlachthaus Theatre – Bern, Switzerland; Moussem Nomadic Arts Centre – Brussels, Belgium Arts Centre Vooruit – Gent, Belgium
With the support of The Robert Weil Family Foundation
THE MUSEUM was developed, in part, at the 2018 Sundance Institute Theatre Lab in Morocco.
and the 2018 Sundance Institute Theatre Lab at MASS MoCA Museum in North Adams.
You may be interested