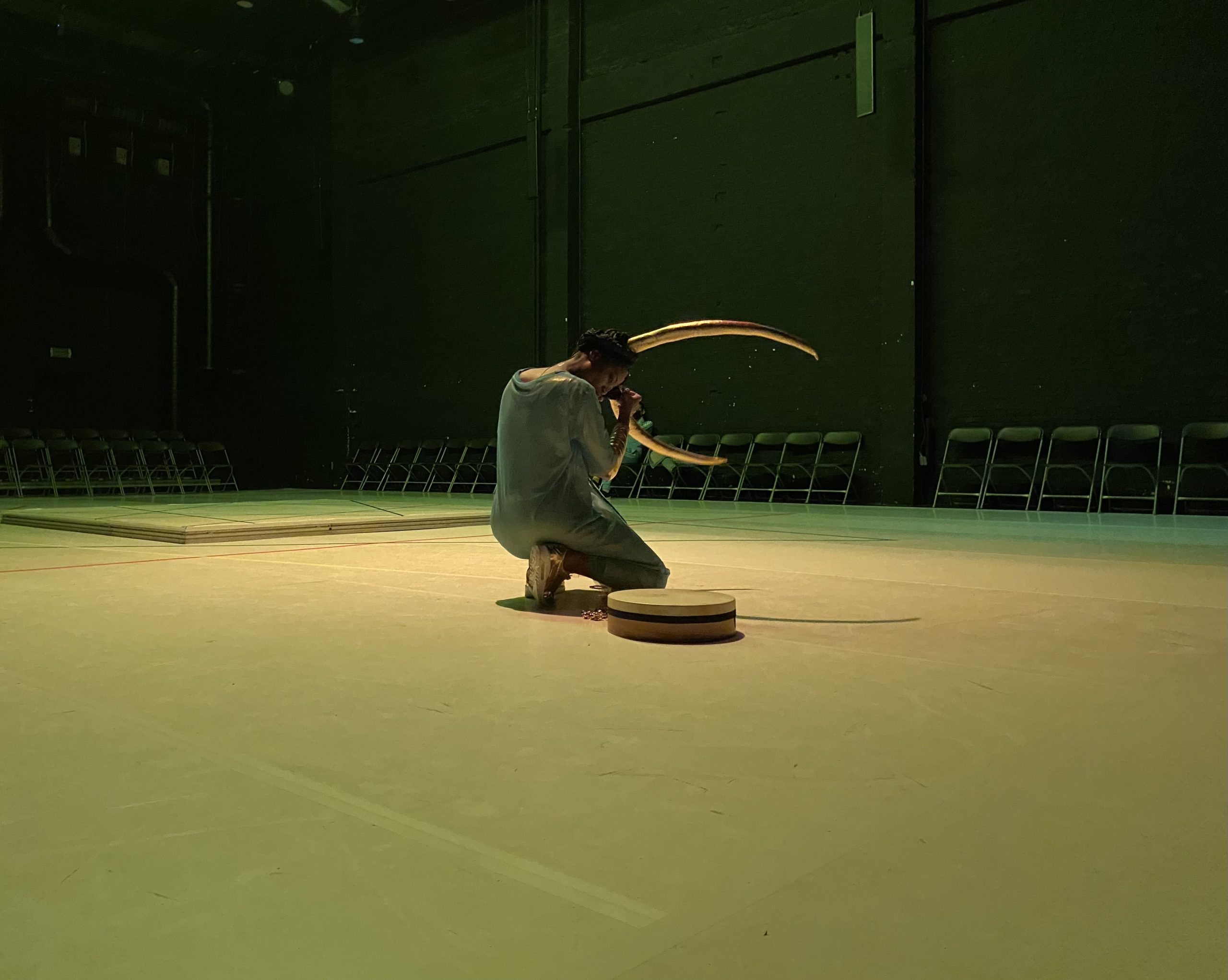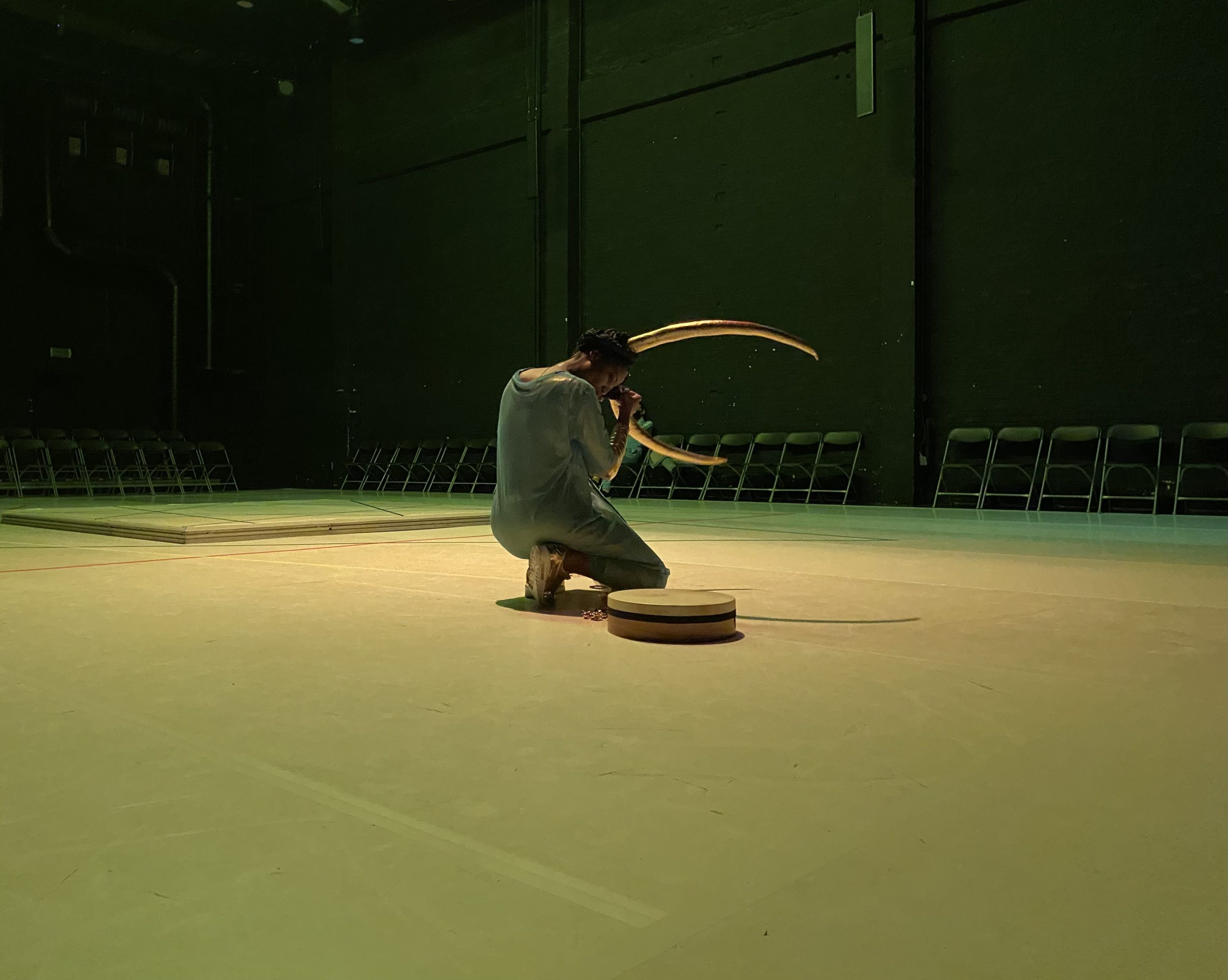 Born in Morocco and based in Brussels, Radouan Mriziga closes this section with Akal: a trilogy dedicated to the indigenous Imazighen people of North Africa, to their history and their memory. Lives, which have never been narrated in the West and which have been ignored for centuries, are here recovered, representing the seed of a new future for the choreographer. At the heart of Akal lies the collaboration with choreographer, dancer and singer Dorothée Munyaneza- a frequent REF protagonist- who is here summoned to embody the ancient Egyptian goddess Neith, a figure of birth and death and a guide of the souls of the dead towards the underworld. Mriziga builds a powerful solo for her, capable of mixing ritual, traditional dance, architecture, song, poetry and rap and, in the process, designing an intimate choreographic space through which to trace new narratives, build new memories and rewrite our collective history.
Radouan Mriziga is an artist from Marrakech based in Brussels. Fairly quickly, he began to focus on his work as a maker, creating his first solo 55 (2014), followed by 3600 (2016), 7 (2017) and 0. (2019), performances in which he addresses dance through the prism of architecture and that have been touring across the world. Since 2019, Radouan is developing a new trilogy of works inspired by the culture and history of the Amazigh, the original inhabitants of North Africa. From 2017 until 2021, he is an artist-in-residence at the Kaaitheater in Brussels, and from 2021 until 2025 at deSingel in Antwerp
Dorothée Munyaneza is a singer, author and choreographer. Originally from Rwanda, she now lives in Marseille, France. After studying music at the Jonas Foundation UK in London and Canterbury University, she sang, among other things, parts of the original soundtrack to the film "Hotel Rwanda". In 2010 she released her first solo album. Since 2013, Dorothée Munyaneza has been developing work of her own in the contemporary performance scene. Together with her company, Kadidi, she created "Samedi Détente" in 2014 at the Théâtre de Nîmes, which has been shown almost 100 times in France, Europe, the USA and Rwanda.
Concept and choreography: Radouan Mriziga
Made with & performed by Dorothée Munyaneza
Chroeographic assistants: Maïté Minh Tâm Jeannolin and Sondos Belhassen
Dramaturgical support: Esther Severi
Research support: Hajar Ibnouthen
Scenographic concept: Tewa Barnosa and Radouan Mriziga
Visual artwork: Tewa Barnosa
Light design: Estelle Gautier
Costume design: Lila John
Technical Director: Estelle Gautier
Sound Technician: Milan Van Doren
Poem contribution: 'I fled this realm' by Asmaa Jama
Assistance: Rania Barhoumi
Production: A7LA5 vzw (Brussels – BE)
Distribution and tour management: Something Great (Berlin – DE)
Co-production: DeSingel (Antwerp – BE), Kaaitheater (Brussels – BE), Tanzquartier Wien (Vienna – AT), PACT Zollverein (Essen – DE), Festival de Marseille (Marseille – FR), Walker Art Center (Minneapolis – US), Wexner Center for the Arts (Columbus – US), Contemporary Arts Center (Cincinnati – US), Cultuurcentrum C-Mine (Genk – BE), Walker Art Center (Minneapolis – US).
Residencies: deSingel – International Art Campus (Antwerp – BE), Festival de Marseille (Marseille – FR), Kunstenwerkplaats Pianofabriek (Brussels – BE)
Special thanks to: Sharjah Art Foundation
Funded by De Vlaamse Overheid