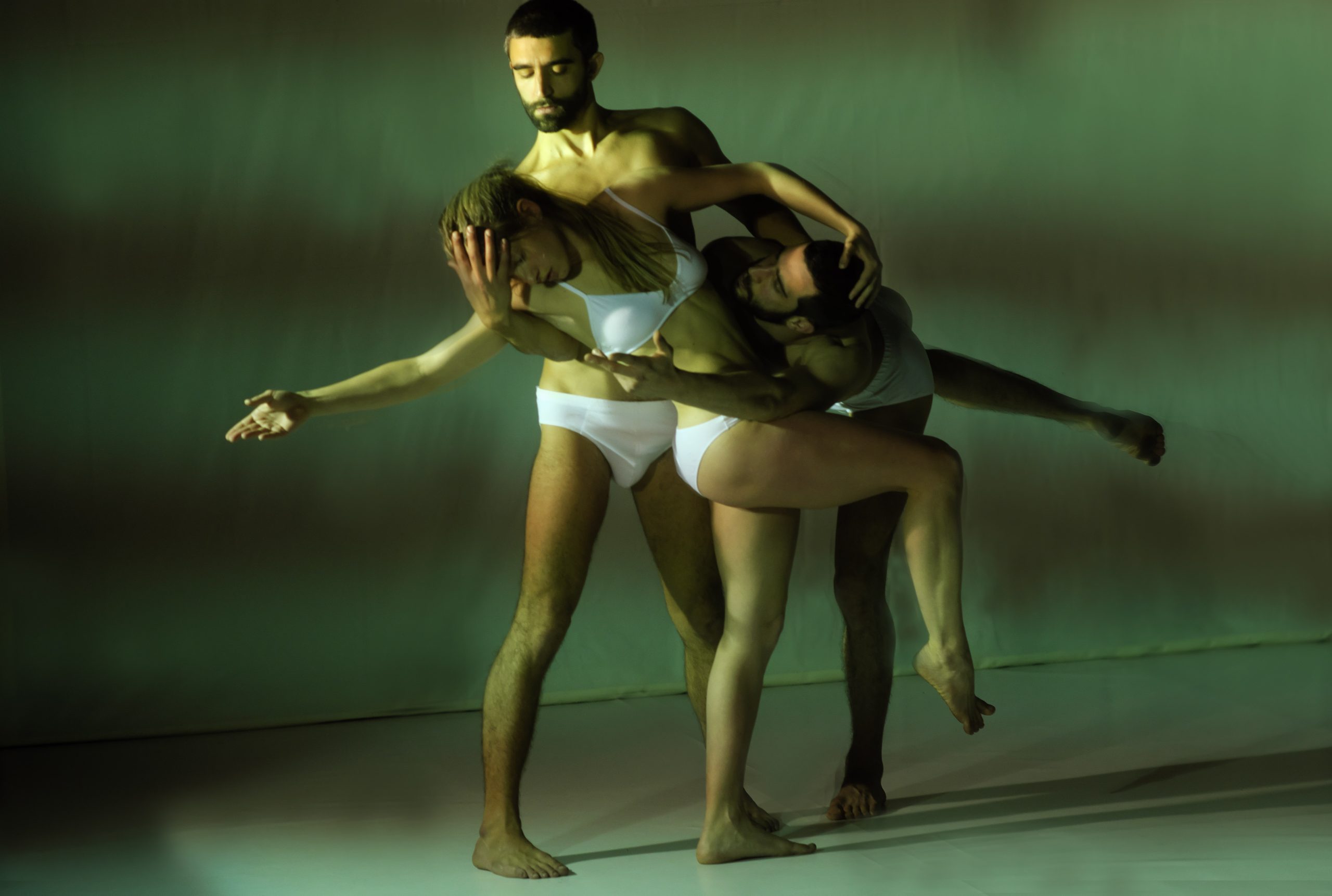 Enzo Cosimi returns to the Romaeuropa Festival to present the entire Orestea – Trilogia della vendetta which, in recent years, has seen him engaged in both formal and thematic research around the figure of the hero. «Today the hero is in pieces, deconstructed», says the choreographer. He continues: «His identity becomes a mechanism to understand society and sexuality as a whole (a central theme in my work), acting like a mirror for the evolution and transformation of communal customs and uses».  With his punk aesthetic- always biting and irreverent- Cosimi has left a profound mark in the history of Italian dance.
The first chapter of this journey is Glitter in My Tears – Agamennone, which animates on stage abstract tales where the now flawed, broken hero, stands out in a rarefied landscape. Intimate and existential visions shed light on practices of the contemporary world, focusing on three main figures of ancient Greek tragedy: Clytemnestra, Agamemnon and Aegisthus. Cosimi's choreographic language concretizes the poetic score, building a singular architecture that makes use of both the human body and the poetic word.
Director-choreographer, Enzo Cosimi is among the most authoritative in contemporary italian choreography. Guest choreographer at the Scala of Milan and the Teatro Comunale in Florence. Over the years, the creations of Compagnia Enzo Cosimi have been presented at the major theatres and festivals in Italy and travelled in tour in Europe, USA, Peru, Australia, India and Japan. He has created productions with his Company for the most prestigious of international festivals and theatres, collaborating with Italian and international artists of excellence, including, Miuccia Prada, Luigi Veronesi, Richie Hawtin, Aldo Tilocca, Louis Bacalov, Aldo Busi, Daniela Dal Cin, Robert Lippock and Fabrizio Plessi with whom he created Sciame, the first work of Italian dance-video. In 2006 he created and directed the choreography for the Opening Ceremony of the XX Winter Olympic Games in Turin, starring the étoile, Roberto Bolle, and 250 performers. In March 2012, Enzo Cosimi's first work, Calore, was restored and represented as part of the RIC.CI Project curated by Marinella Guatterini.
During his carrier, Enzo has brought to the stage more than 40 original productions with his Company. Sopra di me il diluvio, presented at the Biennale of Venice in 2014 won him the Premio Danza&Danza for Best Italian Production on the Year and also the Premio Teriscore was awarded in 2015 to Paola Lattanzi as Best Contemporary Interpreter.
In the last years, Cosimi created two trilogies: Sulle passioni dell'anima (On the passions of the soul) about collective fear, desire and pain, and Ode alla Bellezza – 3 creations on diversity (Odes to beauty: 3 creations on diversity) investigating the social and political sphere, talking about homeless people, homosexuality in mature life and its relationship to contemporary and FtoM Trans people.
From 2018 he has been working on a new project, Orestea – Revenge Trilogy, that has its debut with Glitter in my tears – Agamennone, and followed, in 2020, by the second chapter, Coefore Rock&Roll – performance version, at Romaeuropa Festival. In 2019 created at Romaeuropa Festival a formation/performance project in collaboration with National Dance Academy, National Theatre Academy and Fine Arts Academy. In 2018, Cosimi received the National Critics Prize ANCT. In 2019 the biography "Enzo Cosimi, una conversazione quasi angelica – 10 questions for domestic use" by Maria Paola Zedda has been published by Editoria e Spettacolo publishing in the series attended by Paolo Ruffini and Matteo Antonaci. .
Direction, choreography, scenes and costumes: Enzo Cosimi
Dancers, texts and choreographic collaboration: Alice Raffaelli, Giulio Santolini, Matteo De Blasio
Texts: Enzo Cosimi, Giulia Roncati, Genesis P-Orridge
Light Design: Gianni Staropoli
Music curated by: Enzo Cosimi
Music: Georg Friedrich Haas, Mika Vainio, Arvo Pärt
Organization: Pamela Parafioriti
Production: Compagnia Enzo Cosimi, MIBACT, Regione Lazio
In coproduction: Teatro Stabile delle Arti Medievali, con il contributo di Lavanderia a Vapore e L'arboreto – Teatro Dimora di Mondaino, nell'ambito del progetto a sostegno delle residenze di ResiDance XL – luoghi e progetti di residenza per creazioni coreografiche azione della Rete Anticorpi XL – Network Giovane Danza D'autore – in collaborazione con Grandi Pianure – in collaborazione con il progetto Zone Libre – azioni di sostegno alla creazione contemporanea di ACS Abruzzo Circuito Spettacolo
Photo © Piero Tauro