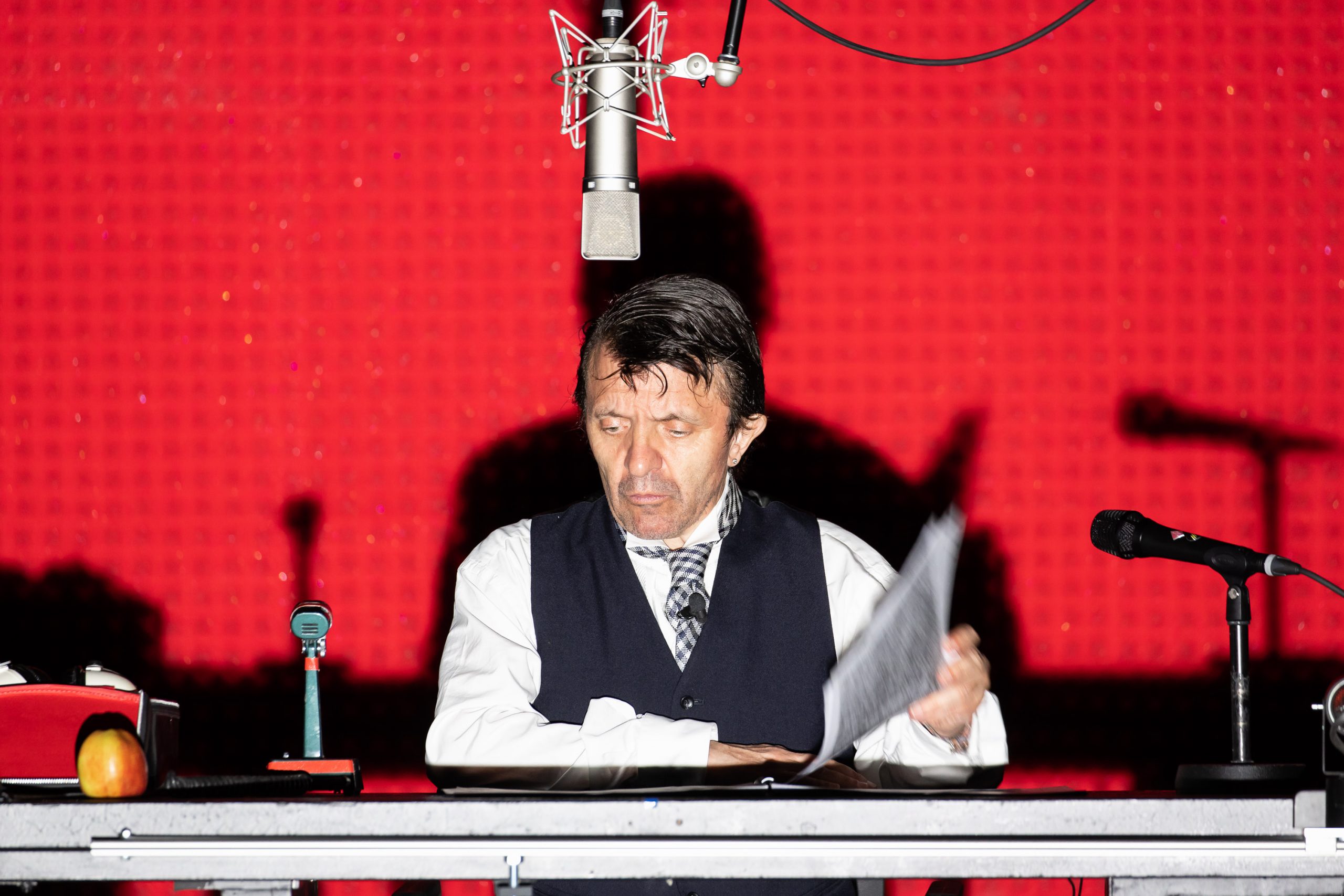 The return of great German composer and director Heiner Goebbels to the REF is based on his creative encounter with the texts of one of the greatest talents-and outsiders- of 20th century European art: Henri Michaux. To this extraordinary writer, poet and painter (Belgium, 1899- Paris, 1984), who was inspired by experiments with hallucinogens and who was deeply committed to the expression of the unspeakable, Goebbels dedicates a new musical theatre show.  He offers the stage to actor David Bennent and the pianists of the Ensemble Modern. "I can't even say what fascinates me most about this artist's work: the texts or the images. I will seek to approach him through a third medium: music", declares the German master. The result is an elegant scenic concert for vocals, live electronica and two pianos, accompanied by a surprising interplay between light and technology.
The composer and director Heiner Goebbels (*1952) belongs to the most important exponents of the contemporary music and theatre scene. His compositions for ensembles and big orchestras published by Ricordi Berlin are currently performed worldwide as well as several of his music theatre works and staged concerts, mostly produced by The?a?tre Vidy Lausanne, the Ensemble Modern and International Festival of the Arts RUHRTRIENNALE. He created a great variety of sound and video installations, which have been displayed by Artangel London, MAC Lyon, Museum Mathildenho?he Darmstadt, Albertinum Dresden, New Space Moscow, Museo da Arte Bogota a.o..Heiner Goebbels worked for nearly 20 years as a professor at the Institute for Applied Theatre Studies of the Justus Liebig University in Giessen (1999-2018) and was President of the Theatre Academy Hessen for twelve years (2006-2018). From 2012 to 2014 he was the artistic director of the International Festival of the Arts RUHRTRIENNALE. 2018 he received the first appointment for the newly established Georg Bu?chner Professorship, from the President of the Justus Liebig University and is established at the interdisciplinary research centre ZMI – Centre for Media and Interactivity in Gießen.The music theatre production Stifters Dinge is still in the repertoire of The?a?tre Vidy. Schwarz auf Weiss, Eislermaterial, Landschaft mit entfernten Verwandten are in the repertoire of the Ensemble Modern. The London Sinfonietta and the Orchestra in the Age of Enlightenment and many other International Ensembles perform Songs of Wars I have seen. His latest productions John Cage: Europeras 1&2, Harry Partch: Delusion of the Fury and Louis Andriessen: De Materie are distributed by the Ruhrtriennale, Everything that happened and would happen by Artangel London.
David Bennent |German-Swiss theatre and film actor. In 1979, at the age of twelve, he made his film debut in Volker Schlo?ndorff's film adaptation of the Gu?nter Grass novel "Die Blechtrommel" in the role of Oskar Matzerath, a dwarf, glass-smashing, anti-Nazi maniac who became famous overnight. The role proved to be both a blessing and a curse, as the diminutive David Bennent, now 1.55 metres tall and ideal for the Oscar, was from then on always identified with the Goldene Palme and Oscar-winning film. 28 years later, Bennent, by now a renowned theatre actor with few film and TV roles, filmed again with Schlo?ndorff: In Kazakhstan he made the road movie "Ulzahn – Das vergessene Licht" (2007), where he becomes the companion of a Frenchman (Philippe Torreton) on his last journey as the oddball shaman Shakumi. David Bennent was born in Lausanne in 1966 as the son of the actor Heinz Bennent (b. 1921) and the dancer Diane Mansart into a family of artists to which David's older sister Anne Bennent (b. 1963) belongs. After "The Tin Drum" he turned to the theatre, becoming one of the youngest actors to receive an engagement at the Come?die Francaise in Paris in 1984 and acting at the Schaubu?hne Berlin in 1985. Bennent appeared in plays by Shakespeare as the Fool ("King Lear") and as Caliban ("The Tempest"), played in Samuel Beckett's "Endgame" and was euphorically celebrated by the critics ("The greatest thing, however, is David Bennent") for his "madcap appearances, childishly nasty coldness and huge eyes escaping into the unknown". He has performed under Patrice Che?reau ("Les Paravents"), Klaus Michael Gru?ber, Robert Wilson, George Tabori, Hans Neuenfels, Arie Zinger, Joel Jouanneau, Thomas Langhoff and Leander Haußmann and was part of Peter Brook's troupe for seven years from 1990-1997, with whom he toured the world. With his father he performed Heiner Mu?ller/Friedrich Ho?lderlin evenings, and in 2006 he could be seen as the ageing Amadeus in "Mozart and Konstanze" at the Hamburg Schauspielhaus. As theatre is a matter of the heart for the acting artist without star fame, he only appeared in a few cinema films, such as the crime thriller "Dog Day" by Yves Boisset (1983), the fantasy film "Legend" (1985) by Ridley Scott, where as the nature magician Honeythorn Gump he assists Tom Cruise in his fight against the ruler of darkness, in "Poem" (2003) and Spike Lee's "She Hate Me" (2004).
Since its founding in 1980, Ensemble Modern (EM) has been among the leading New Music ensembles. It currently unites around 20 soloists from Belgium, Bulgaria, Germany, Greece, India, Israel, Japan, the USA and Switzerland, illustrating the culturally diverse background of the ensemble. Resident in Frankfurt am Main, the ensemble is known for its unique democratic organisation and working method. Artistic projects, partnerships and financial matters are decided and implemented jointly. Its unique and distinctive programming includes musical theatre works, dance and video projects, chamber music, ensemble and orchestral concerts. Tours and guest appearances have taken it to the most renowned festivals and distinguished performance venues, such as the Berliner Festspiele, Bregenzer Festspiele, Cite? de la Musique, Concertgebouw Amsterdam, Elbphilharmonie Hamburg, Festival d'Aix-en-Provence, Festival d'Automne a? Paris, Hellerau Dresden, Holland Festival, Klangspuren Schwaz, Konzerthaus Berlin, Ko?lner Philharmonie, Kunstfestspiele Herrenhausen, Ruhrtriennale, Salzburger Festspiele, Wien Modern and Wigmore Hall London. In its hometown, Ensemble Modern has had its own subscription series at the Alte Oper Frankfurt since 1985. It regularly produces musical theatre works in cooperation with the Frankfurt Opera, as well as a series of workshop concerts entitled ›Happy New Ears‹. Since 2011 Ensemble Modern has joined the Frankfurt Radio Symphony Orchestra in presenting the festival ›cresc… Biennial for Current Music Frankfurt Rhine Main‹. Further cooperations and projects round out the multi-faceted profile of Ensemble Modern. The ensemble strives to achieve the highest possible degree of authenticity by working closely with the composers themselves. The musicians rehearse an average of 70 new works every year, 20 of which are world premieres. Its work is characterised by extraordinary and often long-term cooperative ventures with renowned artists, such as John Adams, Mark Andre, George Benjamin, Peter Eo?tvo?s, Brian Ferneyhough, Heiner Goebbels, Hans Werner Henze, Mauricio Kagel, Gyo?rgy Kurta?g, Helmut Lachenmann, Gyo?rgy Ligeti, Olga Neuwirth, Enno Poppe, Rebecca Saunders, Simon Steen-Andersen, Karlheinz Stockhausen, Steve Reich, Frank Zappa or Vito Z?uraj, as well as outstanding artist personalities from other artistic genres. In addition to its multi-faceted concert activities, Ensemble Modern presents the results of its work through regular recordings, many of which have won multiple awards. Almost 50 of the more than 150 CD productions have been released by the ensemble's own label, Ensemble Modern Media. In 2003 Ensemble Modern bundled its existing education and further education projects under one roof, founding the International Ensemble Modern Academy (IEMA) with the goal of passing on the musical heritage of modernism. IEMA's formats developed especially for specific target groups include the Master's Degree Programme in contemporary music for young professional musicians in cooperation with the Frankfurt University of Music and Performing Arts as well as international master courses, composition seminars and school projects. All these pursue the goal of educating a broad public about a great variety of contemporary musical tendencies and an open, creative approach to artistic processes
David Bennent — Performer
Ensemble Modern: Neus Estarellas, Hermann Kretzschmar, Sophie Patey, Ueli Wiget — 2 piano (alternates)
Music, direction, stage: Heiner Goebbels
Sound Design: Willi Bopp / Paul Jeukendrup
Light Design: Heiner Goebbels, Marc Thein
Costumes: Florence von Gerkan
Music assistant, transcription: Diego Ramos Rodriguez
Assistant: Lisa Schettel
Stage: Sóley Sigurjónsdóttir

A production by: Théâtre National du Luxembourg / KunstFestSpiele Herrenhausen
With: Wiener Festwochen, deSingel, Ensemble Modern u. a.