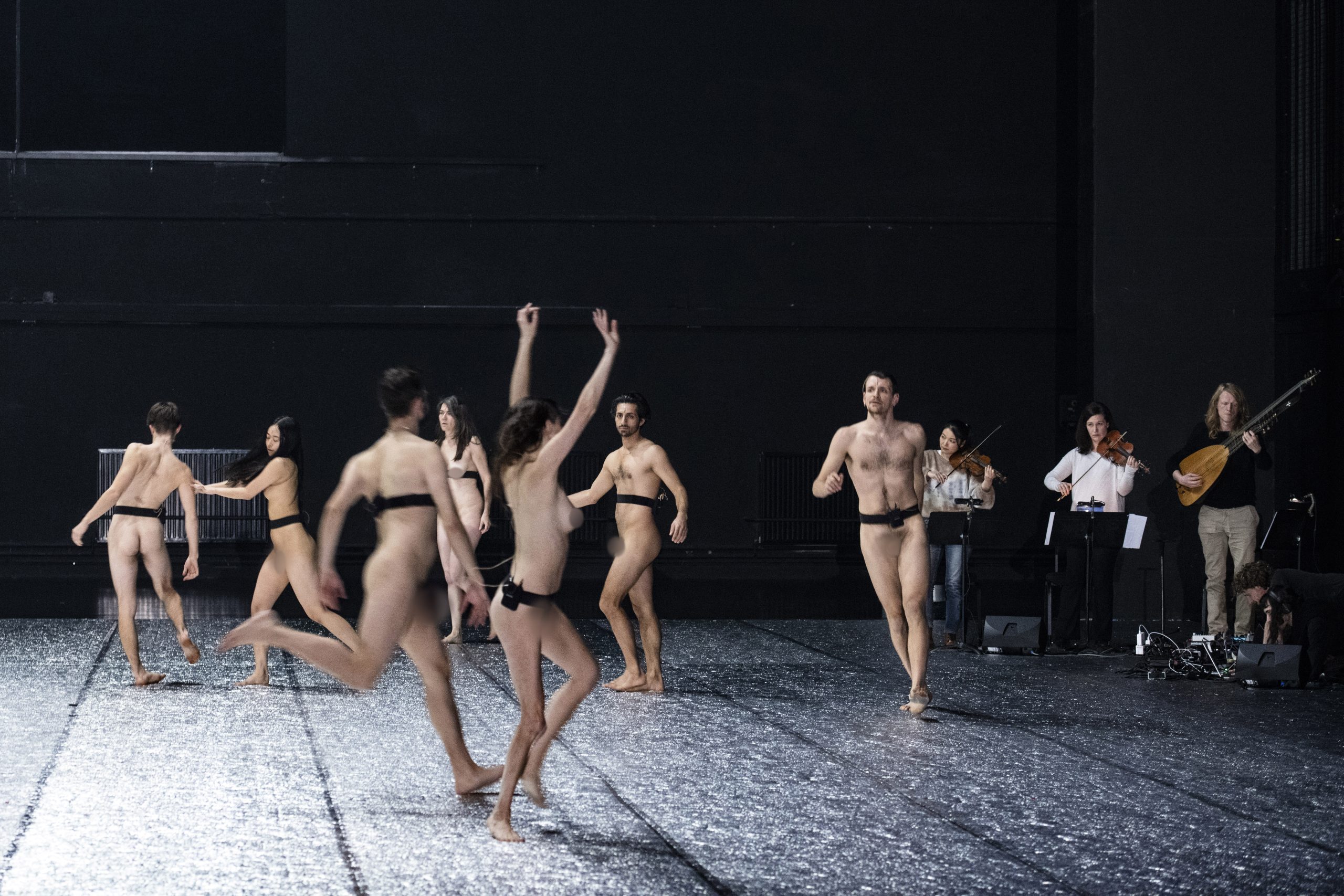 Born in 1995, theatre and opera director Benjamin Abel Meirhaeghe has explored through his artistic production an original, fluid, deeply queer field of research. Past, present and future, tradition and innovation, all coexist across his shows, including Madrigals, a contemporary reading of Claudio Monteverdi's Madrigali guerrieri et amorosi. Embarking on this adventure, Meirhaeghe had the support of another emblematic figure of contemporary creativity and today's avant-pop musical: Jesse Doon Kanda, collaborator of Bjork and Arca and one of the top composers who are currently influencing the reinvention of sound and the collective imaging of international pop music. Together with Kanda, the director has modeled Monteverdi's choral masterworks on war and love, into a cry for freedom fueled by passion and fighting spirit. Inside a cave (a direct reference to the myth of Plato), a group of singers and musicians ignite a new visual and human iconography, where Greek mythology gives way to a contemporary and uninhibited orgy; in which the boundaries between human and divine are blurred; and in which love seems to be finally free from all dogma. Meirhaeghe invites us to experience a ritual that transcends human suffering and humanity's horrible acts of war, to instead narrate the struggle for freedom of love. Indeed, as Monteverdi would say, "Every lover is a warrior."
Benjamin Abel Meirhaeghe (Eine, 1995) is a Belgian theater and opera director, performer and countertenor. He is currently active in Belgium and the Netherlands, among others with d e t h e a t e r m a k e r, Opera Ballet Vlaanderen, muziektheater Transparant, deSingel, Ancienne Belgique and Vooruit Arts Center. Meirhaeghe grew up in Eine. At the age of fifteen he moved to Ghent, where he completed his secondary education at the art institute Ottogracht, there is was trigged by his high and voluptuous voice. After this he studied performing arts at the Maastricht Theater Academy. In 2018 he graduated with his megalomaniac The Ballet together with his love and balletdancer Emiel Vandenberghe.
Since 2018 he has been active in the music and theater landscape and is known for combining different art forms. He created the musical performances My Inner Songs and My Protest with Laurens Mariën, Het Sterven with Kim Karssen and The Ballet, with Emiel Vandenberghe. He was also a guest alongside performers such as Jan Decorte and Sigrid Vinks. In 2019 he made Ballet de la Nuit, which premiered at Bourlaschouwburg. In 2020 he made his debut at Opera Ballet Vlaanderen with his piece A Revue. Meirhaeghe works together with a large pool of diverse people and crafts: Louise van den Eede as a dramaturge and writer is a permanent force in his work, the h e a t e r m a k e r has a prominent role in the development of upcoming works. Meirhaeghe sees herself as a medieval jester. The theater as a timetravel-machine.
Jesse Kanda (1987, known for his music work as Doon Kanda) is an artist, animator and musician based in London. He was born in Japan and raised in Canada. Besides his solo career as an artist and musician, he is also well known for his collaborations with musicians including Arca, FKA Twigs and Bjo?rk as well as providing visuals for fashion label Hood By Air. He is widely known for his modern gothic surrealist art, in recent years for his own musical output as Doon Kanda. Common themes in Kanda's work have been growth, decay, death, freedom, fantasy, empathy, dream, innocence, subconscious, sexuality, sensuality, pain, suffering, euphoria, the body, movement, and magic. Kanda often employs a unique balance of aesthetic beauty and the grotesque. Juxtaposing life and death; or love and fear. His figures often exist in a dream-like spatial environment, often disfigured but with a sense of empathy and strength. He has often used the music video as his artistic medium. Either creating the music himself, or collaborating with close friends. Far from giving the viewer an easy ride, Kanda's chief aim is to elicit a visceral response to his work. "Part of my goal is to present 'disgusting' things as something beautiful," he says. "To question what is OK to call disgusting or ugly. It's confrontation on a personal level. Kanda's art may be creepy, but his otherworldly, freaky aesthetic and anything-goes approach is proving hard to resist.
Concept & direction: Benjamin Abel Meirhaeghe
Composition: Claudio Monteverdi / Doon Kanda (aka Jesse Kanda)
Musical direction / co-composer: Wouter Deltour
Dramaturgy/research: Louise van den Eede
Lighting & set design: Zaza Dupont, Bart van Merode
Co-curator artwork:. Koi Persyn
Voice coaching: Rosanne Groenendijk
Choreography in collaboration with the performers: Sophia Rodriguez
Musical coaching: Pieter Theuns
Shibari coaching: Marc BeShibari
Performed by Hanako Hayakawa, Alice Giuliani, Els Mondelaers, Lucie Plasschaert, Khaled Barghouthi, Clément Corrillon, Victor Dumont, Antonio Fajardo
Musicians/quartet: Madoka Nakamaru, Wouter Deltour, Pieter Theuns, Rebecca Huber or David Wish
Visual artists: Sanam Khatibi, Justin Fitzpatrick, Thomas Renwart, Anthony Ngoya, Gilles Dusong, Christiane Blattmann, Daan Couzijn, Che Go Eun, Tom Hallet, Nokukhanya Langa, Tristan Bründler
Video: Filip Anthonissen
Costumes: Kasia Mielczarek
Teaser & making off: Charles Dhondt
Photography cave: Thibaut Lampe
Website www.madrigals.be Studio Dier
Photo © Fred Debrock
Photo © Bart van Merode
Production managers: Eglantine Möller, Annik Laruelle
Production assistant: Laura Van Houtte
Stage manager: Anne van Es
Light operator: Danielle van Riel
Sound operators: Karel Marynissen
Video & Surtitles: Pieter-Jan Buelens
Technicians: Pat Caers, Janneke Donkersloot
Production- assistant: Pablo Gonzàlez
Intern (director assistant): Ika Schwander
Produced by Muziektheater Transparant and d e t h e a t e r m a k e r 
In coproduction with DE SINGEL, Productiehuis Theater Rotterdam, Concertgebouw Brugge, B'Rock Orchestra, C-Takt and Perpodium
Distribution ART HAPPENS
In collaboration with O. Festival for Opera. Music. Theatre, Opera Ballet Vlaanderen, Troubleyn/Laboratorium, Matterhorn VZW
With the support of the Flemish Government and Tax Shelter of the Belgian Federal Government
With thanks to Showtex, Kopspel, Divi-divi and the Caves of Dinant