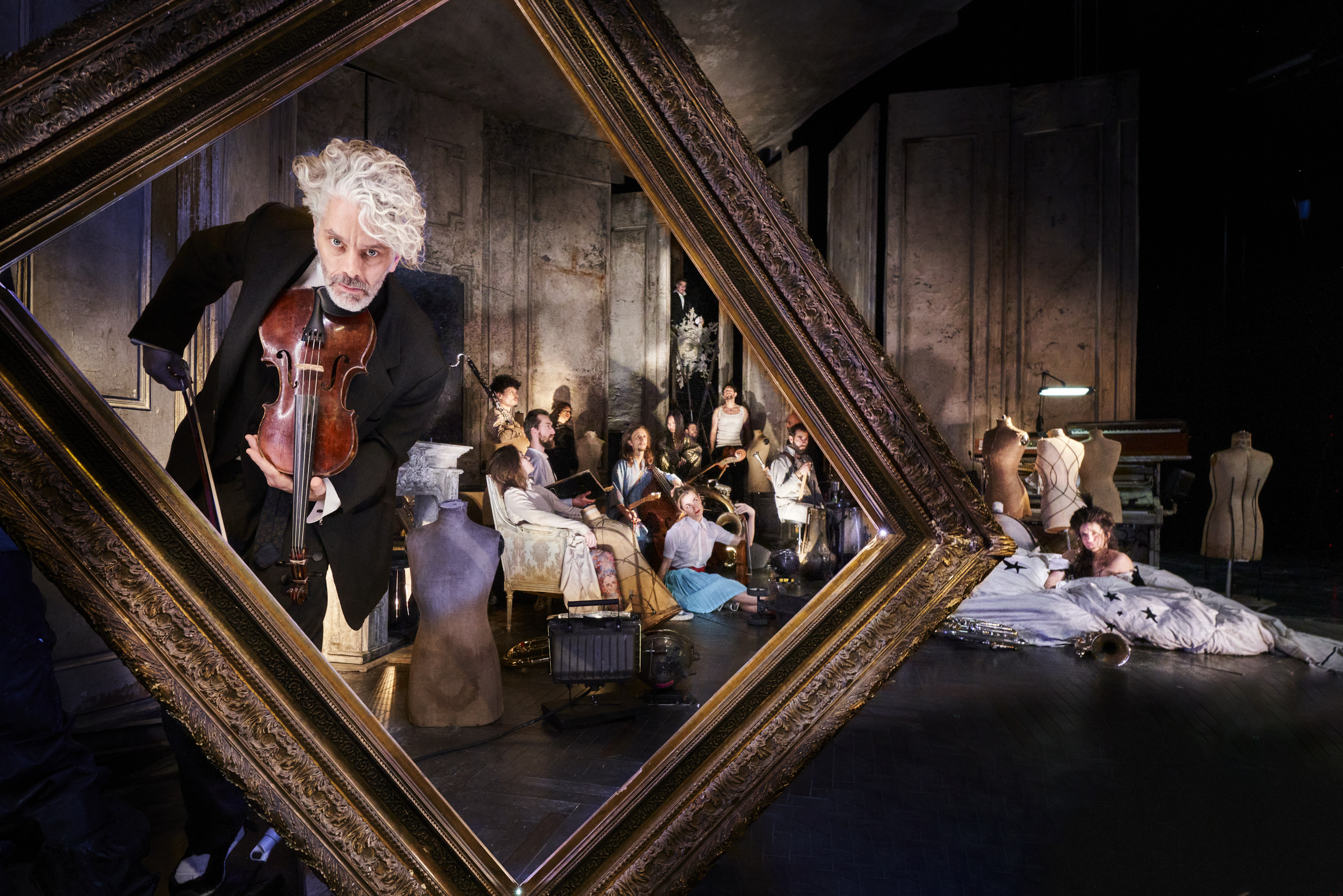 After enchanting our audiences with his creation Raul, the flamboyant and unpredictable James Thierrée returns to the stage ready to transform, once again, reality and physical space into a daydream. After all, a room is enough to turn an evening into a party, a dance into a poetic song of freedom, and life into a concert, capable of breaking down barriers and restrictions. This particular space is occupied by a chamber orchestra that is lost in music; walls that sing; doors and escape routes towards illusion; and magical tunnels, with dreams and nightmares traversing through them. An unclassifiable icon of contemporary creation, a master of transforming stagecraft and rendering it capable of overcoming the boundaries of any discipline, whilst addressing audiences of all ages, Thierrée here chooses to launch a new chapter in his artistic process, by gathering an ensemble of thirteen musicians and dancers to create a show of musical-theatre that is as naked, intimate and essential as our collective dreamscapes.
Bio
2 May 1974 Born James Spencer Henry Edmond Marcel Thie?rre?e in Lausanne, Switzerland. 1978-1994 LE CIRQUE IMAGINAIRE, LE CIRQUE INVISIBLE, world tour. Developed acrobatics, dance, trapeze, violin, and languages… integrated completely into the performance.
1994-2010 Various theatre projects with directors: Carlos SANTOS, Beno BESSON,Peter GREENAWAY, Robert WILSON
Various cinema projects working with many directors including: Coline
SERREAU, Aniezka HOLLAND, Philippe de BROCA, Roland JOFFE, Jacques BARATIER, Jean-Pierre LIMOSIN, Robinson SAVARY, Antoine De CAUNES, Laurent De BARTILLAT, Tony GATLIF, Claude MILLER, Roschdy ZEM, Jean Franc?ois RICHET
1998 Founds La Compagnie du Hanneton
La Symphonie du Hanneton (Junebug Symphony), director and performer,
4 Molie?re awards 2006
2003 La Veille?e des Abysses (Bright Abyss, director and performer
2007 Au revoir parapluie 1 Molie?re award 2007, director and performer
2009 Raoul, director and performer
2013 Tabac rouge, 1 Molie?re award 2014, director and performer
2016 La grenouille avait raison (The toad knew), director and performer 1 Molie?re Award 2017
2018 Fro?lons, for Ope?ra national de Paris, Palais Garnier, director and performer
Credits
Created, directed and performed by James Thierrée
Original music: James Thierrée
With: Anne-Lise Binard, Ching-Ying Chien, Mathias Durand, Samuel Dutertre, Hélène Escriva, Steeve Eton, Maxime Fleau, Nora Horvath, Sarah Manesse, Alessio Negro
Lighting Design: James Thierrée, Lucie Delorme, Samuel Bovet
Sound Design: Lilian Herrouin, Loïc Lambert, Jean François Monnier
Costumes Design:James Thierrée
Costume Realization: Laurette Picheret, Sabine Schlemmer
General Technical Manager: Rodolphe Padel
Musical Assistant: Mathias Durand
Production Assistants: Felicitas Willems, Philippe Royer
Scenery & Props Construction: Olivier Achez, Mathieu Fernandez, Christelle Naddéo, Félix Page, Sam Dutertre & Anthony Nicolas, Thomas Delot, Joanny Guillaumin
Scenic Painting: Marie Rossetti
Stage Technicians: Samuel Dutertre, Mathieu Fernandez / Tomy Dert, Christelle Naddéo, Félix Page, Laurette Picheret, Alessio Negro
Administration: La Compagnie du Hanneton, Benôite Gillet
Production and coordination: La Compagnie du Hanneton, Emmanuelle Taccard, Hélène Dubois
Production Representative: Quaternaire: Sarah Ford, Anne McDougall, Felicitas Willems
Tour Manager: Anne McDougall

Co-produced by Edinburgh International Festival, Théâtre de Carouge, La Comédie de Clermont- Ferrand Scène Nationale, Théâtre de la Ville Paris, Le Théâtre de Namur, Le Théâtre des Célestins, Lyon, Chekhov International Theatre Festival, Moscow, Théâtre Sénart Scène Nationale de Lieusaint, anthéa Antibes, LG Art Center Seoul, Equilibre-Nuithonie – Fribourg, Le Volcan Scène Nationale Le Havre, Opéra de Massy, Théâtre du Passage Neuchâtel, Le Parvis Scène Nationale Tarbes,L'arc Scène Nationale Le Creusot, Berliner Festspiele, Festpielhaus St Pölten, Espace Jean Legendre, Théâtre de Compiègne, Bimot Global, Sydney Festival.
Residencies at Théâtre Sénart Scène Nationale de Lieusaint, L'arc scène nationale Le Creusot and Théâtre de Carouge.
La Compagnie du Hanneton is supported by Ministère de la Culture, DRAC Bourgogne Franche Comté
ROOM is supported by DRAC and Conseil régional Bourgogne Franche Comté
Thanks: Astrid Berges Frisbey, Alex Hardellet, Christian Fletcher, Kay Phillips, Ioulia Plotnikova
L'Espace des Arts scène nationale Chalon/ Saône, Eléphant Paname, Opéra Garnier