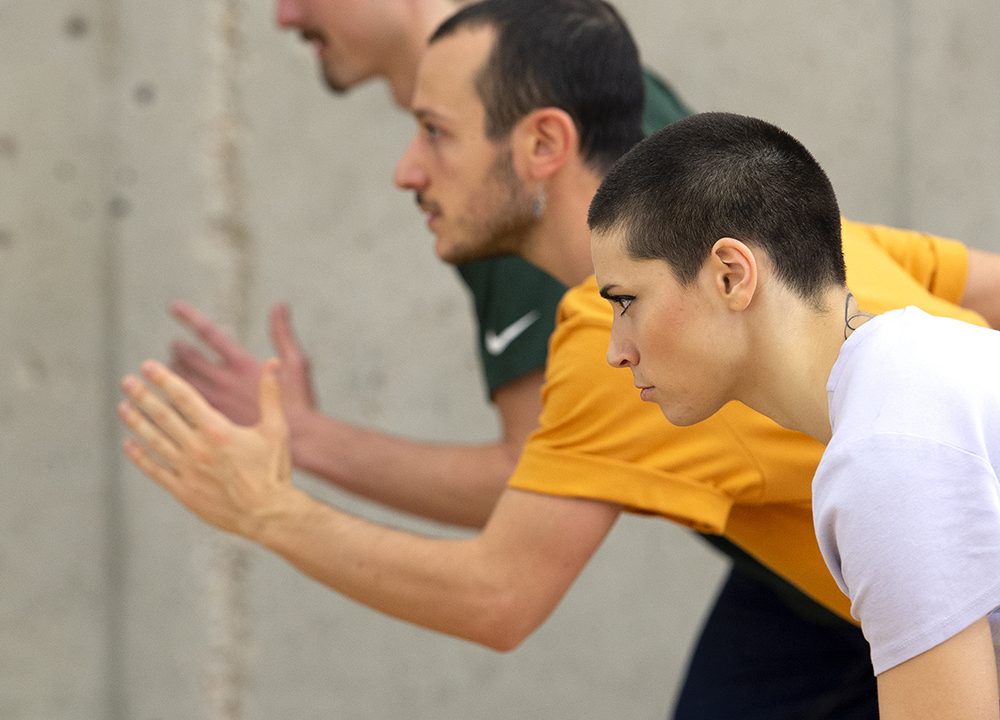 Cassiel Gaube is building his artistic practice as a leap towards the vocabulary of House Dance. Inspired by the works of Bruno Beltrao and William Forsythe, Soirée d'etudes develops as a "pas de deux à troix" or a "choreographic evening", to the sounds of the music most loved by Gaube. An étude, in the musical sense of the word, is a composition designed to explore the possibilities of a particular technique and to experiment with it. Something that for Gaube is similar to  the way House dance is practised. Drawing from recognised moves, the dancer looks for variations of these steps and for inventive ways of articulating them. This common knowledge allows people to read each other's movements. Together with dancers experienced in Street dance, Gaube seeks to reveal the literacy that this practice requires and conveys.
Dancer and choreographer based in Brussels, Cassiel Gaube is currently developing his work at the crossroads of contemporary dance, hip hop and clubbing moves. Graduating in 2016 from P.A.R.T.S. in Brussels, Cassiel Gaube is a dancer and choreographer. As a performer, he collaborated with choreographers Manon Santkin & Benjamin Vandewalle, as well as with multidisciplinary artist Fabrice Samyn. Over the past 3 years, Gaube  has mainly dedicated himself to learning and practising House dance, in Paris and New York's lively club scenes. He is currently developing his work at the  crossroads of contemporary dance,  hip hop and clubbing moves. Through this undertaking he sensitively navigates these buoyant ecosystems of practice, experimenting with patterns and shapes which inhabit them and imagining new ones. In 2019, Cassiel created the solo Farmer Train Swirl – Étude, an embodied and subjective investigation of the field of House dance. Since then it has been shown in theatre and museum spaces, as well as in the context of clubs. As a consequence of his first piece, Gaube has been invited to work with several other artists. Together with Brussels & Berlin based record label Ensemble, he is currently designing the club version of the solo, which will tour in House clubs across Europe. Gaube was asked by Anne Teresa De Keersmaeker to create some material for her Broadway stage version of West Side Story, made in collaboration with Ivo Van Hove. He was an associate artist at La Ménagerie de Verre, in Paris, in 2019 & 2020. In 2021, he presented his creation Soirée d'études, a piece which prolongs and expands the research started in the solo.
As a teacher, Gaube is regularly invited to give professional training sessions and workshops, in dance studios such as DansCentrumJette, La Raffinerie – Charleroi Danse, P.A.R.T.S. SummerSchool in Brussels and La Ménagerie de Verre in Paris.
Coreografphy: Cassiel Gaube
Dance: Cassiel Gaube, Alesya Dobysh, Anna Benedicte Andresen
Drammaturgy: Liza Baliasnaja, Matteo Fargion, Manon Santkin, Jonas Rutgeerts
Sound: Marius Pruvot
Technical support & light: Luc Schaltin
Production: Hiros
Distribution: ART HAPPENS
Coproduction: La Ménagerie de Verre, Centre Chorégraphique National de Caen en Normandie nell'ambito di l'Accueil-studio, Kunstencentrum BUDA (Kortrijk), workspacebrussels, wpZimmer, C-TAKT, CCN-Ballet national de Marseille nell'ambito de l'accueil studio / Ministère de la Culture, KAAP, Charleroi danse, La Manufacture CDCN Nouvelle-Aquitaine Bordeaux – La Rochelle, Danse élargie 2020, CND Centre national de la danse, les ballets C de la B dans le cadre de résidence Co-laBo, La Place de la Danse – CDCN Toulouse / Occitanie dans le cadre du dispositif Accueil Studio, CNDC Angers, Le Phare – CCN du Havre Normandie, Le Dancing CDCN Dijon Bourgogne-Franche-Comté
With the support of: Flemish Government, Kunstenwerkplaats, Teatro Municipal do Porto, Iaspis The Swedish Arts Grants Committee's International Programme for Visual Artists, Tanzhaus Zurich, School van Gaasbeek, Le Quartz – Scène nationale de Brest, ONDA
Special thanks to: Erik Eriksson, Yonas Perou, Federica "Mia" Miani, Diego "Odd Sweet" Dolciami
Photo: Marco Domage