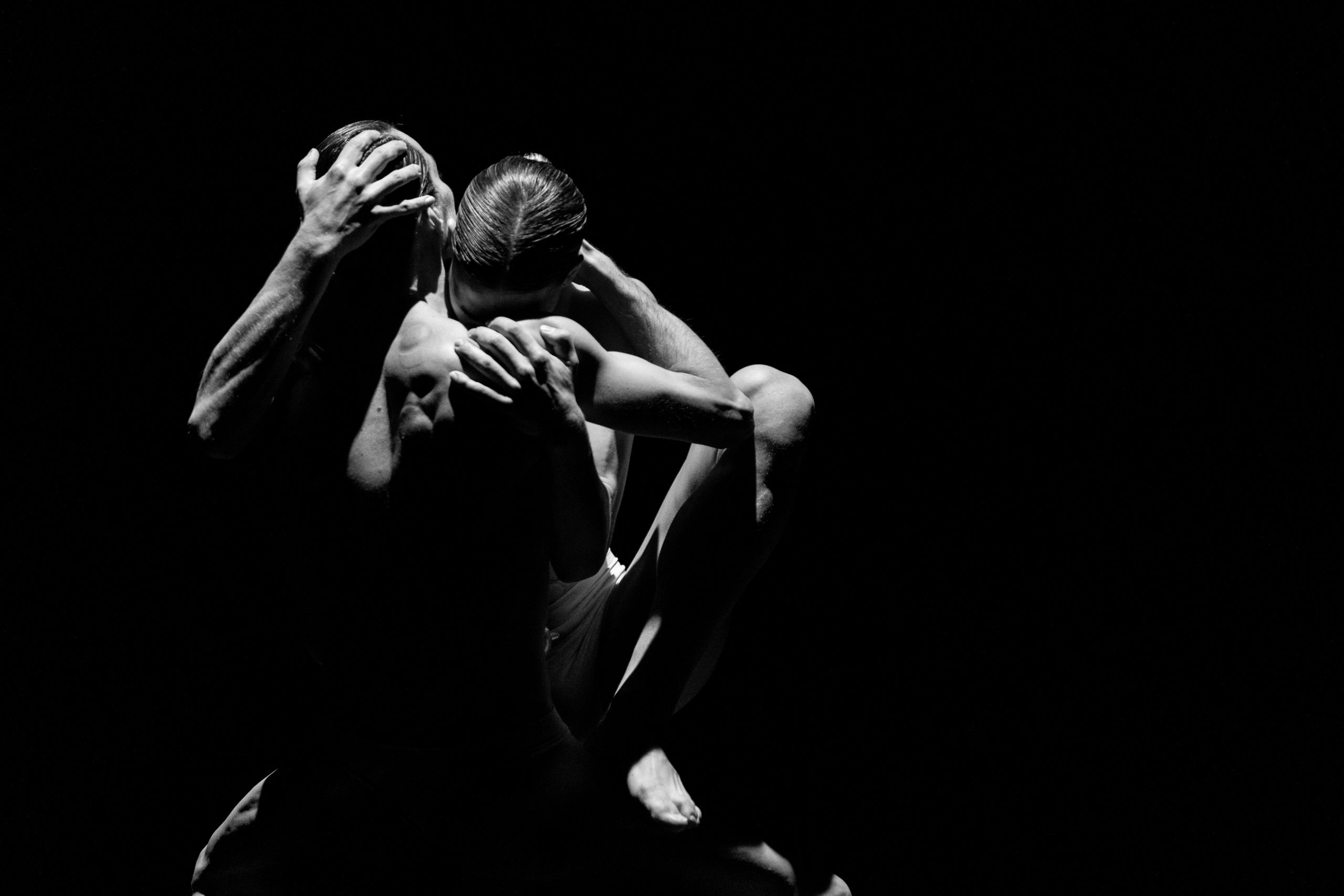 After his participation in DNAppunti Coreografici 2021, Pablo Girolami founded   IVONA Company (his alter ego), with which he presents two different pieces.
T.R.I.P.O.F.O.B.I.A, interpreted by Giacomo Todeschi, is a visceral encounter with the human body, its geometries and its irregularities. «The means by which a trypophobic skeleton assumes its shape is through geometric processes- however, thanks to the imaginative contribution of the human mind, it becomes an active gateway of fear and anguish, reflecting man's insecurities and paranoia», says Girolami. He continues: «We find ourselves within bottomless spaces where all sensory awareness is steeply reduced, all clarity is lost and the eyes remain shut. Challenging a phobia is not an easy game. Indeed, it seems that playing the game rather implies accepting not to play at all. Here lies an invitation to not only accept the challenge, but to make fun of it, transforming ourselves into real parasites that infiltrate dark galleries».
With Jose Pasqual, on the other hand, we are introduced to an ambiguous forty-six-year-old mamma's boy, a moody and definitely disturbed protagonist. The starting point of the choreography is a letter written to Marezza, a woman who could be either real or fictitious: «Dear Marezza, I am writing this letter because I really appreciate you so much. The first time I saw you, my heart indelicately whispered "it's her". The way you tickle my face, the way you stare at me- you make me throb. I would like, if allowed, to offer you my flower ».
Dancer and choreographer Pablo Girolami was born in Neuchâtel (Switzerland) and is of Italian and Spanish origin. He studied at the Tanz Akademie Zürich. In 2014, he began his professional career as a dancer in Wiesbaden / Darmstadt with the Hessisches Staatsballett, and in Italy with Spellbound Contemporary Ballet. Since 2017 he has choreographed pieces for the Hessisches Staatsballett, DeDa Production, Café Klatsch, EgriBianco Danza, Kseij Dance Company, The LabCollective, TanzWerk101 Zürich and the Ateneo della danza Siena. In 2020, Pablo Girolami was chosen by the AnticorpiXL Network for ResidanceXL. Born from a desire to explore their own vision and deepen their creative output, Ivona Company debuted the "Manbuhsa"duet ( their first independent creation), which won the Twain_DirezioniAltre 2019 Award; the audience award in the CortoinDanza 2019 in Cagliari; as well as the Certamen Coreográfico de Madrid competition. "Manbuhsa" was also selected for the Anticorpi XL 2019 young dance platform and the Spanish network Redacielabierto, to tour Switzerland, Italy, Spain, Germany and Turkey. IVONA is supported by the National Dance Production Center DANCEHAUSpiù; the CID of Rovereto; the Oriente Occidente festival; and the TWAIN production centre.
T.R.I.P.O.F.O.B.I.A
By Pablo Girolami
with IVONA
Giacomo Todeschi, Pablo Girolami
Supported by KOMM TANZ Teatro Cartiera Progetto residenza Compagnia Abbondanza/Bertoni in collaborazione con il Comune di Rovereto.
Production: Centro Nazional di produzione della Danza DANCEHAUSpiù
JOSE PASQUAL
By Pablo Girolami
with Giacomo Todeschi
Winner of the Roma Danza 2020 SmARTphone Dance Prize
Photo @Cosimo Trimboli