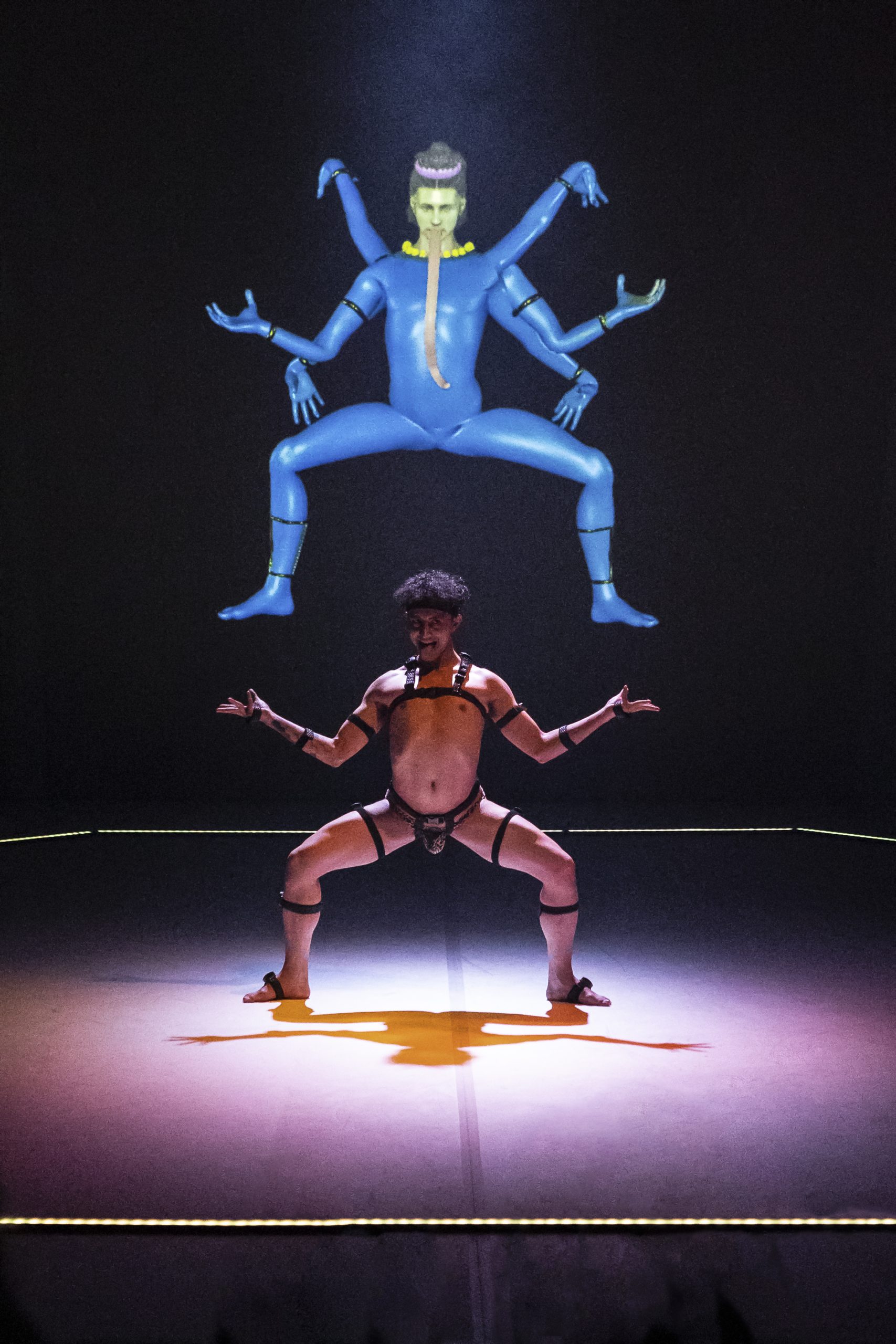 The Berlin-based Singaporean artist Choy Ka Fai initiated the Cosmic Wander project after a long journey across Asia, exploring and documenting dance practices, shamanism and the continent's relationship to the supernatural. Yishun is Burning blends shamanism and voguing to create a transcendent, multimedia and multinational queer solo by dancer Sun Phitthaya Phaefuang (aka Aurora Sun). His is a trance-like passage towards ecstasy, as well as a kind of transcendence that surpasses gender attributions, cultural identities and religion. Thirty years after the iconic New York documentary Paris is Burning, this show combines the themes of a globalized world with the most ancient spiritual traditions, building in the process contemporary models of transmission and resistance.
Choy Ka Fai is a Berlin-based Singaporean artist. His multidisciplinary art practice situates itself at the intersection of dance, media art and performance. At the heart of his research is a continuous exploration of the metaphysics of the human body. Through research expeditions, pseudo-scientific experiments and documentary performances, Ka Fai appropriates technologies and narratives to imagine new futures of the human body. Ka Fai's projects have been presented in major institutions and festivals worldwide, including Sadler's Wells (London, UK), ImPulsTanz Festival (Vienna, Austria), Tanzplattform and Tanz Im August (Berlin, Germany). He was the resident artist at tanzhaus nrw in Düsseldorf (2017–2019) and Künstlerhaus Bethanien in Berlin (2014-15). Ka Fai graduated with a M.A. in Design Interaction from the Royal College of Art, London, United Kingdom.
Sun Phitthaya Phaefuang also known as Sun or Aurora, was born in Thailand, and then moved to Norway when he was 3 years old. He graduated from Oslo National Academy of the arts in 2011, with a bachelor in modern and contemporary dance. He has been living in Thailand since 2012 and has been working with artists such as Pichet Klunchun, Tang Fu Kuen, Daniel Kok, Jereh Leung, Brian Gothong Tan, Cheng Ta Yu, Sze Wei and currently also with Choy Ka Fai. Sun is known as the trailblazer of Thailands ballroom scene. Meaning he brought the ballroom culture to Thailand, which was originally created by the New York Black and Latinx trans community. For 7 years he joined the house of Amazon, founded by vogue icon Leiomy Miyake Mugler. He is now a 007, and therefore not part of a house anymore. Sun also recently started to create his own solo performance work.
Concept, Documentary and Direction: Choy Ka Fai
Dramaturgy: Tang Fu-Kuen
Spiritual Presence: Kali and Kuan Yin
Guest Dancers: Brielle Prodigy Munera, Clementine Windowsen, Gian Windowsen, Valeria Windowsen
Choreography and Dance Performance: Sun Phitthaya Phaefuang
Sound Design and Musical Performance: NADA (Rizman Putra & Safuan Johari) and Cheryl Ong
3D Visual Design and Technology: Brandon Tay
Light Design, Installation and Technical Direction: Ray Tseng
Visual operator: Damjan Šporcic
Touring technical director: Yap Seok Hui | ARTFACTORY
Technical Direction Singapore Studio: ARTFACTORY
Tour Manager: Tammo Walter
Production Manager: Mara Nedelcu
Yishun is Burning is developed with the support of tanzhaus nrw Dusseldorf and Singapore Art Museum.
Additional support was received from the Nationales Performance Netz (NPN) Coproduction Fund for Dance, which is funded by the Federal Government Commissioner for Culture and the Media, Germany.
The research process was supported by the National Arts Council, Singapore and Kunststiftung NRW, Germany
The performances at Romaeuropa Festival 2022 are supported by the NATIONALES PERFORMANCE NETZ International Guest Performance Fund for Dance, which is funded by the Federal Government Commissioner for Culture and the Media.