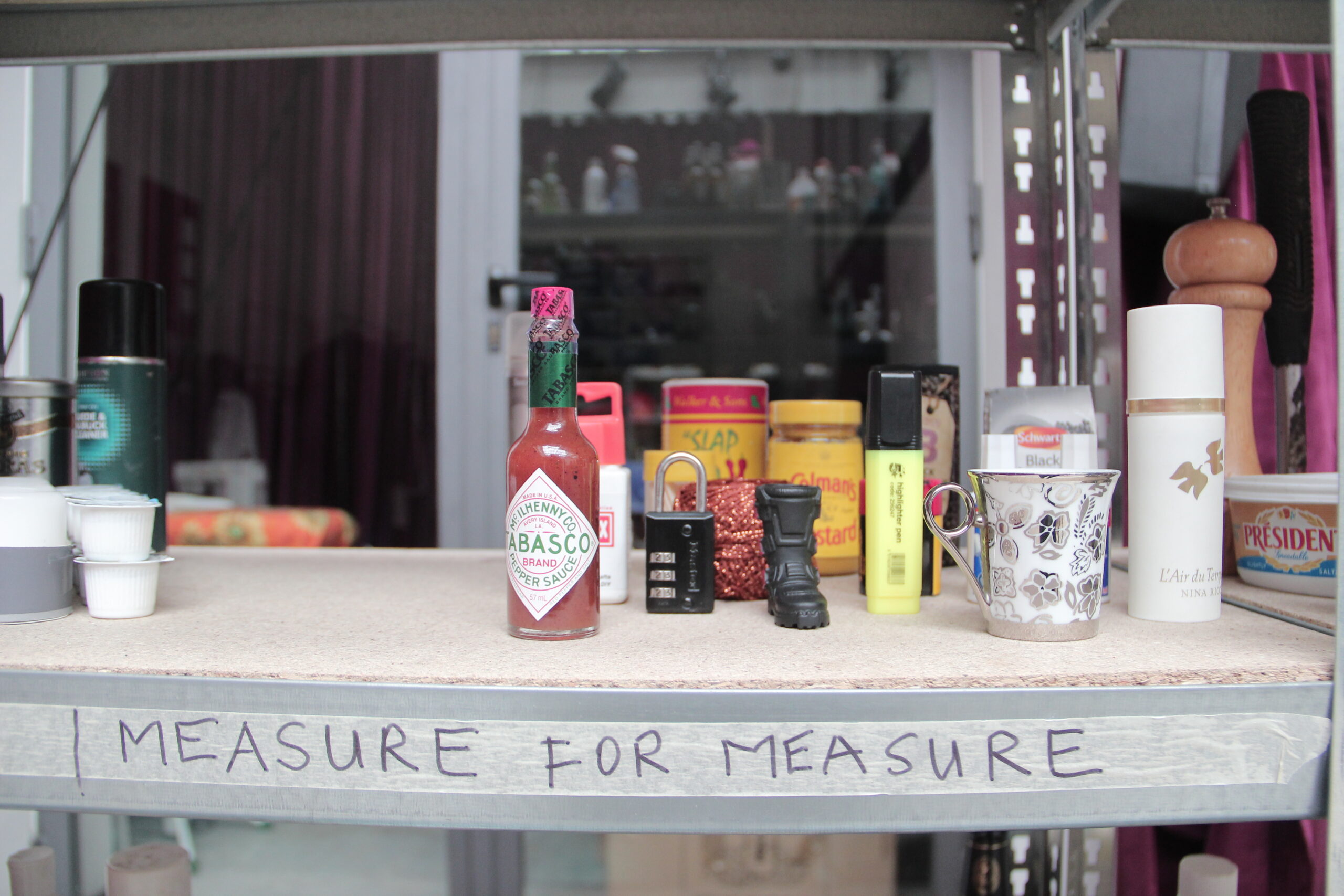 https://youtu.be/x2bpzSZkhKw
Un vero e proprio "tour de force" nella teatrografia shakespeariana fu quello presentato dagli inglesi Forced Entertainment durante il REf16: le 36 opere teatrali del grande drammaturgo inglese apparivano condensate in performance di 40/60 minuti, sviluppate su un tavolo di un metro quadrato e rappresentate attraverso l'uso di banali oggetti quotidiani tra righelli, contenitori per sale e pepe, spugne e bottigliette. In questa speciale edizione "At Home" dei Complete Works, i personaggi interpretati da oggetti domestici tornano nel loro ambiente casalingo per una messa in scena unica direttamente dalle case degli artisti alla tua.
Table Top Shakespeare: Quarantine Edition of the Complete Works promette di ricostruire l'intera opera teatrale shakespeariana attraverso 4 appuntamenti settimanali online nell'arco di 9 settimane. Al posto di un tavolo apparecchiato al centro di un palcoscenico, gli oggetti trovano la loro posizione sul tavolo di cucina di Terry, sulla scrivania di Jerry o nelle case degli attori, come se fossero stati appena tolti dagli scaffali e dagli armadi della dimora di ognuno. Nasce una nuova maratona firmata dalla celebre compagnia guidata da Tim Etchells, garanzia di straordinaria recitazione, ingegnosità, follia, poesia ed emozione.
Forced Entertainment
Al cuore dei Forced Entertainment c'è un gruppo di sei artisti – composto da Tim Etchells (direttore artistico), Robin Arthur, Richard Lowdon (Designer), Claire Marshall, Cathy Naden e Terry O'Connor – che collaborano insieme dal 1984 per realizzare spettacoli teatrali. Forced Entertainment sviluppa i propri progetti e prova nella sua base a Sheffield e presenta i propri spettacoli in tour nel Regno Unito e in tutto il mondo. La compagnia lavora anche con i giovani a Sheffield e in altre città attraverso seminari e progetti a lungo termini, tesi a far sviluppare capacità creative e di pensiero per realizzare propri spettacoli e altri lavori. «Il teatro che creiamo è qualcosa che deve essere vivo, che genera energia e tensione a partire dalla presenza in una stanza con altre persone» afferma la compagnia. «Ci interessa realizzare performance che esplorino il mondo contemporaneo, che entusiasmino, sfidino e intrattengano altre persone. Siamo interessati alle idee e allo stesso tempo cerchiamo di creare confusione, silenzio, domande e risate.
Tim Etchells
Artista e scrittore, vive nel Regno Unito. Ha lavorato in un'ampia varietà di contesti, in particolare come leader del gruppo di performance di fama mondiale Forced Entertainment. Vanta collaborazioni con una numerosa serie di artisti visivi, coreografi e fotografi. Il suo lavoro comprende performance, video, fotografia, progetti testuali, installazioni e fiction. Attualmente è professore in Performance & Writing alla Lancaster University.
COMPLETE WORKS: TABLE TOP SHAKESPEARE: AT HOME
Una produzione di Forced Entertainment. 
Performance Credits
Ideato e sviluppato da Forced Entertainment
Performer: Robin Arthur, Jerry Killick, Richard Lowdon, Claire Marshall, Cathy Naden and Terry O'Connor
Regia: Tim Etchells
Testo:  Robin Arthur, Tim Etchells, Jerry Killick, Richard Lowdon, Claire Marshall, Cathy Naden and Terry O'Connor
Digital Production Management Jim Harrison
Supportato economicamente dai seguenti partner: Kanuti Gildi SAAL; Kunstfestspiele Hannover; Künstlerhaus Mousonturm; PACT Zollverein; Romaeuropa Festival; Shakespeare Festival Neuss e UCLA's Center for the Art of Performance. Presentato anche come parte del Portland Institute for Contemporary Art's 2020 Time-Based Art Festival.
In partnership con British Council nell'ambito dell'iniziativa UK/IT 2020 Season "Being Present"