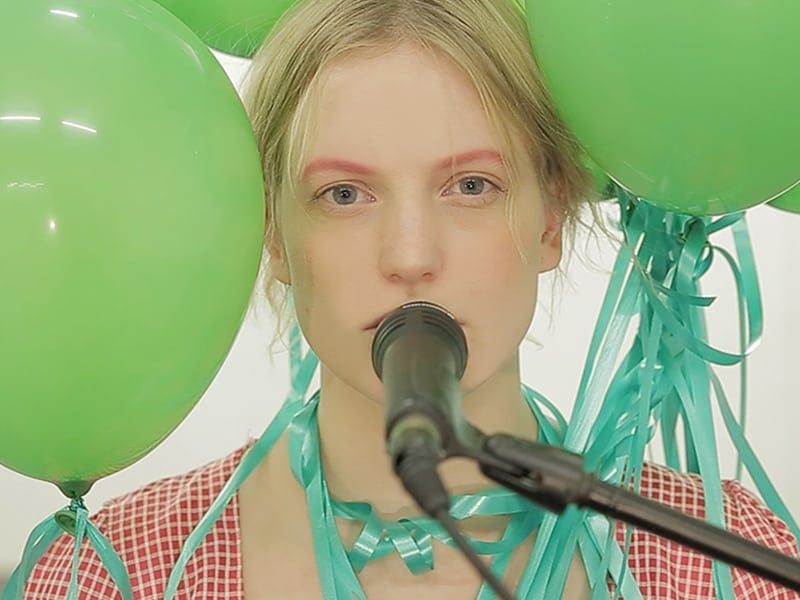 A space similar to a private room, with balloons suspended in the air, small movements and noises emerging from a body like memories of a blurred past, lost between reality and imagination. What have we lost growing up? 
From this question, the Italian choreographer of Dutch origin, Floor Robert, together with Giacomo Bogani and Andrea Falcone (with whom she founded the company InQuanto Teatro) creates a show based on the power of suggestions or on the skill of imagination that lets us walk through the woods and fields while still sitting in the theatre, as if we were still children.
Illustrator, performer and choreographer Floor Robert first took an interest in dance in 2008, when studying together with Raffaella Giordano. In the same year, she won the special mention for the Hystrio prize. Since 2014, while remaining within her own company, she began to develop as an independent artist. The first result of this experience, INFLUENZA, focuses on childhood and what remains of it, a blank page of a book on which to write stories through dance and movement, a practice of creating timeless images, to evoke all those invisible things that, despite everything, still influence our lives.
By
inQuanto teatro
 Concept, Choreography 
Floor Robert
Con
Floor Robert, Marco D'Agostin, Francesco Michele Laterza
Music 
Manuele Atzeni
Technics 
Monica Bosso
Mask 
Eva Sgrò
 Organisation, Communication 
Julia Lomuto
 Winning project of 
Sillumina - Copia privata per i giovani, per la cultura 
Support
Fondazione Fabbrica Europa, CSC Centro per la Scena Contemporanea – Operaestate Festival Veneto, Romaeuropa Festival, Le Murate, Progetti Arte Contemporanea, spazioK_kinkaleri, Sosta Palmizi, Samotracia/Associazione Punto A Capo, Teatri Sospesi, CS376