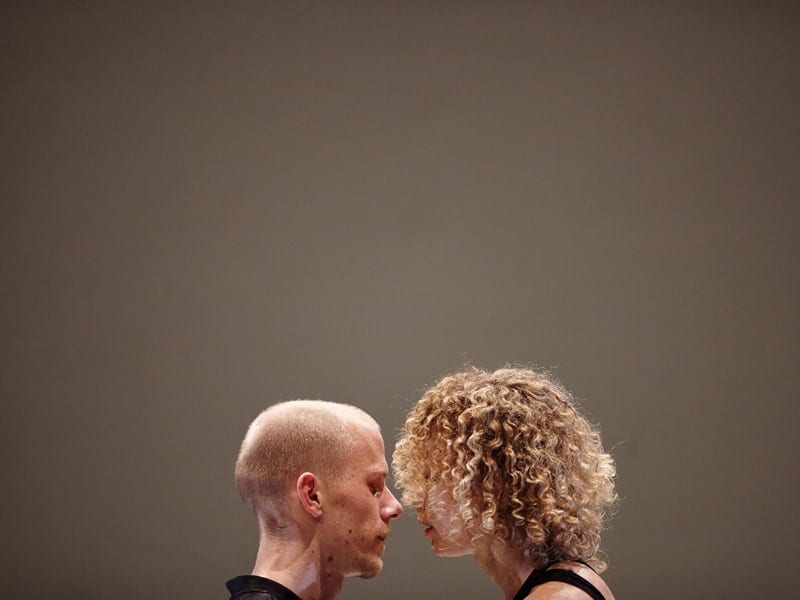 «I find it extremely interesting to show spectators (through dance) the inner processes that influence and guide their actions and decisions». This is how László Fülöp presents his work and that of the Timothy and the Things company directed by him. Born in 1987 in Budapest, where he works today, Fülöp was introduced to music from an early age, and gradually approached dance and theatre during his studies at the Budapest Contemporary Dance Academy. Dancer Emese Cuhorka also trained here, whose work, developed from improvisation games, is characterised by extreme freedom.
The result of the partnership between the two artists and selected by the European Aerowaves 2017 network (which Romaeuropa will be dedicating a focus once again this year), Your Mother at my door includes all the elements listed above: the relationship between dance and sound (an electronic piano is a central element on the scene), between choreographic writing and improvisation, and above all between art and the human mind.
Where does all our wasted time go? How, where and why do things – time, feelings, us and other people – disappear? Between irony and disorientation, the two artists try to answer these questions in a personal and entertaining way, creating a light yet fascinatingly complex choreography.
Concept, Performance 
Emese Cuhorka, László Fülöp
Music 
Antonín Dvodák: IX. New World Symphony, Zoltán Mizsei
Lights 
Orsolya Pete
Costume 
Emese Kasza / Mei Kawa
 Production manager 
Dóra Trifonov 
Production
SÍN Culture Centre
Support
Visegrad Fund, National Cultural Fund, Open Latitudes3 - Culture Europe Programme, L1 Association, Workshop Foundation, MU Theatre
Photo ©
Gábor Dusa