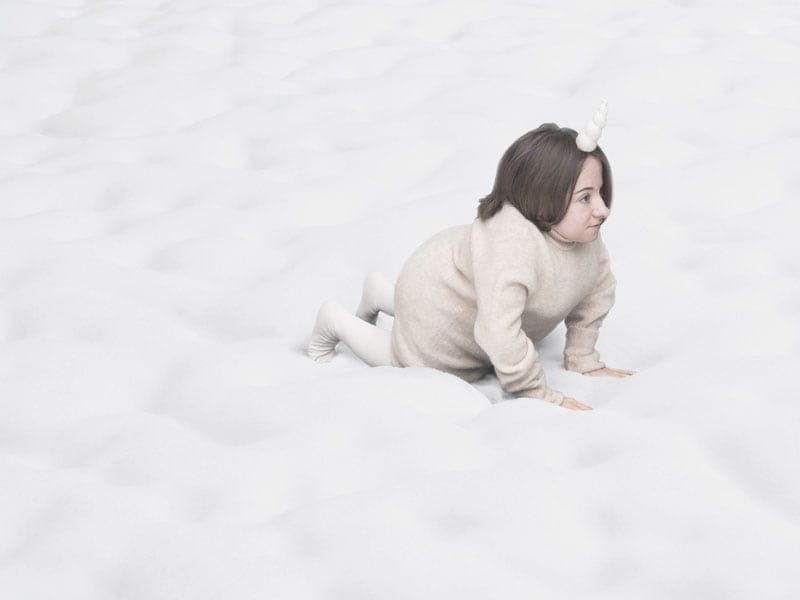 «I, Chiara Bersani, 98cm tall, declare myself as being flesh, muscles and bones of the Unicorn. Not knowing his heart, I will try to give him my breath, my eyes. I will collect the image of him; I will make a costume destined to become firstly armour then skin. In the dialogue between my form that acts and his form that clothes, we will discover our movements, kisses, greetings, yawns».
These are the words with which the artist Chiara Bersani, active both in visual and performing arts, presents her Gentle Unicorn. For the first time as interpreter and creator, having already been a part of the performances of Alessandro Sciarroni, Babilonia Teatri, Jérôme Bel and Marco D'Agostin, the artist tackles the mythological figure of the Unicorn, today part of pop iconography, identifying its gradual mutation throughout the centuries.
Gentle Unicorn sets out on a rediscovery of the wrongs suffered by this imaginary animal to restore its history and body. Here, he appears with a flicker of magic and hope, perhaps one last time, maybe forever, embodied in the body and being of Bersani herself.
Duration 40' Concept, Creation, Action Chiara Bersani Music Francesca De Isabella Light design Valeria Foti Technical director Paolo Tizianel Dramaturgy advisor Luca Poncetta Coach Marta Ciappina Mentoring Alessandro Sciarroni Outside eye Marco D'Agostin, Gaia Clotilde Chernetich Video Alice Brazzit Production coordinator Eleonora Cavallo Promotion Giulia Traversi Administrative advisor Chiara Fava Production Associazione Culturale Corpoceleste_C.C.00# Co-production Santarcangelo Festival, CSC - Centro per la Scena Contemporanea (Bassano del Grappa) Residencies Centrale FIES (Dro, Trento), Graner (Barcellona) Productive residency Carrozzerie | n.o.t (Roma), Gender Bender Festival (Bologna), CapoTrave/Kilowatt (Sansepolcro) Chiara Bersani is one of the 7 artists supported in 2018 by ResiDance XL - luoghi e progetti di residenza per creazioni coreografiche of the Rete Anticorpi XL - Network Giovane Danza D'autore coordinated by L'arboreto - Teatro Dimora di Mondaino Photo © Roberta Segata Courtesy Centrale Fies art work space