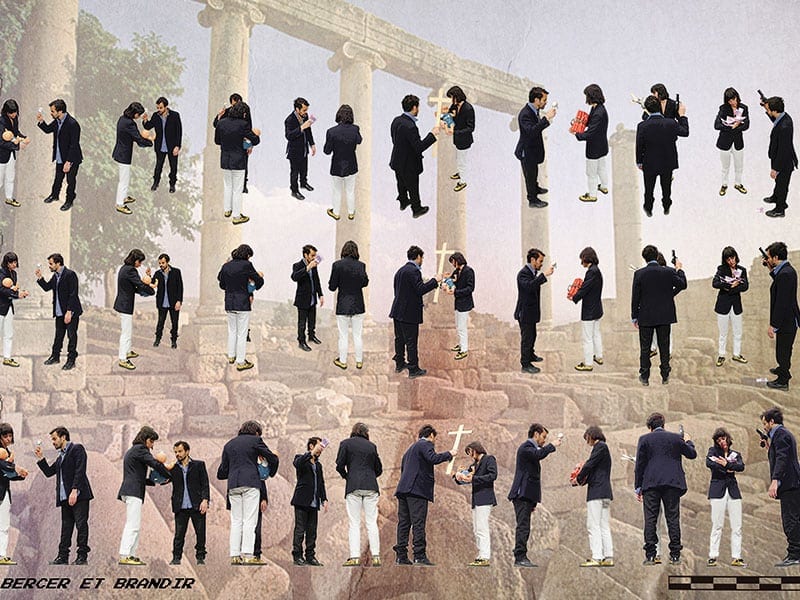 Tsirihaka Harrivel and Vimala Pons have been working together since 2005 and know perfectly well just what the circus of today can be. Their latest production, GRANDE –, is a wildly contemporary show that combines the poetry of images with well-defined writing.
This circus finds its language in that of the Music Hall and variety entertainment – a show divided into a series of numbers (or "big" numbers) that are configured as a recital on the continuous change of the body and our imagination. GRANDE – is, in fact, a history of familiar objects, of love, of childhood, of dispute, of obsession.
The two performers on stage recite and react to the events unfolding amidst contradictions and adrenaline, intimacy and tension. Here, they are in an exuberant striptease in reverse or intent on using a simple pair of jeans to reach the highest of goals and to launch themselves on extremely steep slides. They perform in spite of everything and everyone and with all their strength, even to the point of ceasing to function. Because GRANDE – (faithfully with the dash) is a title to be contemplated through the gaze and the fun of the spectator.

Duration 105' Concept, Production, Script, Music, Sound design, Lighting design, Accessories, Props Tsirihaka Harrivel e Vimala Pons General and stage management Charlotte Fégelé Sound and stage management Manu Laffeach, Morgan Romagny Creative director Élise Lahouassa Costumes Vimala Pons & Remy Ledudal Set construction Mathieu Delangle, Manu Laffeach, Julien Vadet, Marion Bee, Flavien Renaudon, Élise Lahouassa, Florian Méneret, Tsirihaka Harrivel, Marlène Bouana Director of production Adeline Ferrante Executive production and administration Murailles Music, Victoire Chose Co-productions Plateforme 2 Pôles Cirque en Normandie I La Brèche – Cherbourg & Cirque Théâtre d'Elbeuf ; La Brèche, Pôle National des Arts du Cirque de Basse-Normandie / Cherbourg-Octeville ; Le CENTQUATRE-PARIS ; Espace Malraux, scène nationale de Chambéry et de la Savoie ; Les Subsistances, laboratoire international de création artistique, Lyon ; Le Lieu Unique, scène nationale de Nantes ; Théâtre de la Ville, Paris; Institut Français de Beyrouth, Liban ; Le Quai, Centre dramatique national Angers Pays de la Loire ; Nuit Blanche 2015, Ville de Paris ; Le Manège, scène nationale de Reims ; Le Cirque-Théâtre d'Elbeuf, Pôle National des Arts du Cirque ; Bonlieu, scène nationale d'Annecy ; La Filature, Scène nationale - Mulhouse ; Le Prato - Pôle National Cirque à Lille ; Maillon Théâtre de Strasbourg - Scène européenne; association Le Point Triple ; Film Argent ; Argent Eléphant Support for residencies Villa Médicis, Rome ; La Brèche, Pôle National des Arts du Cirque de Basse-Normandie / Cherbourg-Octeville ; Le CENTQUATRE-PARIS; Les Subsistances, laboratoire international de création artistique, Lyon ; Institut Français de Beyrouth, Liban ; Espace périphérique (EPPGHV - Ville de Paris); Le Quai, Centre dramatique national Angers Pays de la Loire ; Le Manège, scène nationale de Reims ; Le Cirque-Théâtre d'Elbeuf, Pôle National des Arts du Cirque Support Ministère de la Culture et de la communication - Direction Générale de la Création Artistique (aide à la création cirque- et Direction Régionale des Affaires Culturelles Pays de la Loire (aide au projet), Ministère de la Culture et de la communication - Direction Générale de la Création Artistique (aide à la création cirque- et Direction Régionale des Affaires Culturelles Pays de la Loire (aide au projet) ; Fondation Beaumarchais - aide à l'écriture cirque ; Beaumarchais-SACD ; L 'Institut Français ; Association Géniale Photo © TOUT ÇA / QUE ÇA