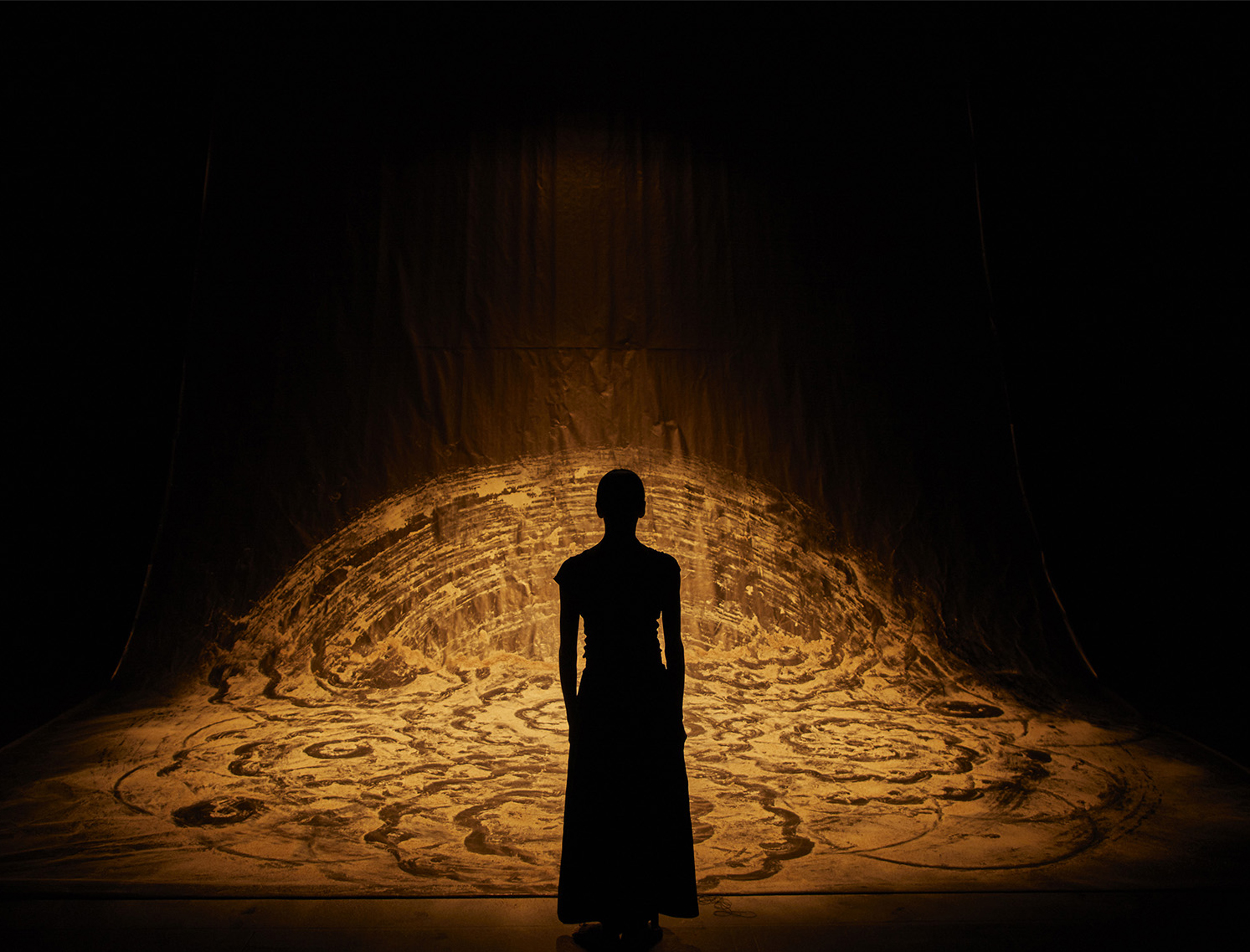 With aSH, Aurelien Bory ends his trilogy of portraits of women- dancers and choreographers- in which Kaori Ito and Stéphanie Fuster have already starred. The visionary French director focuses on the rhythmic and vital energy of dancer Shantala Shivalingappa. She overlaps with the majestic figure of Shiva, as the protagonist and muse of aSH, as a goddess of creation and destruction. Shantala dances on a blanket of ashes: symbol of the cycle of death and rebirth and of a circular energy rooted in Indian cremation rites and in the vibrations of dance as a source of energy and life.
Aurélien Bory was born in 1972 in Colmar, France. He attended Physics courses at the University of Strasbourg. These studies took him to work in the field of Architectural Acoustics.  In 2000, he founded Compagnie 111 in Toulouse. He develops a «physical theater» singular and hybrid, a crossbreeding of different, converging fields in the performing arts: theater, circus, dance, visual art, and music. Intrigued by the question of space, his composite works that reflect a peculiar aesthetic are driven by sciences, and strongly rely on the scenography. His shows tour around the world. This international recognition began with Plan B (2003, Théâtre Garonne, Toulouse) and Plus ou moins l'infini/More or less infinity (2005, Théâtre Vidy, Lausanne) cocreated with the New Yorker stage director Phil Soltanoff.  In 2008 Aurélien Bory undertook a series of women's portraits starting with Questcequetudeviens?/What'sbecomeofyou? for the flamenco dancer Stéphanie Fuster and with Plexus created for the Japanese dancer Kaori Ito. In 2018 he continue the serie with aSH created for the Indian-born dancer Shantala Shivalingappa, on June at Festival Montpellier-Danse. This repertoire of thirteen creations is played in prestigious theaters in France and overseas.
Shantala Shivalingappa -Born in Madras, India, brought up in Paris, Shantala is the child of east and west. She grew up in a world filled with dance and music, initiated at a tender age by her mother, dancer Savitry Nair. Deeply moved and inspired by Master Vempati Chinna Satyam's pure and graceful style, Shantala dedicated herself to Kuchipudi, and received an intense and rigorous training from her master. Driven by a deep desire to bring Kuchipudi to the western audience, she has performed in important festivals and theatres (such as: Théâtre de la Ville-Paris, Sadler's Wells–London, Mercat de les Flors-Barcelona, Jacob's Pillow Festival-USA, New York City Center, Herbst Theatre-San Francisco), earning praise and admiration from all. Acclaimed as a rare dancer by artists and connoisseurs in India and Europe, Shantala combines a perfect technique with flowing grace and a very fine sensitivity.
With: Shantala Shivalingappa e Loïc Schild (percussioni)
Design, scenography, direction: Aurélien Bory
Choregraphy: Shantala Shivalingappa
Dramaturgy: Taïcyr Fadel
Light design: Arno Veyrat assistito da Mallory Duhamel
Music: Joan Cambon
Set Technical conception: Pierre Dequivre, Stéphane Chipeaux-Dardé | Costumes: Manuela Agnesini | With the valuable help of: Nathalie Trouvé | Technical director: Thomas Dupeyron | Stage manager: Thomas Dupeyron o Robin Jouanneau | Sound manager: Stéphane Ley | Light manager: Mallory Duhamel  | Head of production: Florence Meurisse | Production manager: Clément Séguier-Faucher | Logistic manager: Justine Cailliau Konkoj | Press: Plan Bey Agency
Production: Compagnie 111 – Aurélien Bory | Coproduction: ThéâtredelaCité – CDN Toulouse Occitanie, Festival Montpellier Danse 2018, Agora – PNAC Boulazac-Nouvelle-Aquitaine, La Scala – Paris, L'Onde Théâtre Centre d'Art –
Vélizy- Villacoublay | With the artistic partecipation of ENSATT – Lyon | Rehearsals and residencies: La nouvelle Digue-Toulouse, ThéâtredelaCité – CDN Toulouse Occitanie | Compagnie 111 – Aurélien Bory is under funding agreement with the Regional Directorate for Cultural Affairs Occitaine / French Ministry of Culture, Region Occitanie / Pirenei – Mediterraneo and the City Council of Toulouse. It is supported by the Departmental Council of Haute-Garonne and the Institut Français..

You may be interested