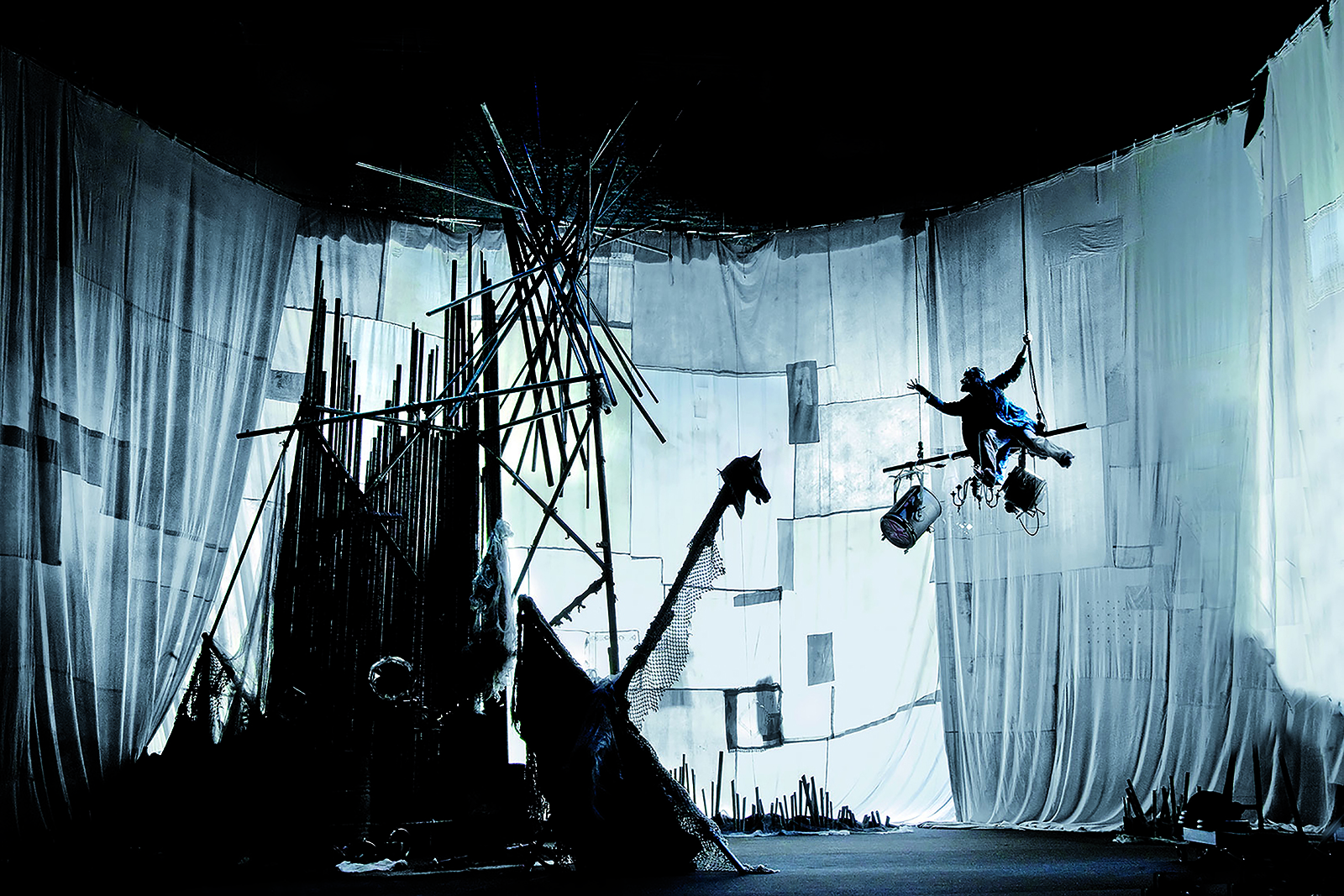 A magician of the theatrical stage, as well as an innovator of circus forms, James Thierrée is an artist capable of extracting emotions and dreams from space and matter, combining the languages of new circus, dance and theatre. Raoul immerses us into an enchanted world inhabited by talking teapots, animated clothes, jellyfish umbrellas and phantom elephants, all embued with secrets and shadows. Loneliness and our small personal existential crises appear to acquire substance and form and rise up towards the light through dance and movement.
Born in 1974 James Thierrée made his theatrical debut in Le Cirque Bonjour aged just four, followed by appearances with Le Cirque Imaginaire with whom he toured worldwide. In 1998 he established his own company choosing his childhood nickname Hanneton (Junebug) as the title for the informal ensemble: La Compagnie du Hanneton. In the same year he created his first work, The Junebug Symphony which was awarded a 4 Molière Awards and toured the world. In 2003 he directed his second work La Veillée des Abysses, then he directed and performed in Au Revoir Parapluie ,Tabac rouge, The toad knew. On 2018 he directed and performed in Frôlons at and for the Opera Garnier. In his shows he describes the human being through his nightmares, his surreal dreams, the encounters, the fears and the grotesque, funny and sometimes romantic challenges. He works also for various theatre projects with Carlos Santos, Beno Besson, Robert Wilson, Peter Greenaway and in various cinema projects directed by Coline Serreau, Aniezka Holland, Philippe de Broca,
Roland Joffe, Jacques Baratier, Jean-Pierre Limosin, Robinson Savary, Antoine De Caunes , Laurent De Bartillat, Tony Gatlif, Claude Miller, Roschdy Zem (Cesar Award 2017 for his role Footit in Chocolat), Jean François Richet. In 2009 he premiered his one-man show Raoul in Belgium followed by a tour in France and the UK. Today this powerful show is back on an international tournèe.
Production La Compagnie du Hanneton/Junebug | A co-production with La Coursive Scène nationale de La Rochelle, Théâtre Royal de Namur, La Comédie de Clermont-Ferrand, Théâtre de la Ville Paris, barbicanbite09 (Barbican Theatre, London) and Crying Out Loud, Abbey Theatre Dublin, Maison de la Danse Lyon, Théâtre National de Toulouse. Fondation BNP Paribas has supported Raoul's touring from 2010 to 2016 | Premiere: 2009, April the 28th, Théâtre Royal de Namur (Belgio)
La Compagnie du Hanneton is supported by Ministère de la Culture DRAC Bourgogne
Designed, directed and performed by James Thiérrée
Costumes and Animal Design by Victoria Thiérrée
Sound: Thomas Delot
Lights: James Thierrée and Bastien Courthieu
The Shadow, the Creatures : Samuel Dutertre
Stage Managers: Guillaume Pissembon and Anthony Nicolas
Light manager: Bastien Courthieu
Costume and set manager : Sabine Schlemmer
Electric guitar recordings: Matthieu Chedid
Assistants Director: Laetitia Hélin and Sidonie Pigeon
Musical extract: "Manifeste" Tony Gatlif and Delphine Mantoulet
Set and costume makers : Victoria Thiérrée, Monika Schwartzl, Matthieu Bony, Marie Rossetti, Pierre Jean Verbraeken, Jean Malo, Véronique Grand, Pauline Köcher, Brigitte Brassart, Philippe Welsh
@Photo: Richard Houghton

You may be interested