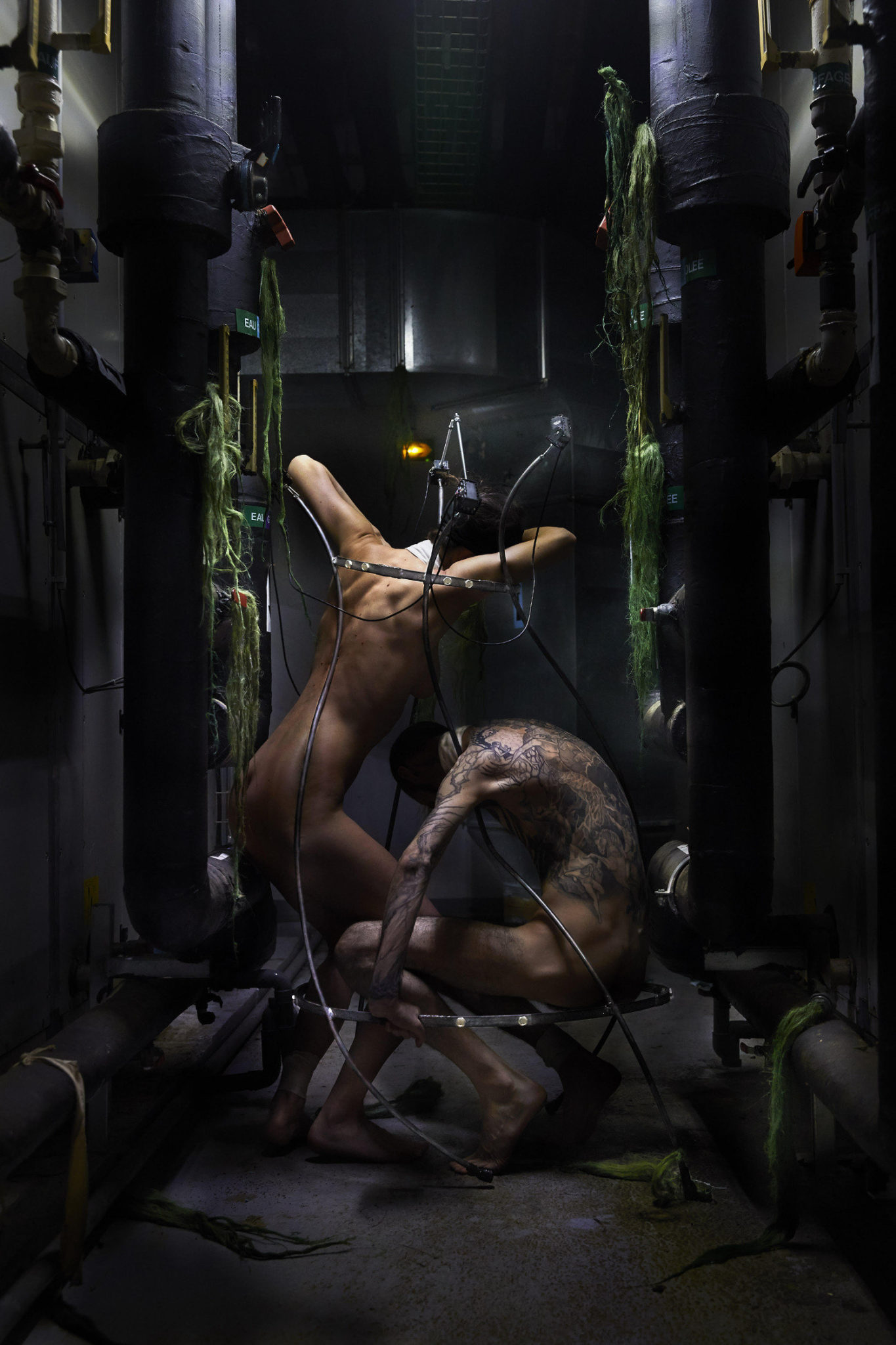 Donnarumma and Pevere, winners of the Digital Award 2018, are premiering their new production: a dialogue between human, robotic and synthetic entities. The duo transcends the boundaries between dance, theatre, music, visual arts, biophysics, technology and BioArt to address the theme of violence and its many forms of expression: physical violence, violence manifested through digital technologies, violence which leads to the destruction of an ecosystem.
Marco Donnarumma – Born in Naples in 1984, Marco Donnarumma is a media and performance artist, director, composer and scholar. Since the early 2000s, he meshes contemporary performance, media art and computer music with one another to inquire into the recondite matters of the human body. He is widely known for his performances probing the body through sound physicality, technological engineering and movement research. Oneiric and uncompromising, sensual and confrontational, his language is often rooted in the experience of ritual, shock and enforcement. His repertoire tours regularly from concert halls to theaters, festival and museums, and have been presented in 65 countries worldwide.A dissection of violence – as exerted by humans against their kin and environment through direct action and technological development – lies at the core of his new production. The piece is commissioned by Centre des Arts (FR) and Romaeuropa Festival (IT) and will be created in collaboration with Margherita Pevere for a premiere in Rome in October 2019. His latest cycle of performances and installations, entitled 7 Configurations, focused on the conflictual relations between artificial intelligence and body politics. Co-produced by CTM Festival and Chronus Art Center with the support of Goethe-Institut and the Berlin U. of the Arts, the works are currently touring in Europe and Asia. Donnarumma received numerous acknowledgments, the most recent include the Digital Award at Romaeuropa Festival 2018 for Eingeweide; two awards at the Bains Numériques Biennial 2018 (Performing Arts and Press Award), as well as the Award of Distinction (2nd prize) in Sound Art at the Prix Ars Electronica 2017 for Corpus Nil; and the endowment of Artist of the Science Year 2018 by the German Federal Ministry of Research and Education for Amygdala. He holds a Ph.D. in performing arts, computing and body theory from Goldsmiths, U. of London, and in 2016-18 was a Research Fellow at the Berlin U. of the Arts in partnership with the Neurorobotics Research Lab Berlin. His writings are published by MIT Press, Oxford University Press, Routledge, ACM and Springer.
Margherita Pevere – With a visceral fascination for organic processes, Margherita Pevere (DEU/FIN) is an artist and researcher investigating leakiness and transformation of biological and technological matter. Her practice employs a unique constellation of installations, performances, collections of plant and animal relics, workshops, and collaborations with bacterial cultures. In her symbiotic practice as artist-researcher, Margherita Pevere combines scientific protocols and DoIt-Yourself inquiry with intense, sophisticated aesthetics. Beyond her fascination with organic materials and processes, her practice is informed by a deep interest into symbolism, history, and controversy of the materials she adopts. Based between Berlin and Helsinki, Pevere is PhD candidate (Artistic Research) at Aalto University, Helsinki, in collaboration with Biofilia Laboratory – Base for biological arts. At Aalto University, she also cooperates with the transdisciplinary research platform for innovative biomaterials CHEMARTS. She is founder member of the Berlin advocacy group AG21c and member of the Finnish Bioart Society. Most recent exhibitions include Emergent Form, the Fields Institute for Research in mathematical Sciences, Toronto (CA), curated by Roberta Buiani and ArtSci Salon; Non-human agents, Art Laboratory Berlin, curated by Regine Rapp and Chris de Lutz; Ars Electronica, Linz (AT). Her work Wombs has recently been awarded the Honorable Mention at the Share Prize.
Artistic direction, performance: Marco Donnarumma, Margherita Pevere
Choreography, dramaturgy, music, machines: Marco Donnarumma
Symbionts, biomaterials: Margherita Pevere
Costumes: Margherita Pevere, Marco Donnarumma
Scenography: Marco Donnarumma, Margherita Pevere, Andrea Familari
Research, interactive learning technologies: Baptiste Caramiaux
Light design and stage production: Andrea Familari
Robotics visual design: Ana Rajcevic
Robotics 3D modeling and engineering: Christian Schmidts
Neurorobotics advisor: Neurorobotic Research Laboratory
Photography: Manuel Vason
Production and tour management: René Dombrowski
Project management: Claudia Dorfmüller
A Coproduction by Romaeuropa Festival and Centre des arts d'Enghien-les-Bains in the context of the Prix Arts vivants ADAMI. With scientific institutional partners Centre National de Recherche Scientifique (CNRS) and Laboratoire de Recherche en Informatique (LRI) at University Paris-Saclay. Supported by PACT Zollverein. Berlin / Paris / Essen 2019.

You may be interested