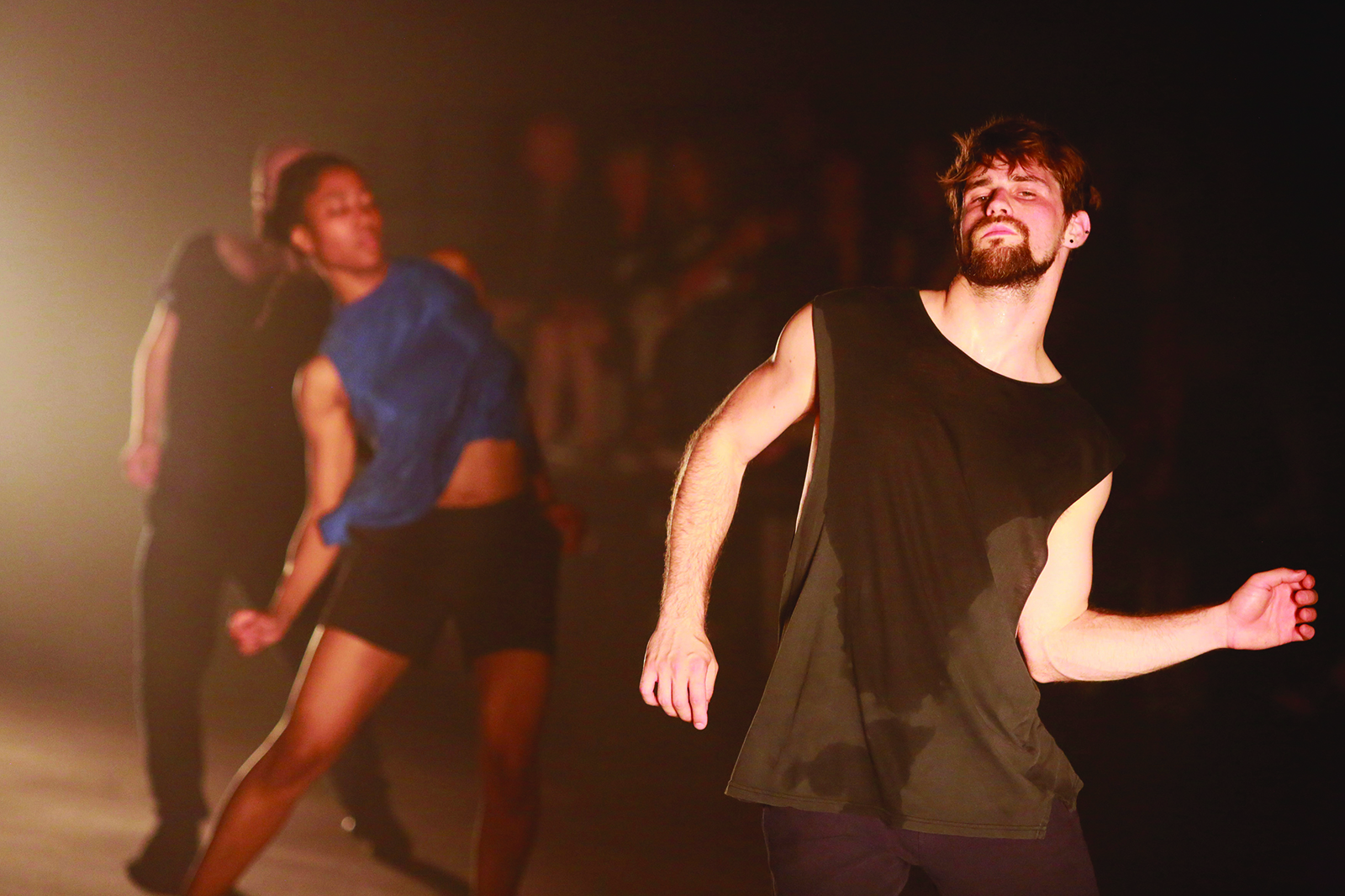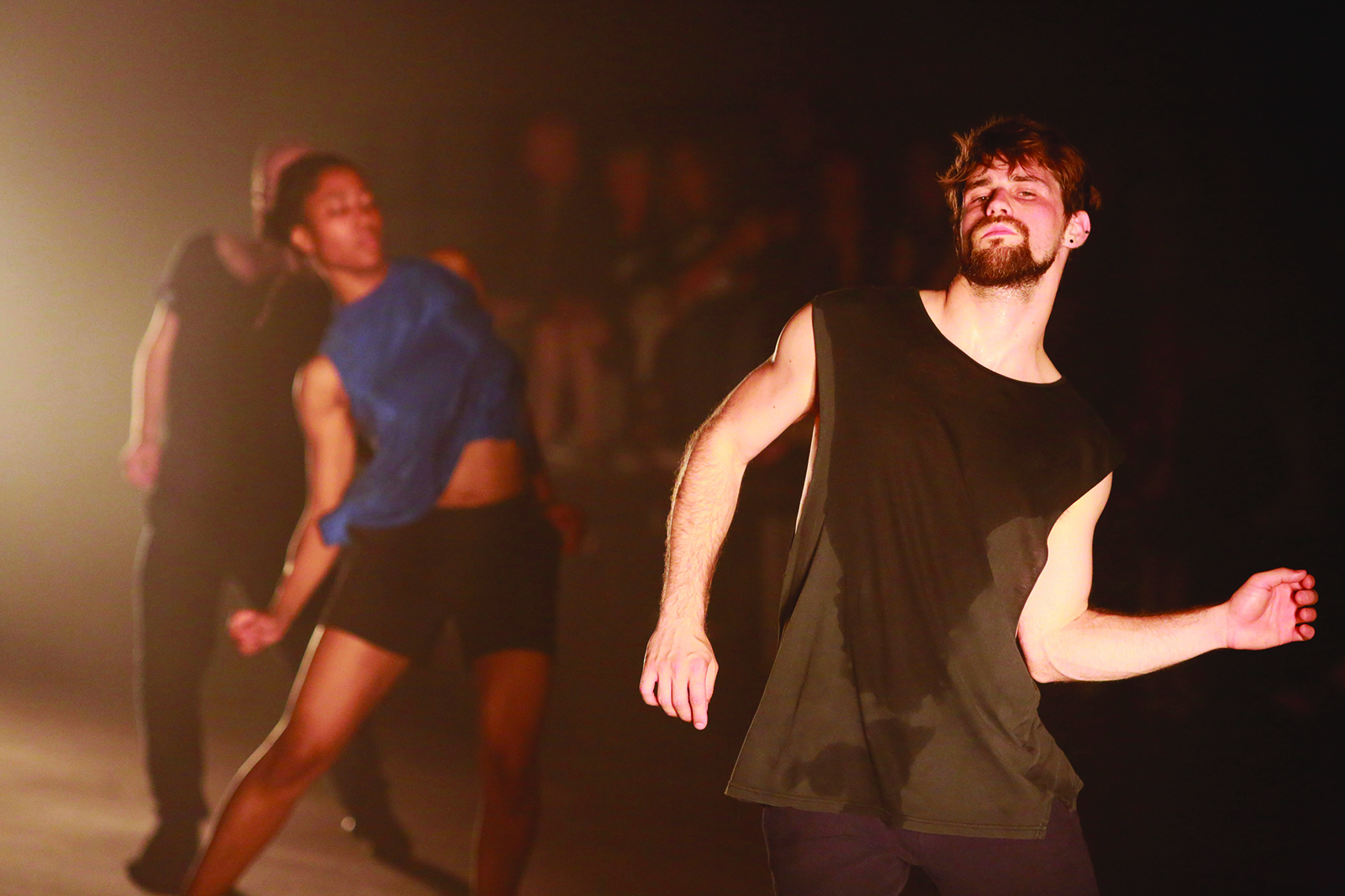 With The Way You Sound Tonight, Arno Schuitemaker investigates the relationship between stage and audience, between the language of choreography and perception. Five performers involve the spectators-literally, on stage- and envelop them in sound through cycles of pulsating movements, dilated over time. Space and energy, distance and proximity, night and day, are the poles of an artistic experience that enters the body and restores its transcendence.
Arno Schuitemaker was born in 1976 in The Netherlands and is based in Amsterdam. His creations include EXIT (2009), TIDE (2011), The Fifteen Project | DUET (2012), I is an Other (2014), Together_till the end (2015), and the trilogy for three performers WHILE WE STRIVE (2015), I will wait for you (2016) and If You Could See Me Now (2017). His most recent and largest scale work to date The Way You Sound Tonight premiered at the Holland Festival in June 2018. Compelling, mesmeric, intens—he creates works one has to experience. Using ongoing, perpetual movement, his perception-based performances become immersive and transformative encounters that speak about life and the time we live in. In collaboration with various extraordinary performers, composers and lighting designers each work shapes its own identity and perspective. Often characterized as interdisciplinary, they transcend dance and push its boundaries. The projects have been presented at renowned theaters and contemporary performing arts festivals in over 15 countries across Europe, and beyond. In Theatermaker magazine, both The Way You Sound Tonight and I will wait for you were selected in the critics lists with the season's best performances. tanz magazine selected him as one of the most promising choreographers in their yearbook 2017 and by Dance Europe he was mentioned as being "one of the leading dance makers in The Netherlands." He is a winner of the Dioraphte Encouragement Award and of the 2nd jury prize at [re]connaissance 2016. Between 2013 and 2016, he received multiyear support by one of his main coproducers DansBrabant (Tilburg) and he was an artist-in-residence with ICK Amsterdam from January 2015 through April 2017. Other organizations that support(ed) his work are the Holland Festival, Chaillot – Théâtre national de la Danse (Paris), CN D Centre national de la danse (Pantin), La Place de la Danse – CDCN Toulouse / Occitanie (Toulouse), O Espaço do Tempo (Montemor-o-Novo), HELLERAU – Europäisches Zentrum der Künste (Dresden), Dansehallerne (Copenhagen), The Duncan Dance Research Center (Athens), Tanzquartier (Vienna), Ballet National de Marseille, KLAP Maison pour la danse (Marseille), Le Pacifique CDCN Grenoble ARA and CCN2 Centre chorégraphique national de Grenoble.
Concept and creation: Arno Schuitemaker
Performers: Stein Fluijt, Mark Christoph Klee, Gaetano Badalamenti, Kim Amankwaa, Emilia Saavedra
Dramaturgie: Guy Cools
Music composition: Aart Strootman
Lighting design: Jean Kalman
Styling costumes: Jorrien Schoneveld
The Way You Sound Tonight is a production by SHARP/ArnoSchuitemaker in coproduction with Holland Festival, Chaillot – Théâtre national de la Danse, DansBrabant and Le Pacifique CDCN Grenoble ARA in collaboration with CCN2 Centre chorégraphique national de Grenoble. With support of ICK Amsterdam and thanks to Het Huis Utrecht. The Way You Sound Tonight is created with contributions by Performing Arts Fund NL, Fonds 21 and NORMA Fonds. SHARP/ArnoSchuitemaker receives multi-year funding by AFK (Amsterdam Fund for the Arts).