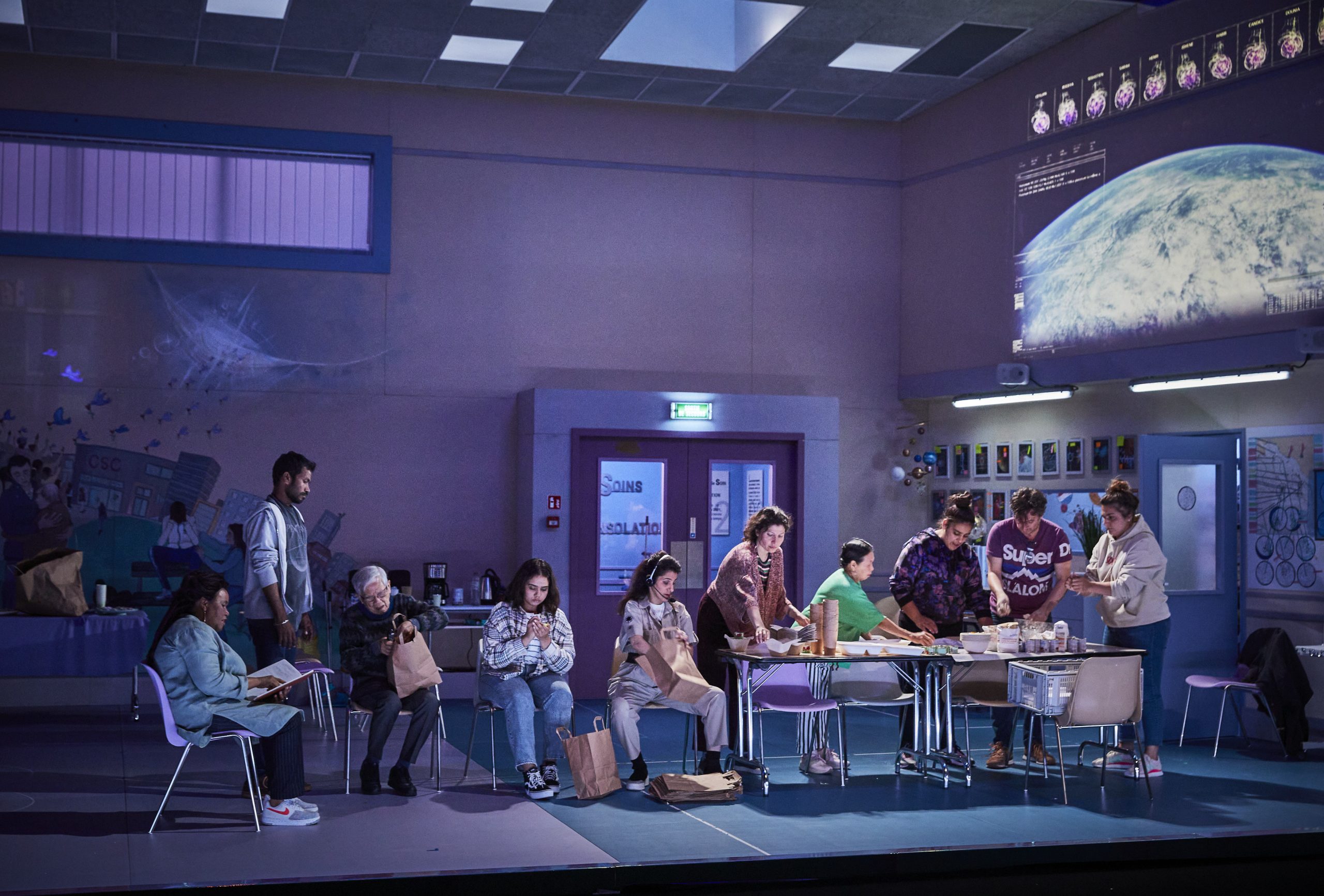 DUE TO A DELAY IN THE TRANSPORT OF THE SCENOGRAPHY, BLOCKED IN THE NEW YORK PORT,  THE DATES OF FRATERNITÉ, CONTE FANTASTIQUE BY CAROLINE GUIELA NGUYEN / LES HOMMES APPROXIMATIFS – SCHEDULED IN ROME FROM 11 TO 13 NOVEMBER AT TEATRO VASCELLO FOR ROMAEUROPA FESTIVAL – HAS BEEN CANCELLED. 
Les Hommes Approximatifs announces to Romaeuropa Foundation the cancellation of the dates of FRATERNITÉ, Conte fantastique, the creation by Caroline Guiela Nguyen scheduled in Rome at Teatro Vascello from 11 to 13 november as national premiere. 
«We deeply regret not being able to present Fraternité, Conte fantastique programmed from November the 11th to the 13th at Teatro Vascello. The return travel from New-York of our scenography has been victim of the extremely disrupted maritime traffic context .The ship that transports our container – with a scheduled departure on September 30 for 15 days of travel, therefore with an initial safety margin of over four weeks – has accumulated first 7 and then 15 days of delay. The itinerary has been extended to three weeks, with expected arrival in Fos-sur-Mer, France,  on 11 November 2022. This delay effectively cancels the possibility of staging the show in Rome and put also at risk our other European performances». 
The General and Artistic Director Fabrizio Grifasi comments: «We join in the disappointment of the company, certain to continue our collaboration in the near future. The dialogue with Caroline Guiela Nguyen began in 2018 with the presentation of her SAIGON and we continued to follow her path by co-producing the extraordinary show we were waiting for in Rome in the coming weeks».
Tickets purchased will be exchanged or refunded by contacting the festival promotion office via email: promotion@romaeuropa.net
---
An inexplicable catastrophe has made a part of humanity disappear, forcing the remaining survivors to support each other and face this painful mystery together. They speak different languages and have gathered in reception centres, set up in elementary or nursery schools: spaces of memory and mourning, full of screens and technologies that make possible to control the motions of the earth, the succession of eclipses, and the rhythm of one's own heartbeat. After retracing the colonial past of her native Saigon, French director Caroline Guiela Nguyen brings together professional and amateur actresses and actors from different social backgrounds, to build a new narrative that takes us by the hand and leads us into a future of spectacular essence. Here- through poetry and delicacy-reality and science fiction merge into small moments of life which, like sudden shudders, animate lives on the edge, ready to vanish into thin air. They become testament to a present unleashed into space like the light of a star: the faint lights of our brotherhood hurtle in unison until the next eclipse.
Caroline Guiela Nguyen is a writer and director for both stage and screen. After starting out as a sociology student she joined TNS drama school. In 2009, she created her own theatre company, Les Hommes Approximatifs. Their work, drawing on their own life stories, gives centre stage to bodies and histories that the theatre has generally paid little attention to. Their shows include: Se souvenir de Violetta (2011), Ses Mains, Le bal d'Emma (2012), Elle brûle (2013), Le chagrin (2015), Mon grand amour (2016), SAIGON (2017). Since 2015, she has also collaborated with Joël Pommerat and his company Louis Brouillard, and with Jean Ruimi creating shows at the Maison Centrale d'Arles Prison, including Désordre d'un futur passé and Marius. In 2016, she wrote and devised a radio play with Alexandre Plank and Antoine Richard, Le chagrin (Julie et Vincent) for the radio station France Culture as part of their Radiodrama series. SAIGON, created in 2017, was presented at the Ambivalence (s) festival of the Comédie de Valence and at the 71st edition of the Avignon Festival. From 2017 to 2020 the show was on tour in about fifteen countries (France, Sweden, China, Germany, Australia, Vietnam …) and was also hosted by the Romaeuropa Festival. It was in 2018 that the director launched the FRATERNITÉ cycle with her company, which to date has four creations: a film co-produced by Les Films du Worso, Les Engloutis, FRATERNITÉ – Conte fantastique, made in 2021 and L'Enfance, la Nuit che will be created at Schaubühne in 2022. Caroline Guiela Nguyen has been an associate artist at the Odéon-Théâtre de l'Europe since 2016.
Text and direction: Caroline Guiela Nguyen
with the complete artistic team
With: Dan Artus, Saadi Bahri, Boutaïna El Fekkak, Hoonaz Ghojallu, Maïmouna Keita, Elios Noël, Nanii, Alix Petris, Saaphyra, Vasanth Selvam, Anh Tran Nghia, Hiep Tran Nghia, Mahia Zrouki
Artistic Collaboration: Claire Calvi
Scenography: Alice Duchange 
Costumes: Benjamin Moreau 
Light: Jérémie Papin
Sound and music production: Antoine Richard 
Video: Jérémie Scheidler 
Dramaturgy: Hugo Soubise, Manon Worms
Original music: Teddy Gauliat-Pitois, Antoine Richard
Construction of the scenes: Atelier du Grand T – Théâtre de Loire-Atlantique
Costume realization: Ateliers du Théâtre de Liège
production Les Hommes Approximatifs
production déléguée Les Hommes Approximatifs, Festival d'Avignon
coproduction Odéon-Théâtre de l'Europe, ExtraPôle Provence-Alpes-Côte d'Azur*, La Comédie – centre dramatique national de Reims, Théâtre national de Bretagne – Rennes, Théâtre national de Strasbourg, Châteauvallon scène nationale, Théâtre de l'Union – centre dramatique national du Limousin, Théâtre Olympia – centre dramatique national de Tours, MC2: Grenoble, La Criée Théâtre national de Marseille, Le Grand T théâtre de Loire-Atlantique, Théâtre des Célestins – Lyon, La Comédie de Colmar – centre dramatique national Grand Est Alsace, La rose des vents – scène nationale Lille Métropole Villeneuve d'Ascq, Le Parvis Tarbes Pyrénées, Théâtre national de Nice, Théâtre du Beauvaisis – scène nationale
international coproduction Prospero – Extended Theatre**, Théâtre national Wallonie-Bruxelles, Théâtre de Liège, Les théâtres de la ville de Luxembourg, Centro dramático nacional – Madrid, Dramaten – Stockholm, Schaubühne – Berlin, Théâtre national Dona Maria II – Lisbonne, Thalia – Hambourg, Festival Romaeuropa
with exceptional support of the Direction général de la création artistique
with the participation of Jeune théâtre national and of l'Institut français – Paris
with the support of Cercle de l'Odéon