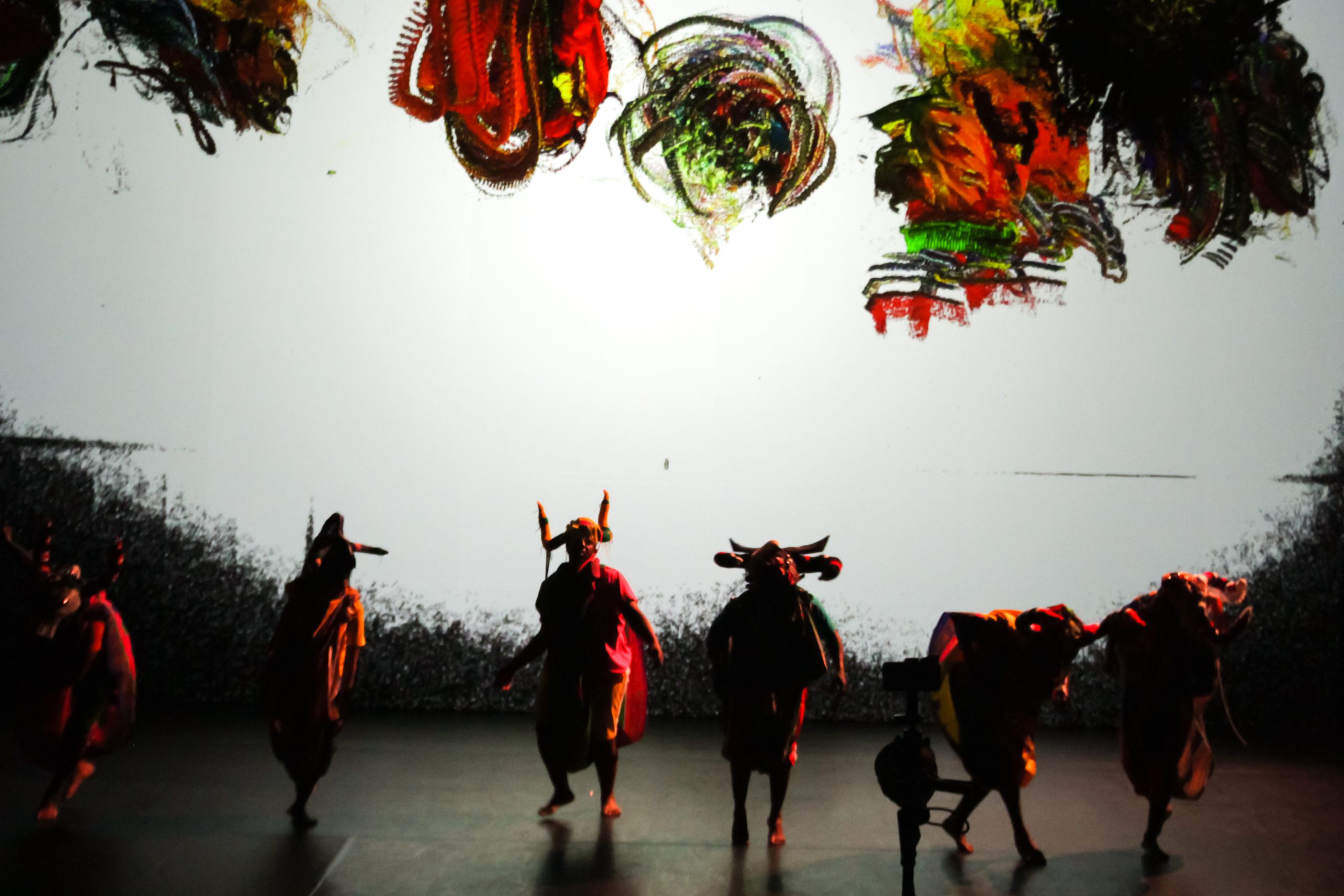 "We wear our wheels with pride and slap your streets with colour … we said 'bonjour' to Satan in 1820" reads the extended title of this new creation by Robyn Orlin. She is an artist who has been recognized since the 1990s as the enfant terrible of South African dance, for her artistic activism, as well as for her critical view of the world and her country's colonial past. On this occasion, her inspiration is the childhood memory of the flamboyant Zulu rickshaws: the numerous bicycle-taxis in the streets of Durban during Apartheid. Here, despite the strict regulations governing this colonial practice, she seems to "dance with bodies suspended in the air" and compete in inventiveness, customizing her vehicles and costumes with typical headdresses made of feathers and pearls. With eight young performers from her own Moving into Dance Company- among the first non-racially segregated dance Companies in Johannesburg- Orlin delves into the colours, the inventiveness, the energy of these workers and in the process builds a form of resistance, behind which lies the bleakly painful history of their living conditions. Yet, it is beauty and dignity that run through this compelling work, characterized by a caustic sense of humour with which the choreographer approaches the real world, in order to delve into the consequences of colonialism and pay homage to otherwise forgotten lives.
Robyn Orlin was born in 1955 in Johannesburg. Nicknamed in South Africa as "permanent irritation", she reveals, through her work, the difficult and complex reality of her country. She incorporates various artistic expressions (text, video, plastic arts …), in order to explore a certain theatricality that is reflected in her choreographic vocabulary. In 2003, she received the Laurence Olivier Award for her piece Daddy, I've seen this piece six times before and I still don't know why they're hurting each other considered as the most outstanding achievement in dance. In co-production with INA and ARTE, she made her first movie : Hidden beauties, dirty histories in October 2004. She staged L'Allegro, il pensoso ed il moderato by Handel at the Ope?ra National de Paris, the premiere took place on April 23, 2007. Robyn created a production of Porgy & Bess at the Ope?ra Comique in Paris in June 2008. Beauty remained for just a moment then returned gently to her starting position … (2012) created for Moving Into Dance Mophatong was the opening show of the South African season in France in May 2013. Robyn Orlin was named Knight of the National Order of Merit in 2009 and Knight Arts and Letters in 2015. ` At the same time we were pointing a finger at you …a play with the dancers of the Ecole des Sables, directed by Germaine Acogny, was created in 2014 at the Festival d'Avignon and And so you see … at the Festival Montpellier Danse in June 2016 with Albert Khoza.In 2017, she created the piece Oh Louis… we move from the ballroom to hell while we have to tell ourselves stories at night so that we can sleep… for Benjamin Pech, former Etoile Ballet Dancer at the Paris National Opera and the musician Loris Barrucand.
In April 2018, Robyn Orlin choreographed the piece Pygmalion by Rameau, in residency at the Dijon Opera, in collaboration with Emmanuelle Hai?m for the musical direction. For the first time of her life, she staged a theatrical piece : Les Bonnes from Jean Genet's text and Christopher Miles' movie, created at The?a?tre de la Bastille in Paris during the Festival d'Automne 2019.
A piece by Robyn Orlin
With Moving Into Dance Mophatong dancers: Sunnyboy Motau, Oscar Buthelezi, Eugene Mashiane, Lesego Dihemo, Sbusiso Gumede and Masego Moloto
Original music : uKhoiKhoi with Yogin Sullaphen and Anelisa Stuurman
Video: Eric Perroys
Costumes: Birgit Neppl
Light: Romain de Lagarde
General Manager: Jean-Marc L'Hostis
Tour Manager: Thabo Pule
Stage Manager: Jordan Azincot
Production : City Theater & Dance Group, MIDM – Moving into Dance Mophatong and Damien Valette Prod
Co-production : Festival Montpellier Danse, Tanz im August – 32. Internationales Festival Berlin, Chaillot – Théâtre National de la Danse, Le Grand T- Théâtre de Loire-Atlantique, Charleroi Danse – Centre chorégraphique de Wallonie – Bruxelles, Théâtre Garonne – Scène européenne, Château-Rouge – scène conventionnée d'Annemasse
With support from DRAC Ile-de-France
Administration, booking: Damien Valette
Coordination: Louise Bailly