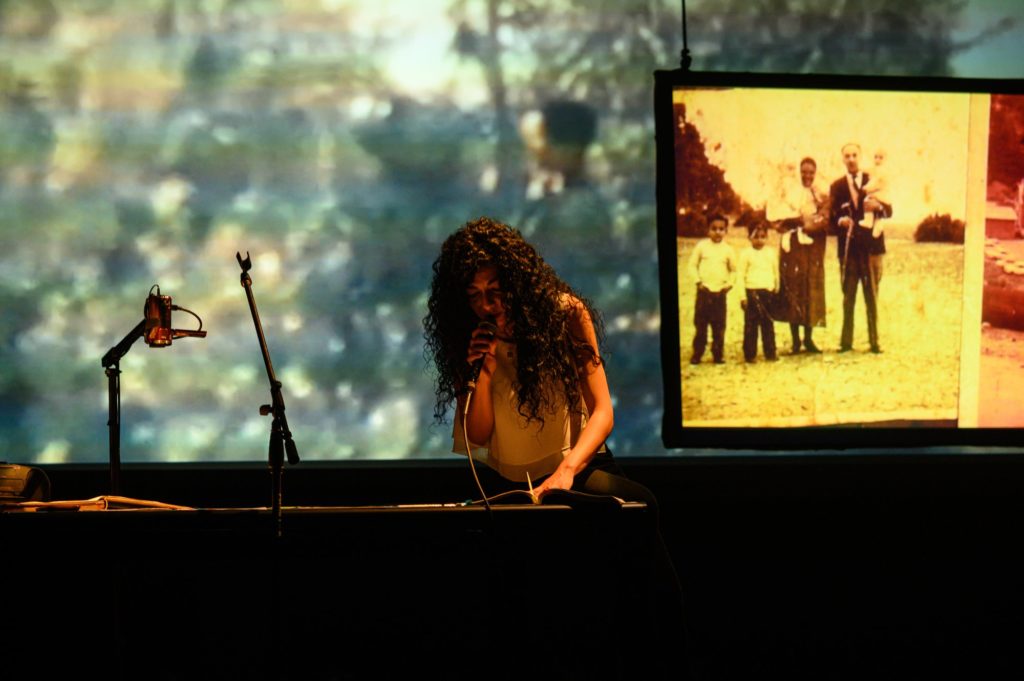 Miriam Selima Hay, an actress of the company, reconstructs the traces of her Libyan origins. During her research through social networks, she met Salem a Libyan cousin whose existence he did not know, the Iraqi Haidar, a former professor of English at the University of Tripoli and Khalifa Abo Khraisse, a journalist, documentary filmmaker and Tripoli correspondent for Internazionale and other newspapers, for which he reported the country's political conflicts. Can a personal story be traced back to a collective memory? Can an autobiographical narrative become a public ritual?
Crediti
Creation and direction: Paola Di Mitri
With: Miriam Selima Fieno
Dramaturgy: Paola Di Mitri
Dramaturgy Assistance: Davide Crudetti
Texts: Khalifa Abo Khraisse, Giancarlo Fieno, Miriam Selima Fieno
Artistic Assistance: Nicola Di Chio
Documentary direction and video editing: Davide Crudetti
Nineties archive and Super8: Fieno Family
Video footage in Italy: Miriam Selima Fieno
Video footage in Libya: Khalifa Abo Khraisse
Original Music: Teho Teardo
Scene design and realization: Paola Villani
Light design: Davide Rigodanza
Production Assistance: Sara Consoli | Advice on issues: Andrea Segre (ZaLab), Stefania Mascetti, Chiara Nielsen (Internazionale) | Production: La Ballata dei Lenna | Executive production: ACTI Teatri Indipendenti | Coproduction: TIEFFETEATRO Milano, ELSINOR Centro di Produzione Teatrale | With the support of: Festival delle Colline Torinesi, TPE/ Teatro Piemonte Europa | With the contribution of: Centro di Residenza dell Emilia Romagna "L'arboreto – Teatro Dimora | La Corte
Ospitale vincitore Premio Scintille018 realized with the support of Bando Ora! della Compagnia di San Paolo
Photo: ©AndreaMacchia
Ricordami questo evento
2019-10-15 00:00:00
2019-10-16 00:00:00
Europe/Rome
Libya. Back Home.
La Ballata dei Lenna
Mattatoio – Teatro 2
Romaeuropa
info@romaeuropa.net