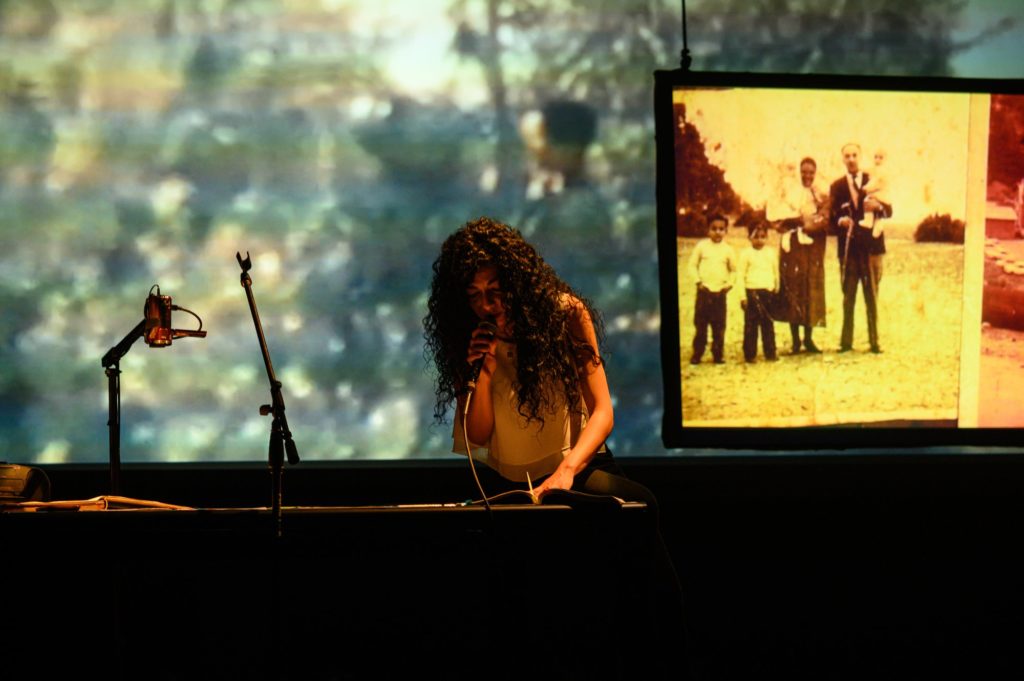 La Ballata dei Lenna
Libya.
Back Home.
Miriam Selima Hay, an actress of the company, reconstructs the traces of her Libyan origins. During her research through social networks, she met Khalifa Abo Khraisse, a journalist, documentary filmmaker and Tripoli correspondent for Internazionale and other Italian newspapers, for which he reported the country's political conflicts. Can a personal story be traced back to a collective memory? Can an autobiographical narrative become a public ritual?
Crediti
Creation and direction: Paola Di Mitri
With: Miriam Selima Fieno
Dramaturgy: Paola Di Mitri
Dramaturgy Assistance: Davide Crudetti
Texts: Khalifa Abo Khraisse, Giancarlo Fieno, Miriam Selima Fieno
Artistic Assistance: Nicola Di Chio
Documentary direction and video editing: Davide Crudetti
Nineties archive and Super8: Fieno Family
Video footage in Italy: Miriam Selima Fieno
Video footage in Libya: Khalifa Abo Khraisse
Original Music: Teho Teardo
Scene design and realization: Paola Villani
Light design: Davide Rigodanza
Production Assistance: Sara Consoli | Advice on issues: Andrea Segre (ZaLab), Stefania Mascetti, Chiara Nielsen (Internazionale) | Production: La Ballata dei Lenna | Executive production: ACTI Teatri Indipendenti | Coproduction: TIEFFETEATRO Milano, ELSINOR Centro di Produzione Teatrale | With the support of: Festival delle Colline Torinesi, TPE/ Teatro Piemonte Europa | With the contribution of: Centro di Residenza dell Emilia Romagna "L'arboreto – Teatro Dimora | La Corte
Ospitale vincitore Premio Scintille018 realized with the support of Bando Ora! della Compagnia di San Paolo
Photo: ©AndreaMacchia
Ricordami questo evento
2019-10-15 00:00:00
2019-10-16 00:00:00
Europe/Rome
Libya. Back Home.
La Ballata dei Lenna
Mattatoio – Teatro 2
Romaeuropa
info@romaeuropa.net