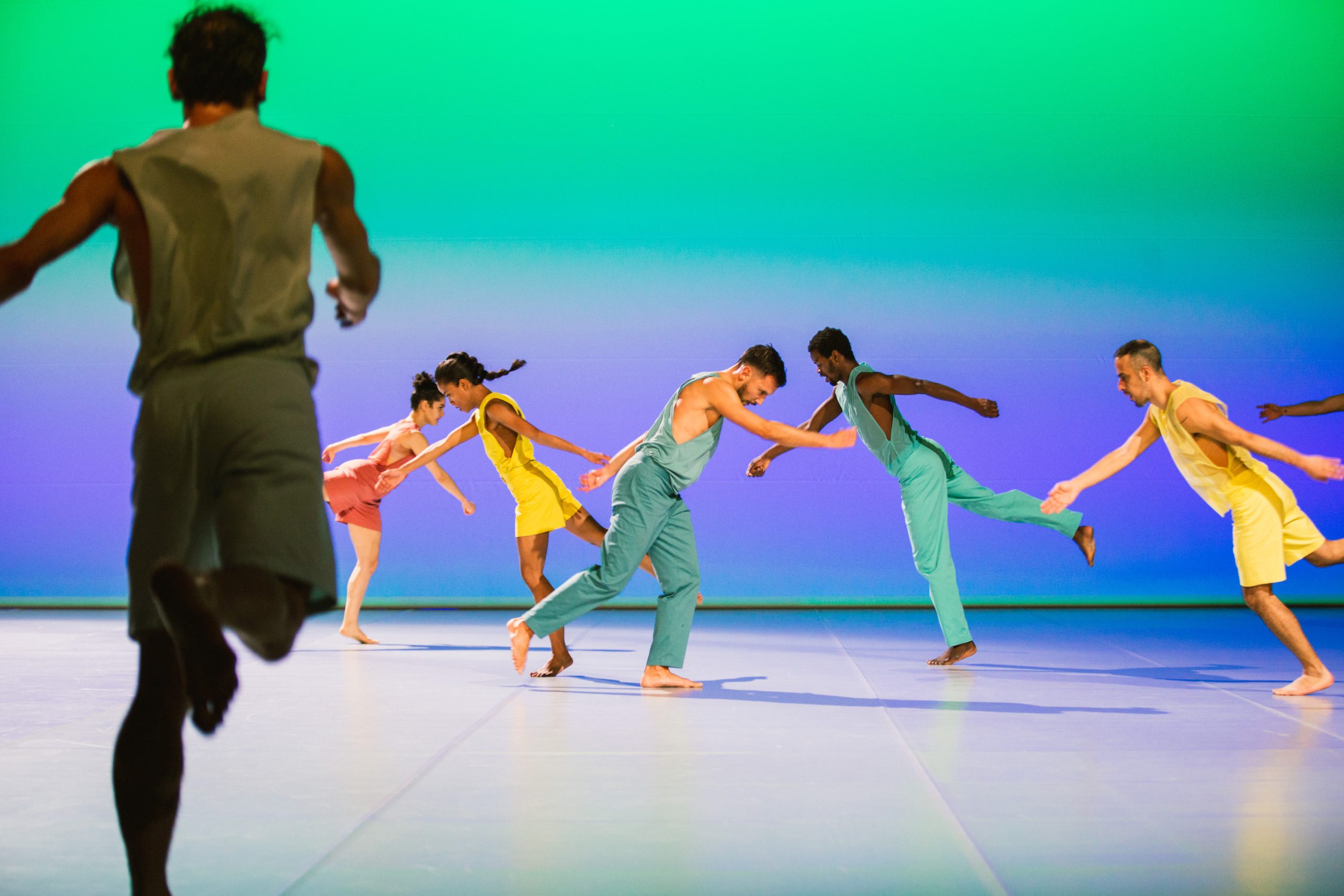 The artistic fusion of genres, dedicated by REF 2022 to the dialogue between contemporary dance and the fathers of minimalism, continues with another special guest: the great German choreographer Sasha Waltz returns to the Cavea of the Auditorium Parco della Musica to confront In C by American composer Terry Riley. Considered to be the first piece of minimalist music (1964) and a milestone in the history of music, In C represents for Waltz and his Company the starting point from which to develop a variable and potentially infinite choreographic structure, characterized by nuanced and enveloping colours, gradually hypnotizing the viewer. The piece represents a challenge, through which Sasha Waltz & Guests seek to explore-in this post-Covid era-the potential of a flexible artistic production to which international exchange is integral. Not surprisingly, the movement phrases that make up the final work were also recorded as video tutorials to allow dancers from all over the world to learn the choreography in view of an upcoming global sit-in.
Bio
Sasha Waltz is a choreographer, dancer and director. She studied dance and choreography in Amsterdam and New York. Together with Jochen Sandig she founded the company Sasha Waltz & Guests in 1993 and was cofounder of the Sophiensaele (1996) and the Radialsystem (2006), two spaces for performing arts in Berlin. From 2000-2004 she was a member of the artistic direction of the Schaubühne am Lehniner Platz. In the season 2019/20 Sasha Waltz was director of the Berlin State Ballet together with Johannes Öhman. The development of innovative, interdisciplinary forms of performance and creation is an important focus of her artistic work, which ranges from internationally renowned dance pieces such as the »Travelogue« trilogy (1993-95) or »Körper« (2000) to choreographed operas (e.g. »Dido & Aeneas«, 2005) and exploratory dialogue projects (e.g. »Dialoge 09 – Neues Museum«). In her current choreographic work Waltz concentrates on the condensation of collaborative processes, such as the synchronous development of choreography and music (e.g. »Kreatur«, 2017). At the same time Sasha Waltz is committed to the transfer of dance knowledge and dance as a medium of social and socio-political understanding. She is a member of the Academy of Arts Berlin since 2013. In 2021 Sasha Waltz was awarded the French cultural order »Commandeur de l'ordre des Arts et des Lettres«
Credits
In C
Sasha Waltz & Guests
Terry Riley
Concept / Choreography Sasha Waltz
Costume Design Jasmin Lepore
Lighting Design Olaf Danilsen
Concept / Dramaturgy Jochen Sandig
Dance / Choreography Sasha Waltz & Guests
Music Credits
In C by Terry Riley
© Associated Music Publishers Inc./Edition Wilhelm Hansen. With the permission of Bosworth Music GmbH/Wise Music Group
In C composed by Terry Riley
Performed by the Bang on a Can All-Stars
from the album Terry Riley: In C (CA21004)
Recording courtesy of Cantaloupe Music
Recorded at the World Financial Center in New York City in 1998
Maya Beiser, cello; David Cossin; glockenspiel, vibraphone; Steve Gilewski, bass; Scott Kuney, mandolin; Michael Lowenstern, soprano saxophone; Wu Man, pipa; Lisa Moore, piano; Todd Reynolds, violin; Mark Stewart, electric guitar; Danny Tunick, chimes, marimba; Evan Ziporyn, clarinet
A production by Sasha Waltz & Guests. Made in Radialsystem.
Sasha Waltz & Guests is funded by the Berlin Senate Department for Culture and Europe.
Photo © Yanina Isla
Photo © Jo Glinka
with the support of