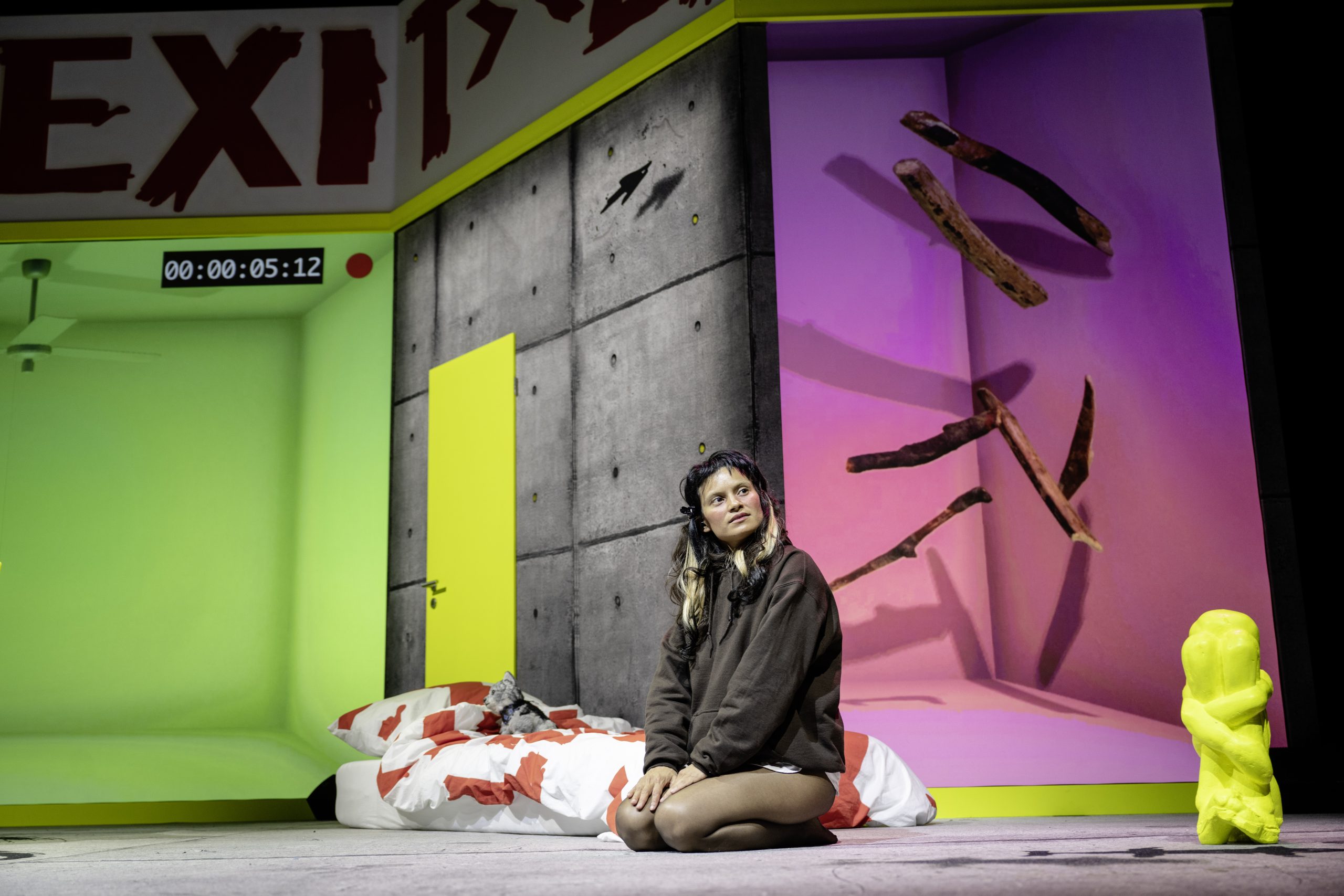 The starting point is an ancestral question that leads back to the very origins of thought: what is "I"? What does it represent? And how does it relate to reality? However, the context in which the question is asked is that of a world permeated by technology and also by virtual reality, with its rapid redesign of the foundations on which our culture is based. Acclaimed German director Susanne Kennedy arrives for the first time at the REF posing these hypotheses, continuing her research that ranges from classical dramaturgy to a re-examination of the heritage of the twentieth century (not least the re-staging of the masterpiece Einstein on the beach). Her vision, fostered by digital languages, has established her as one of the most original artists of today's international theatre scene. "What makes Angela, Angela?" Together with multimedia artist Markus Selg, Kennedy treats the existence of this character (her probable alter-ego) as a dramaturgical scheme. Everyday situations, illness and healing, wakefulness and sleep, birth and childbirth, aging and death become a reflection of the innumerable experiences that Angela is made up of and which are often the result of the stories of others: it is possible that Angela could just be a strange loop, an endless sequence. Susanne Kennedy and Markus Selg explore the new balance of power that exists between bodies, objects and machines. Their multimedia aesthetics, built on games of masks, synchronized dialogues and the "doppelgangers" of Germanic folklore, question the evolution of our imagination, the way we narrate our identity, our very human essence.
ULTRAWORLD PRODUCTIONS "ANGELA (a strange loop)" is the first stage production of the independent performing arts structure ULTRAWORLD PRODUCTIONS, founded by Susanne Kennedy and Markus Selg. It is aresearch laboratory for interdisciplinary artists who take technologies such as virtual reality and artificial intelligence as their starting point for creating new forms of (virtual) theater through artistic practice.
Susanne Kennedy (1977) is one of the most distinctive voices in European theatre. Her pieces are a radical invitation to act out the real. She explores the blurry line between actor and machine. In her theatre work, performers wear masks and speak with pre-recorded voices. Through perceptual shifts and the constant blurring of hypnotic images, Kennedy interrogates the stable representation of reality. She pushes the limits of theatre and turns to the medium's archaic ritual roots in order to ask deep and at times confrontational questions: Who are we? What is our reason for existing in this world? How do we relate to our own demons? Kennedy studied theatre studies in Germany and France. In 2005, she completed a directing degree in Amsterdam. Together with visual artist Markus Selg, she designs spaces that resemble virtual corridors in videogames or colourful psychedelic hallucinations.
Markus Selg (DE) Multidisciplinary artist. His scenographic installations condense video, sculpture, architecture and performance into immersive spaces. Ritualistic stages that create a new dynamic between archaic myths and digital technologies. 2009 he staged the exhibition course "Spuren der Sonne" with Werner Herzog and Jannis Kounellis. His feature film "Das Ewige Antlitz" premiered 2012 in Prague. 2015 Frans Hals Museum, Haarlem showed his retrospective exhibition "Primitive Data". His works are in collections of the Pinakothek der Moderne, Munich;
Sammlung Goetz, Munich and the Saatchi Collection, London. Since 2015 he works closely with theatre director Susanne Kennedy. For example "Coming Society" and "Ultraworld" 2019/2020 at Volksbu?hne Berlin. For "Ultraworld" Selg received the Faust Award 2020 for best stage
Concept, text and direction: Susanne Kennedy
Concept and stage design: Markus Selg
Performance: Diamanda La Berge Dramm, Ixchel Mendoza Hernández, Kate Strong, Tarren, Johnson, Dominic Santia
Voices: Diamanda La Berge Dramm, Cathal Sheerin, Kate Strong, Rita Kahn Chen, Rubina Schuth, Tarren Johnson, Susanne Kennedy, Ethan Braun, Dominic Santia, Ixchel Mendoza Hernández, Marie Schleef, Ruth Rosenfeld
Sound design and montage: Richard Alexander
Soundtrack: Richard Alexander, Diamanda La Berge Dramm
Live music: Diamanda La Berge Dramm
Video design: Rodrik Biersteker, Markus Selg
Costume design: Andra Dumitrascu
Dramaturgy: Helena Eckert
Light design: Rainer Casper
Artistic collaboration + Touring direction: Friederike Kötter
Stage assistant: Lili Super
Artistic costume assistant: Anastasia Pilepchuk, Anna Jannicke
Direction intern: Tobias Klett
Photo credit Julian Röder
Many thanks to Nick Drnaso, Rikke Villadsen, and David O'Reilly for inspiration and quotes
Production: ULTRAWORLD PRODUCTIONS
Management: Something Great
Artistic production management: Philip Decker
Technical production management: Sven Nichterlein
Stage construction: Stefan Pilger
International distribution: Rui Silveira – Something Great
Tour manager: Niki Fischer – Something Great
Co-producers: Wiener Festwochen (Vienna), Festival d'Automne à Paris & Odéon – Théâtre de l'Europe (Paris), Festival d'Avignon (Avignon), Holland Festival (Amsterdam), Kunstenfestivaldesarts (Brussels), National Theatre Drama / Prague Crossroads Festival (Prague), Romaeuropa Festival (Rome), Teatro Nacional de São João (Porto) and Volksbu?hne am Rosa-Luxemburg-Platz (Berlin).
World premiere: May 11th 2023 at Théâtre National Wallonie Bruxelles as part of
Kunstenfestivaldesarts.
last update: 23rd of April
Supported by Stichting Ammodo (Ammodo Foundation) and the Kulturstiftung des Bundes
(German Federal Cultural Foundation) with funding by the Beauftragte der Bundesregierung für
Kultur und Medien (German Federal Government Commissioner for Culture and the Media)