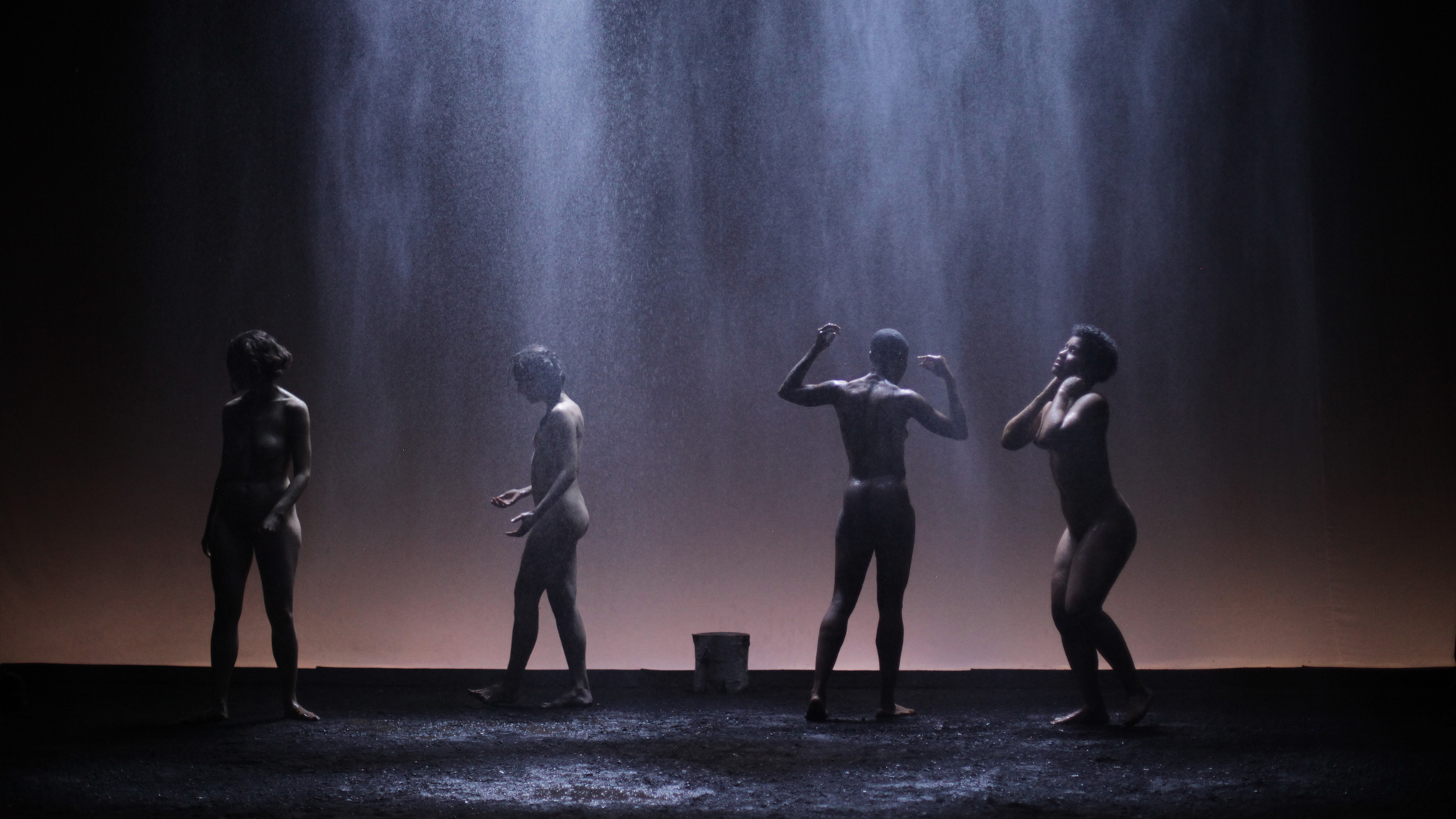 Protector of women and wild animals, guardian of springs and streams, goddess of hunting, eternal virgin- shy, irascible and vengeful- the mythological figure of Diana is often represented as a lady with a bow, a mother of the moon and of the ancient Greek underworld . It is perhaps for this reason that Greek choreographer and dancer Kat Válastur chose a foggy and nocturnal space to stage her personal reinterpretation of the myth: a space that immediately takes on ritualistic connotations, yet incorporating contemporary imagination.
«An arrow hits a tree in a forest. The hit sets the arrow into an infinite vibration. The vibration causes ripples on the still water and disturbs its surface. At that moment, Diana, goddess of the hunt and protector of flora and fauna, falls dead. This violent redirection of myth and its historical source creates a new mythical time-space. Diana now exists simultaneously as hunter and prey, both dead and reborn», says Válastur. Inhabiting this forest are dancers Xenia Koghilaki, Malika Lamwersiek, Ogbitse Omagbemi, Tamar Sonn and four polyphonic singers from the Greek female vocal group Pleiades, all of whom embody female reality and its archaic and present symbolism.
Concept and choreography: Kat Válastur
Performance: Xenia Koghilaki, Malika Lamwersiek, Ogbitse Omagbemi, Tamar Sonn
Singers: PleiadesVocal Group (Aliki Atsalaki, Stella Grigovits, Vassula Delli, Eirini Kyriakou)
Lighting and technical direction: Martin Beeretz
Stage design: Leon Eixenberger
Lighting design assistance: Vito Walter
Assistant stage design: Cecilia Nercausseau Gibson
Sound design: Cesar B.
Assistant sound design and sound engineer: Vangelis Tsatsis
Choreography assistant: Lena Klink
Costumes: Marie Gerstenberger / werkstattkollektiv
Dramaturgical consultation: Filippos Telesto, Yiannis Papachristos
Production management: Sina Kießling
Touring & Distribution: Nicole Schuchardt
Production: Kat Válastur – Co-production: HAU Hebbel am Ufer, NEXT Arts Festival (Kortrijk), Points communs / nouvelle scène nationaleCergy-Pontoise / Val d'Oise. Funded by: Berlin Senate Department for Culture and Europe, Hauptstadtkulturfonds.