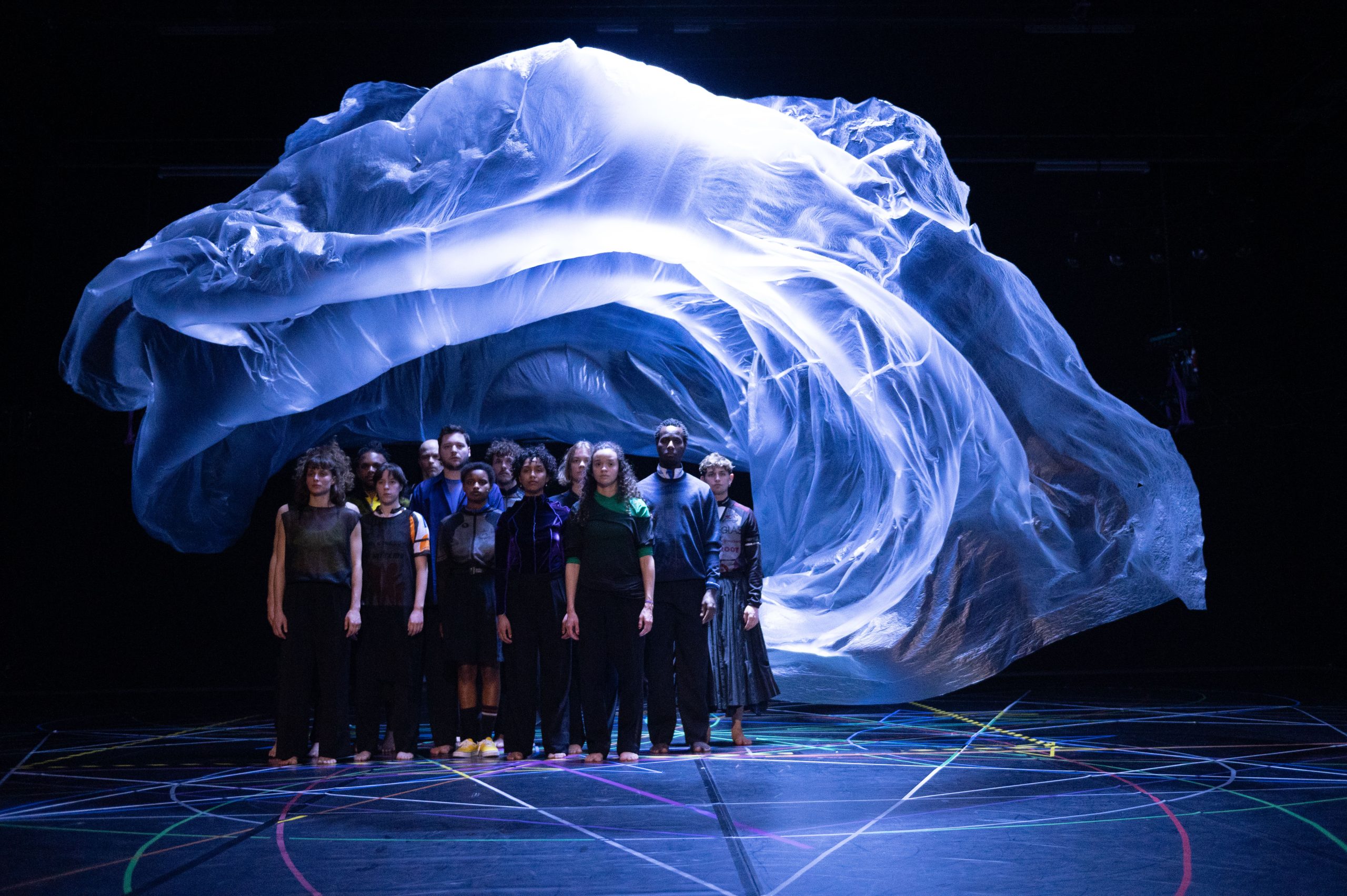 After the success of Drumming, international dance icon Anne Teresa De Keersmaeker returns to the REF with her company Rosas, to continue her research on the relationship between music and movement. EXIT ABOVE – after the tempest is an unprecedented journey into the roots of Western pop music that spans a multitude of sounds- from the song Walking Blues by legendary blues musician Robert Johnson, to Shubert's Der Wanderer. This time, the dancers of the company are joined by Meskerem Mees – an emerging Flemish singer/songwriter of Ethiopian origin – who has composed a series of variations and adaptations of the "walking songs" and Jean-Marie Aerts, sound designer of TC Matic, the legendary Belgian rock band from the 1980s. EXIT ABOVE – after the tempest positions the primordial gesture of walking at the heart of this dialogue between movement and the Blues. For De Keersmaeker, the acts of wandering, of marching, of isolating oneself and of finding oneself united in a group of people in order to march together, are actions of resistance against the efficacy of today's hyper-productivity, as well as tools capable of generating thoughts and reminiscences, of revealing how much our inner world can resemble a landscape to be traversed- possibly on foot.
Choreography
Anne Teresa De Keersmaeker
Created with and Danced by
Abigail Aleksander, Jean Pierre Buré, Lav Crn?evi?, José Paulo dos Santos, Rafa Galdino, Carlos Garbin, Nina Godderis, Solal Mariotte, Meskerem Mees, Mariana Miranda, Ariadna Navarrete Valverde, Cintia Seb?k, Jacob Storer
Music
Meskerem Mees, Jean-Marie Aerts, Carlos Garbin
Opening text
Walter Benjamin, "On the Concept of History", These IX
Music performed by
Meskerem Mees, Carlos Garbin
Scenography
Michel François
Light design
Max Adams
Costume design
Aouatif Boulaich
Text and Lyrics
Meskerem Mees, Wannes Gyselinck
Dramaturgy
Wannes Gyselinck
Rehearsal Directors
Cynthia Loemij, Clinton Stringer
Artistic Coordination and Planning
Anne Van Aerschot
Assistant to the Artistic Director
Martine Lange
Tour manager
Jolijn Talpe
Technical Director
Freek Boey
Technicians
Jonathan Maes, Jan Balfoort
Sound
Antoine Delagoutte

Costume Coordinator
Alexandra Verschueren assisted by Els Van Buggenhout
Wardrobe
Els Van Buggenhout
Sewing
Chiara Mazzarolo, Martha Verleyen
Production
Rosas
Coproduction
Concertgebouw Brugge (Bruges), De Munt / La Monnaie (Brussels), Internationaal Theater Amsterdam, Le théâtre Garonne (Toulouse), GIE FONDOC OCCITANIE (Le Parvis Tarbes, Scène nationale ALBI Tarn, Le Cratère Alès, Scène nationale Grand Narbonne, Théâtre Garonne)
World Premiere
31 May 2023, Théâtre National Wallonie-Bruxelles, Brussels
presented by Théâtre National Wallonie-Bruxelles, De Munt/ La Monnaie, Kaaitheater and Kunstenfestivaldesarts
With the support of Dance Reflections by Van Cleef & Arpels
This production is realized with the support of the Tax Shelter of the Belgian Federal Government, in collaboration with Casa Kafka Pictures –Belfius.
Rosas is supported by the Flemish Community, the Flemish Community Commission (VGC), and by the BNP Paribas Foundation.