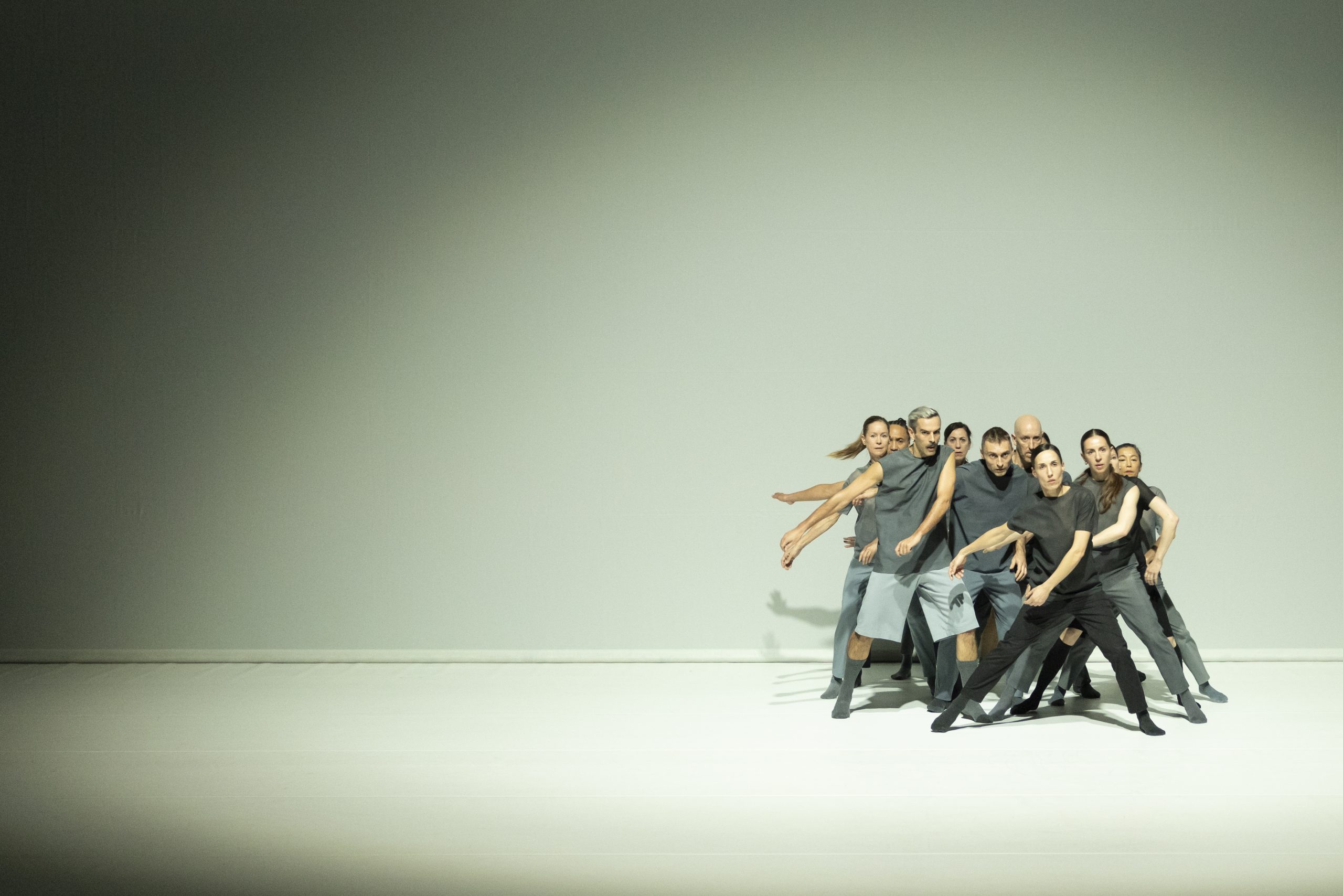 Minimalist and rigorous, hypnotic and subversive, visionary yet deeply anchored to the details of nature and reality: these are just some possible definitions for the creations of Christos Papadopoulos. The Greek choreographer continues his journey at the Romaeuropa Festival – which has seen him participate since its inception – by presenting his first creation for Dance On Ensemble, a famous formation made up of professional dancers over the age of 40. Incorporating their knowledge and corporal experience into his choreographic writing , Papadopoulos returns to challenge the limits of our perception and to transform the movement of many into that of a single body, outwardly immobile, yet inwardly vibrant. What processes does this energy undergo before emerging forth? And how does it change as the body changes? The movements are grafted to the soundscape of Coti K, while concentration and richness, tenderness and pulsating power, speed and stillness alternate on the stage.
Choreography
Christos Papadopoulos
Artistic Direction Dance On Ensemble
Ty Boomershine
Performers
Dance On Ensemble
Javier Arozena, Alba Barral Fernández, Ty Boomershine, Anna Herrmann, Emma Lewis, Miki Orihara, Tim Persent, Jone San Martin, Marco Volta, Lia Witjes Poole
Guest
Georgios Kotsifakis
Choreography Assistant
Georgios Kotsifakis
Music
Coti K
Lighting
Eliza Alexandropoulou
Costumes
Werkstattkollektiv
Technical Director & Light On Tour
Martin Beeretz
Sound On Tour
Mattef Kuhlmey
Production Director
Hélène Philippot
Production Collaborator/Touring
Anastasia Luck
International Distribution
Fauves – Agency for the Performing Arts
Production
DANCE ON / Bureau Ritter
Coproduction
ONASSIS STEGI, Athens and Centre chorégraphique national de Rillieux-la-Pape / Direction Yuval PICK, as part of the accueil-studio programme.
Supported by the Hauptstadtkulturfonds.
DANCE ON is a project by Bureau Ritter gUG, funded by the German Federal Government Commissioner for Culture and the Media, the Senate Department for Culture and Europe of the State of Berlin and co-funded by the Creative Europe programme of the European Union as part of DANCE ON, PASS ON, DREAM ON.