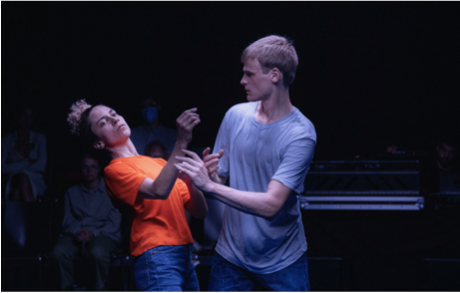 Anna-Marija Adomaityte, a Lithuanian choreographer based in Geneva, has built her own artistic career by investigating and challenging different forms of «social violence». Her Pas de deux was born in this context, as a challenge to the classical representations of the duet. Against an intense blue background, a man and a woman perform the gestures of a choreographed couple. The audience listens to their breathing, perceives the impatient movements of the bodies, observes their gazes fade… Their frenetic movements soon turn into exhaustion and put the spectacle itself at risk. Adomaityte's Pas de deux seems to free itself from the rhetorical and oppressive romanticism of its predecessors, allowing what is underlying or silent to emerge.
Conception and choreography: Anna-Marija Adomaityte
Dance: Mélissa Guex and Victor Poltier
Sound and light design: Gautier Teuscher
Technical support: Joël Corboz
Producer: Gaëlle Marc
Distribution: Olivier Stora
External view: Pierre Snape
Production: Cie A M A
Co-production: La Ba?tie-Festival de Gene?ve, L'Abri-Gene?ve
Supporto: the Swiss Arts Council Pro Helvetia, Bourses SSA – Socie?te? Suisse des Auteurs pour la cre?ation chore?graphique 2021, la Re?publique et Canton de Gene?ve, Corodis, la Loterie Romande.
"Pas de deux" has been selected as part of the European dance network Aerowaves 2022