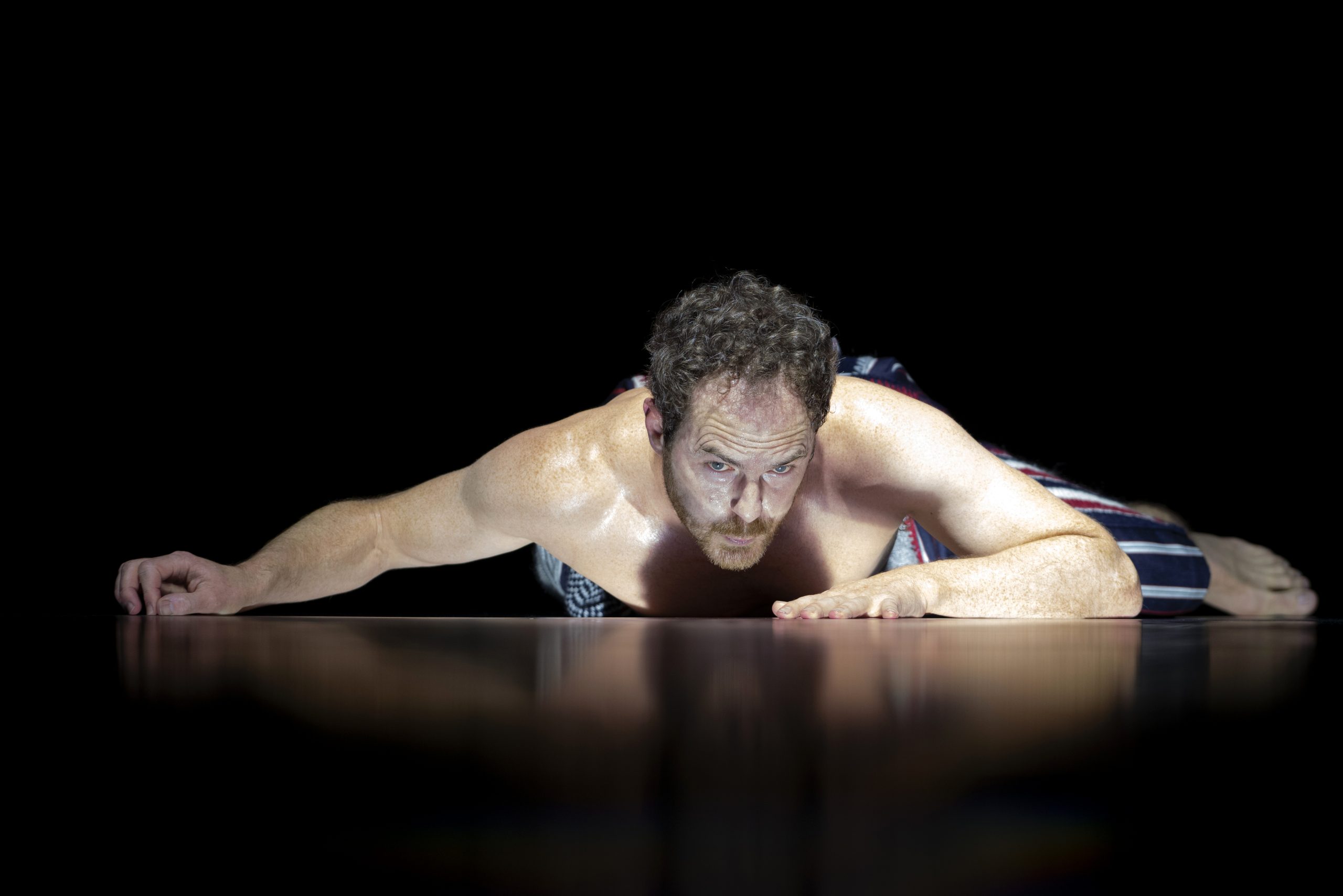 «I love the idea that choreographic ideas come when you're lying down, when you're falling asleep, when you're somnolent. I would love to do a somnolent solo inspired by these states of latency and explore hibernation and its end, the undertow of daydreams and the scream of awakening, the desire for passivity- and to move around in sleep», writes Charmatz in his notes of intent about his solo Somnole. One of the most acclaimed choreographers of the French scene and Director of the Tanztheater Wuppertal Pina Bausch since 2022, Charmatz has affectionately transferred these notes to the stage. Somnole is a journey into the creativity of the mind and at the same time into memory; a dream lit up, that addresses the audience and that transports the body of the dancer through a mental process, the embodiment of the process of dozing off. Accompanying this vision are melodic reminiscences, classical and contemporary, whistled by the Charmatz throughout the performance. Somnole is a soft, evolving piece that invites the audience to delve beneath the surface, to daydream.
Boris Charmatz is the director of Tanztheater Wuppertal Pina Bausch since August 2022.
Together Tanztheater Wuppertal Pina Bausch and Terrain are building a Franco-German artistic project under the direction of Boris Charmatz.
Choreography and interpretation: Boris Charmatz
Assistant to choreography: Magali Caillet Gajan
Lights: Yves Godin
Costume collaboration: Marion Regnier
Voice work: Dalila Khatir with advice from Bertrand Causse and Médéric Collignon
Inspirational material for the sound: J.S. Bach, A. Vivaldi, B. Eilish, The Pink Panther, J. Kosma, E. Morricone, birdsongs, G.F. Haendel, Stormy Weather…
Stage manager: Fabrice Le Fur
deputy director [terrain] Hélène Joly
Production manager: Lucas Chardon, Martina Hochmuth
Production managers: Briac Geffrault, Carla Philippe
Produced and distributed by [terrain] with support from Dance Reflections by Van Cleef & Arpels
co-production Opéra de Lille – Théâtre Lyrique d'Intérêt National, le phénix – scène nationale de Valenciennes – pôle européen de création, Bonlieu – scène nationale d'Annecy, Charleroi Danse – Centre chorégraphique de Wallonie- Bruxelles (Belgique), Festival d'Automne à Paris, Festival de Marseille, Teatro Municipal do Porto, Helsinki Festival, Scène nationale d'Orléans, MC93 – Maison de la Culture de Seine-Saint-Denis (Bobigny),Pavillon ADC (Genève) with the support of Lafayette Anticipations –
Fondation d'entreprise Galeries Lafayette, as part of the Atelier en résidence program with the participation of the Jeune théâtre national thanks to Alban Moraud, Mette Ingvartsen, Iris Ingvartsen Charmatz, Xenia Ingvartsen Charmatz, Florentine Busson