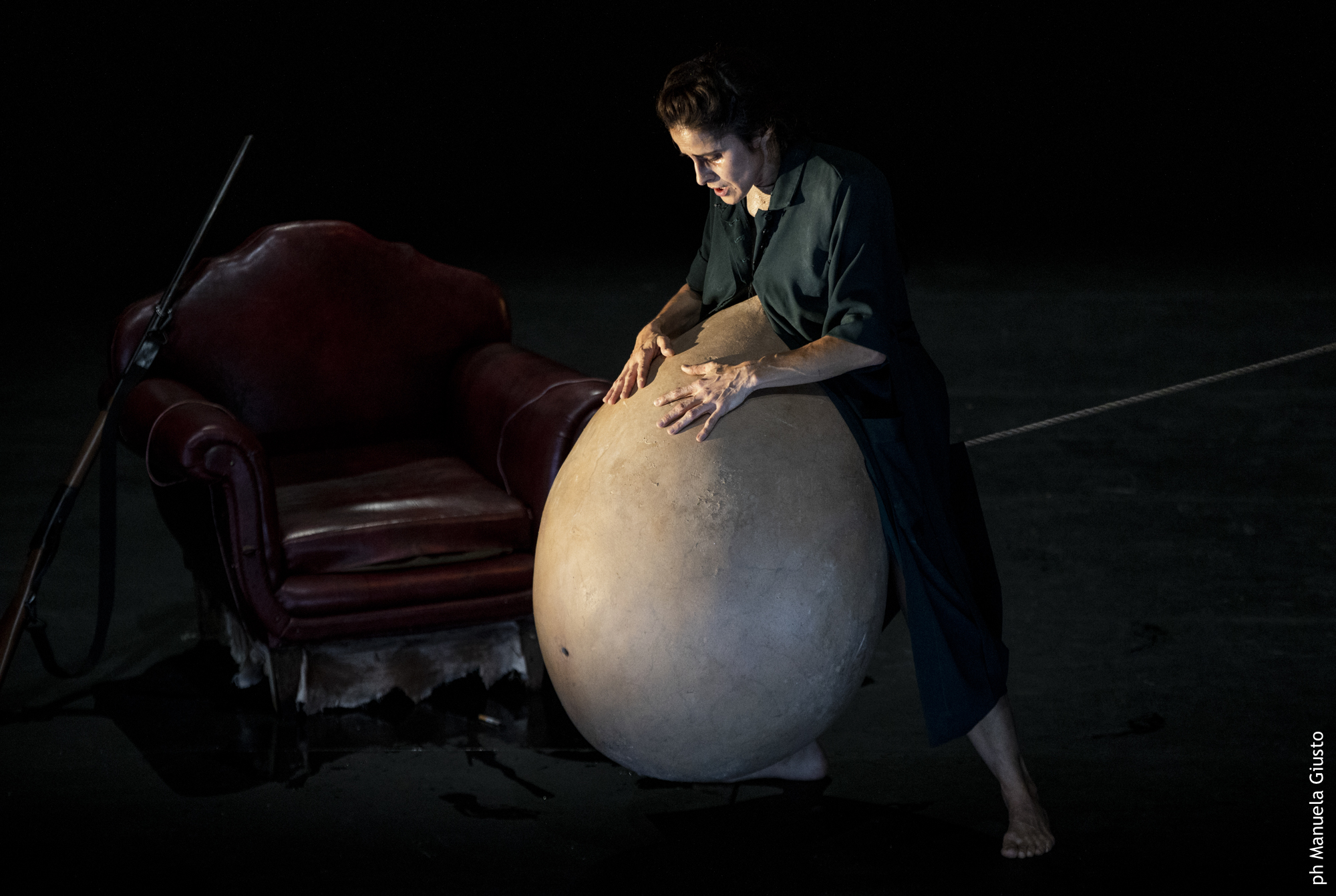 A light shines on the desire for motherhood and its opposite- it is an exploration of the ability to take care of someone other than ourselves. On stage, a woman with an enormous belly moves in a space made up of a few objects among which she still manages to be herself: a refrigerator, a gas stove, an armchair, a dead plant. The woman, in constant paranoia, is listening to a threat looming from above.
with Marta Meneghetti, Roberto Montosi
scenes Fiammetta Mandich
lights Luigi Biondi, Francesca Zerilli
original music Tommy Grieco
sound Hubert Westkemper
body suit Makinarium (special – visual – effects)
collaboration on costumes Davide Zanotti, Anna Coluccia
assistant director Francesco Meloni
assistant director Cesare Santiago Del Beato
dramaturgy assistant Carola Fasana
sound engineer Jacopo Ruben Dell'Abate
artistic collaboration Lorenzo Letizia, Luca Lòtano, Ramona Nardò
stage photo Manuela Giusto
thanks to Giorgio Testa
production Cranpi, La Fabbrica dell'Attore-Teatro Vascello,
Fondazione Sipario Toscana, Carrozzerie | n.o.t
with the contributionMiC – Ministero della Cultura, Regione Lazio – Direzione Regionale Cultura e Politiche Giovanili – Area Spettacolo dal Vivo
con il sostegno di ATCL Circuito multidisciplinare della Regione Lazio per Spazio Rossellini, Periferie Artistiche Centro di Residenza Multidisciplinare della Regione Lazio, Teatro Biblioteca Quarticciolo
with the support of Nuovo Cinema Palazzo, Labirion Officine Trasversali
We thank Sheila Heti, Orna Donath e tutte le donne e gli uomini intervistat_ durante il cammino.
Their stories have given the opportunity to shed light on a subject that is still so incandescent.
 DEBUT: Biennale Teatro 2020