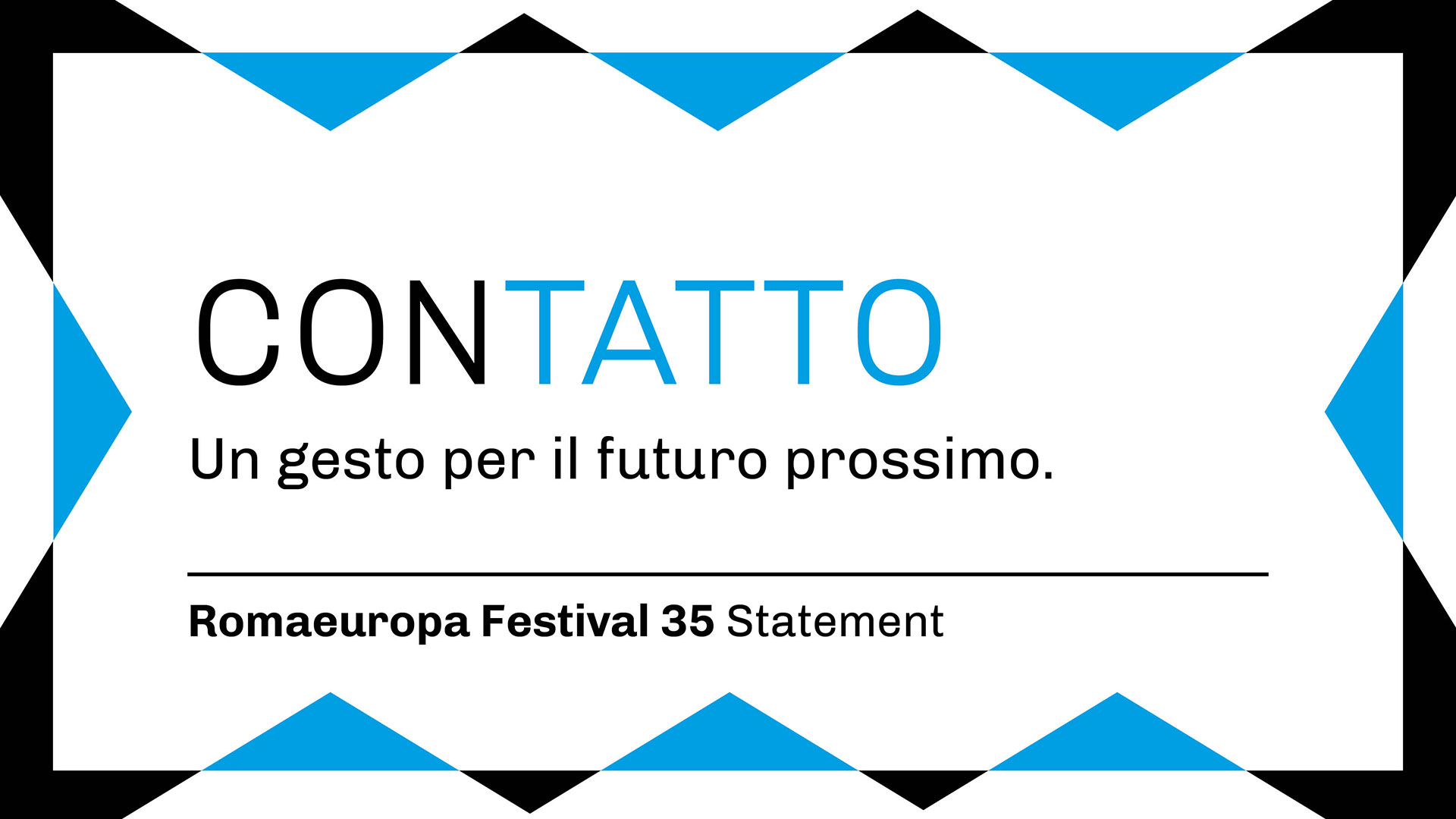 English/French version below
La drammatica situazione che stiamo vivendo in questi giorni ci spinge ad interrogarci sul nostro futuro. Siamo consapevoli di quanto in questo momento la priorità sia essere al fianco di chi sta soffrendo e di chi è in prima linea nell'emergenza Covid19 nel mezzo delle scelte difficili che sono state fatte nelle ultime settimane.
Nei giorni in cui era prevista la conferenza stampa della nostra 35esima edizione (nel mese di Aprile come da consuetudine) ci è sembrato importante pubblicarne il programma così come lo abbiamo pensato e costruito nei mesi prima della crisi assieme agli artisti, alle istituzioni e ai partner che ci sostengono. Vogliamo sia un segno di presenza e speranza per gli artisti e per il pubblico, una visione del mondo che abbiamo immaginato nel segno del dialogo culturale e internazionale proprio quando la violenza della pandemia in corso ha reso necessario chiudere le frontiere e fermare la mobilità delle persone. Non sappiamo se e come riusciremo ad accogliere e presentare quest'anno tutti i progetti e gli spettacoli previsti, ma questa è per noi anche l'occasione per impegnarci a lavorare sin da subito al fine di garantire, dove possibile, un orizzonte alternativo nell'immediato futuro e di certezza per il prossimo anno. Faremo di tutto per sostenere la comunità degli artisti e dei lavoratori dello spettacolo, sempre nel rispetto delle prioritarie condizioni di sicurezza (per loro e per il pubblico) che ci saranno indicate nei prossimi mesi dalle Istituzioni, e anche se dovessero essere riconfermate le attuali misure di distanziazione e di interdizione pur parziale alla mobilità internazionale, cercheremo di trovare le modalità per rinnovare la nostra presenza anche in altri formati e poter contribuire alla ripartenza della nostra comunità e del nostro paese.
Questo è prima di tutto il tempo della solidarietà.
Ci ritroveremo, per la trentacinquesima volta il prossimo autunno, forse in maniera diversa, ma con lo stesso desiderio di essere insieme.
---
English version
The dramatic situation we are experiencing leads to difficult questions about our future. We are aware of how right in this moment the priority is to stand alongside those who are suffering and those who are at the forefront of the Covid-19 emergency, amid the hard decisions that have been made in the past few weeks.
At the usual time in April when the press conference of our 35th edition was scheduled, we deem important to publish the program as we conceived and built it, in the months preceding the crisis, together with the artist, institutions and partners that support us. We wish for it to be a sign of presence and hope for the artists and the public, a vision of the world that we have imagined as an important sign of cultural and international dialogue, at the exact time when the virulence of the pandemic has made it necessary to close borders and to stop people's mobility.
We do not know how-or indeed if-we will be able to welcome and present all the projects and shows planned for this year, but we are viewing this as an opportunity to commit ourselves to working immediately, in order to guarantee an alternative horizon in the immediate future and certainty for the following year. We will do everything in our power to support the community of artists, as well as show-business workers we collaborate with, always placing safety conditions -including for the public as transmitted by public authorities in the coming months- as a priority. In the event social distancing measures and partial restriction of the international mobility would be reconfirmed, it goes without saying that we shall look for every possible way to renew our presence through other formats and to be able to contribute to the restoration of normality back to our communities and to our country.
Above all this is a time for solidarity.
We will meet again, for the thirty-fifth time in the fall-perhaps in a different way but, always with the same desire to be together.
---
French version
La situation dramatique que nous vivons nous pousse à nous interroger sur les besoins de notre présent et sur les perspectives de notre avenir. Nous sommes conscients que la priorité en ce moment est d'être aux côtés de ceux qui souffrent et de ceux qui sont en première ligne de la crise du Covid19, dans le cadre des choix difficiles qui ont été faits ces dernières semaines.
Il nous semblait important de publier notre programme le jour initialement prévu pour la conférence de presse de notre 35ème édition (qui se tient habituellement au cours du mois d'avril), tel que nous l'avions imaginé et construit avec les artistes, les institutions et les partenaires qui nous soutiennent, les mois précédant la crise. Nous voulons que cela soit une marque de présence et d'espoir pour les artistes et le public, le reflet d'une vision du monde que nous avons imaginé, tourné vers le dialogue culturel et international, au moment même où la pandémie en cours a rendu nécessaire la fermeture des frontières et l'arrêt de la mobilité des personnes.
Nous ne savons pas si et comment nous réussirons à accueillir et à présenter cette année tous les projets et les spectacles prévus, mais cela est l'occasion de nous engager à travailler d'ores et déjà afin de garantir, si possible, un horizon alternatif dans un futur proche et un avenir certain pour l'année prochaine. Nous ferons tout ce qui est en notre pouvoir pour soutenir la communauté des artistes et des professionnels du milieu du spectacle, tout en respectant les consignes de sécurité prioritaires (même pour le public) qui nous seront imparties par les Institutions. Et même si les consignes actuelles de distanciation et d'interdiction – partielle – de la mobilité devaient être confirmées, nous essayerons de trouver les moyens pour renouveler notre présence aussi sous d'autres formats afin de contribuer à la reprise de notre communauté et de notre pays.
Ceci est avant tout le temps de la solidarité.
Nous nous retrouverons, pour la trente-cinquième fois à l'automne, peut-être d'une manière différente mais avec le même désir d'être ensemble.