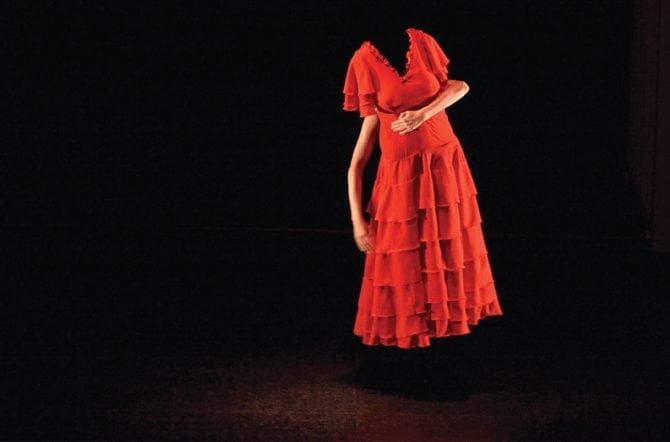 Questcequetudeviens?
A piece by Aurélien Bory for Stéphanie Fuster
The artistic encounter between director and playwright Aurélien Bory, dancer Stéphanie Fuster, cantaor José Sanchez and flamenco guitarist Alberto Garcia is an incandescent one. The outcome is 'Questcequetudeviens?' (What do you become?), where life and death, flamenco e illusionism, symbols and rigor, fire, air, and water fuse together and become a theatrical portrait of a woman. After formal dance training in France, in 1996 Stéphanie Fuster went to Andalucía to attend a six months flamenco course: she stayed in Spain eight years. To sum up, she is a French woman who boldly penetrated the typically Iberian symbolic universe of flamenco, and became one of its most renowned dancers. In fact, she has danced with Israel Galván as well as with the most important and famous flamenco dance companies. Aurélien Bory had met Stéphanie Fuster before she went to Spain. When he met her again, he decided to dedicate to her a quite ambitious show entitled 'Questcequetudeviens?'. In order to bring the adventure of a woman on stage, Bory uses a guitarist, a flamenco cantaor, and a simple, though magical set illuminated by a captivating light design. Thus, he gives life to the peculiar stage illusionism that he has always evoked in his shows. In the space of one hour, the show tells Stéphanie Fuster's adventure running through a universe of symbols that portray the pivotal moments of her life: the adolescent dream of becoming a dancer, the confrontation with a different culture, the rigor of the training. It is a journey that starts from a red fire and finally gets to air and to the confrontation between choreographic movement and water. Obviously, the final question "What do you become?" does not concern the dancer exclusively, but also the audience.
---
Concept, Set, Direction Aurélien Bory Choreography Stéphanie Fuster
Original music José Sanchez Lighting design Arno Veyrat With Stéphanie Fuster (danzatrice), José Sanchez (chitarra), Alberto Garcia (voce)
Assistant director Sylvie Marcucci, Hugues Cohen Set Pierre Dequivre, Arnaud Lucas Sound engineer Stéphane Ley
Costume designer Sylvie Marcucci Technical direction Arno Veyrat Productions direction Florence Meurisse
International development Barbara Suthoff Press office Dorothée Duplan (Plan Bey)
Photo © Aglaé Bory

Produced by Compagnie 111 – Aurélien Bory Coproduced and in residence at Festival ¡Mira! / TnBA (Bordeaux), Théâtre Vidy (Lausanne) Supported by Théâtre Garonne scène européenne (Toulouse), Scène nationale de Cavaillon, La Fabrica Flamenca (Toulouse), La Grainerie Fabrique des arts du cirque et de l'itinérance (Balma) Compagnie 111 – Aurélien Bory is under funding agreement with the Ministère de la Culture et de la Communication – Direction Régionale Midi-Pyrénées, Région Midi-Pyrénées, Ville de Toulouse, Conseil Général de la Haute-Garonne Aurélien Bory is associated artist of Le Grand T – Théâtre de Loire Atlantique / Nantes Aurélien Bory is invited artist of TNT – Théâtre National de Toulouse Midi-Pyrénées Aurélien Bory is supported artist by Le Théâtre de l'Archipel scène nationale de Perpignan